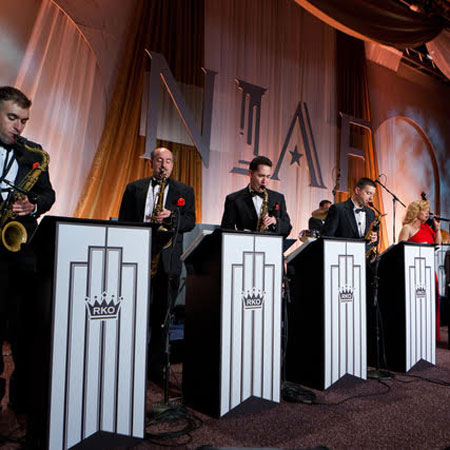 Washington Orchestra
A Washington Orchestra who performs exceptional live event music packed with authentic big band style
With an extensive big band repertoire and spirited performances that recreate the style of the iconic Rat Pack
Professional dancers and performers also available
Perfect for festivals, gala dinners, private parties, corporate events and weddings
Based in Washington, USA and available for worldwide bookings
Washington Orchestra PHOTOS
A Washington Orchestra who boast exceptional live event music that is rich in big band flavour and style making for an unforgettable experience that strikes a chord with audiences of all ages. With both male and female vocalists taking the lead this big band boasts a powerhouse performance that crowds dance floors and has audiences of all ages clapping for more.
With an extensive big band repertoire and spirited performances that recreate the rich sophistication of big band greats and the carefree nature of the iconic Rat Pack. Showcasing signature renditions of classics from the 30s, 40s, 50s and 60s performed with elegance and energy captures the vintage vim and vigor of the era as well as giving their music a vitality that is of current generations.
An unforgettable big band experience that provides a well rounded performance option from the choreography to the expansive repertoire, dancers and more, there really is something for everyone when this outstanding Washington Orchestra perform.
Igniting a passion for timeless music through exciting renditions and spell-binding vocals, stylised instrumental arrangements, irresistible rhythms and a rich full-bodied big band sound to get people dancing, romancing, and reminiscing. With a versatile repertoire that encompasses every dance style from cha-cha to mambo to swing and waltz, watch as your guests crowd your dance floor and perform old school moves that are a hit with all generations.
Perfect for corporate events, festivals, gala dinners, private parties  and weddings our big band provide live event music bursting with personality and glamour making for the ultimate event entertainment at every celebration.
With a scalable line up that can be adapted to suit all venues and event sizes this Washington Orchestra can go from a full big band line up with musicians, vocalists and dancers to a female vocal trio, male quintet and more.
To book our fabulous Washington Orchestra or for more information about live event music and big band performances, contact our helpful team of Entertainment Specialists.
Children's Law Center Gala Whitman-Walker Clinic Spring Gala
George Washington Cancer Institute Gala Cherry Blossom Opening Ceremony
Kennedy Center New Year's Eve Gala  International Monetary Fund Holiday Gala
National Hospice Gala National Zoo Fundraiser
National Opera Opening Night Gala Potomac Hospital Gala
Premier Inc Conference National Harbor Food And Wine Festival
SRA Awards Gala Dinner 2009 Presidential California Bash Inaugural Gala
The CARE Ball AFCEA Bethesda/NIH Children's Inn Gala
The Homestead New Year's Eve Gala MD Tech Council Black Tie Gala
Young Presidents Organization Gala James Smithson Society Gala
Alzheimer's Association Brain Ball Best Buddies Baltimore Harbor Gala
General Dynamics Holiday Gala Capitol Hill Club Presidential Inaugural Ball
Institute for Real Estate Conference VH1/Beethoven Found Kennedy Center Gala
Muscular Dystrophy Association Gala Red Cross Fire and Ice Gala
National Italian American Foundation Martini Ball Charlestown Hollywood Casino Dinner/Dance
Performed on NBC's The West Wing DC Charity Works Gala
RAMMY Awards AFCEA DC Winter Gala
SunTrust Bank Holiday Gala GWU Presidents Ball
The Corcoran Ball 2013 Presidential Illinois State Society Inaugural Gala
White House Conference on Aging 2009 Presidential Inaugural Purple Ball
CSP Information Group Conference ACEC 100th Anniversary Annual Convention