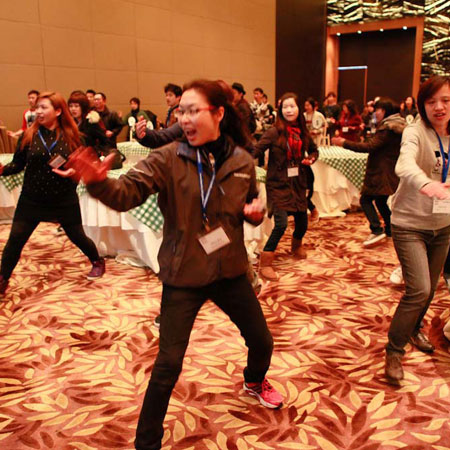 We Can Do
Innovative, engaging & fun activity for groups of all ages & sizes
Uplifting & memorable kick off to your meeting or conference
Helps delegates to improve their focus through mind & body exercises
Previous clients include: Microsoft, Sony, Starbucks, AXA
Based in Hong Kong & available for events worldwide
Dedicated to creating a wide range of innovative team building solutions, they have over 50 unique and licensed experiential training programmes to suit the clients' needs. They aim to enhance teamwork through improved communications, decision-making skills and leadership development.
This interactive team building session is an introduction to the rudiments of karate, and is ideal for energising teams before or during a meeting or conference as it helps to improve the group's focus by energising their bodies and shaking off their day's stresses and distractions. The session facilitator will teach the group Kihon - the basic techniques of Karate and the key to mastering one's attitude and mindset. The entire audience will be lead through a series of stretching exercises; taught to understand the importance of Rei (bowing for respect); learn how to kiaki and kai (mind, breath, spirit and exhalation). The aim of this session is to give the practitioners a sense of peace, respect and self-confidence as a direct result of training the mind and body together in harmony.
This activity is fun for groups of all ages and almost any size, and provides an uplifting and memorable kick-off or interruption to your meeting or conference!
Key Learning Benefits:
Networking
Uniting New / Merged Teams
Managing Change
Energising a Conference
DDB
Jack Morton
MCI Group
Quadrant
Serious Staging
Allens Arthur Robinson
Bird & Bird
Dibb Lupton Asia
Kennedy's
Hogan Lovells
Orrick Herrington & Sutcliffe
Pinsent Masons
Slaughter & May
ACE Insurance
American Century
Barclays Capital
BNY Mellon
Calyon
CLSA
Credit Suisse
Deloitte
DHR
EQT Partners
GAM
Hong Kong Exchange and Clearing
HSBC Insurance
ING
Julius Bär
KGI
MGPA
Morgan Stanley
New York Life
Pan Asian Mortgage
Prudential
RBS Coutts
Royal Skandia
Sarasin Bank
Schroders
SG Private Banking (Asia Pacific)
Swiss Privilege Limited
TPG Capital
Thomson Reuters
West LB Bank
Amazon Papyrus
Astra Zeneca Gulf
BASF
Bosch
Caterpillar
Cesar Asia
Connell Bros
Davis Standard LLC
DuPont
Eaton
Evonik
FMC Agricultural Products
Grundfos
Hitachi
InFocus Corporation
Jardine Schindler
Johnson & Johnson Medical
Kimberley Clark
Kirkstone
KSO
Li & Fung
Mettler-Toledo
Objet
Reckitt Benckiser
Rockwell Automation
Source Direct International
Stora Enso
Tate & Lyle
TESCO
Travis Perkins
Auchan
Coca-Cola
Elsevier
LSG
Montblanc
Philips
Shure Asia
Starbucks
Veolia Water
Aspect Software
BT
Comverse
CSL
EMC² Computer System (FE)
Gartner
Intel
Lenova
Lexmark
Luxoft
Microsoft
Nvidia
Optus
Perkin Elmer
Redbacks Networks International
Sandisk
Sisvel
Tellabs
Vishay Intertechnology Asia
Bing Corporation
GVST Event Management
Luminous
Messe Frankfurt
Reed Exhibitions
UBM
Baker & McKenzie
Clifford Chance
Freshfields
Herbert Smith
Morrison & Foerster
Paul Weiss
Shearman & Sterling
Sullivan & Cromwell
Allianz Global Investors
AXA
BNP Paribas
BOC
Clerical Medical
CITI
DBS Bank
Deutsche Bank
Egon Zehnder International
Euler Hermes
GE Consumer Finance
HSBC
HSBC Private Bank
International Financial Corporation
KPMG
Lloyds TSB
Merrill Lynch
National Bank of Australia
PAG
Prime Revenue
Rabobank
Rothschild
SAIL Advisors
Search Investment
SFC
Squadron Capital Advisors
Swiss Reinsurance Company
The Carlyle Group
UBS
Alcan Cable
ASML
Bayer MaterialScience
BHP Billiton Marketing
Borouge
Celestica
Chevron
Creative Danes
DOW Chemicals
Eastman
Esquel
ExxonMobil
Giesecke & Devrient
Gulf Oil Marine
Home Retail Group
Ingersoll Rand
Johnson Electric
Johnson Controls
Kingfisher Asia
Knorr-Bremse
Lam Research Singapore
Marubeni
Norintra
PPG
Richards Basmajian
Sime Darby
Spotless HK
Stratasys AP
TE Connectivity
Total Oil
Wilkinson
Asia Pacific Brewery
Danone
Fonterra
McDonald's
Pepsi
P & G
SONY
Triumph
Alcatel Lucent
Blackberry
Cisco
Cookson Electronics
DELL
FujiXerox
Global Payment
Internet Global Service
LexisNexis
Litamos Electronics
MEI
Motorola
OCE
Oracle
Red Hat Asia Pacific
Reliance Communications
Satyam
Sybase
Verint Systems
Yahoo
Ci Events
" Team building activities were fun-filling and simulating. Promotes creative thinking. "

Dave Tan Hun SiongLam research
" Great experience for our leaders and they committed to provide the best "

Suzan Kalim - Senior VP (People and Culture)UBM
" It is a great pleasure to have them provide such professional service for us. We and our customers are greatly appreciated the presentation of the activities, the interaction between each parties is a great experience. The message (Communication and Mutual Respect) were sure delivered to the teams, the activity really made the bonding between each person stronger. We are looking forward to work with them again in the future. "

Thales Transport & Security
" They did an excellent job to motivate our team. "

Dorothy Yip - Executive SecretaryHSBC Insurance