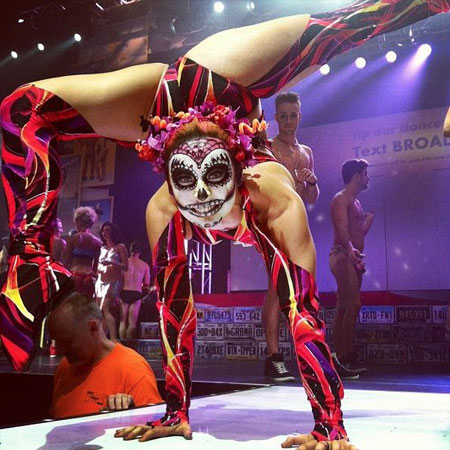 Weird & Wonderful Contortionist
Weird & Wonderful Contortionist who is US Champion in Rhythmic Gymnastics
Performs incredible contortion moves that will amaze audiences
Wears incredible costumes that take her performance to another level
Pushes her body to the limit to demonstrate incredible flexibility
Based in New York & available to perform at events worldwide
Weird & Wonderful Contortionist PHOTOS
Our weird and wonderful Contortionist Olga, is a US Champion and two time Pan American Champion in Rhythmic Gymnastics.
Pushing her body to the limit, she demonstrates incredible strength, flexibility and balance; contorting her body into impossible shapes! Providing a stunning visual spectacle at events worldwide, Olga is able to customise her performances to reflect certain themes and clients needs. In addition to this, she can also provide spectacular aerial performances to WOW audiences.
Her performance highlights so far include the current Original Cast of Broadway smash hit, Pippin, the Panic at the Disco Tour (MTV Music Video of The Year), Gymnastics Superstars Tour (USA Post-Olympic Gymnastics Tour) and the Venice Biennale International Art Festival (Venice, Italy).
Air France
Nokia
New York Magazine
Pali Poker
Jockey
Cougar
Hewlett Packard
Usher's Birthday Party
Le Cirque
T-Mobile
Trump Plaza NBA Nets
Oksana Remi Fashion Designer
Altoids
AQUAGE Hair Products
Absinthe
Procter & Gamble
Stoli