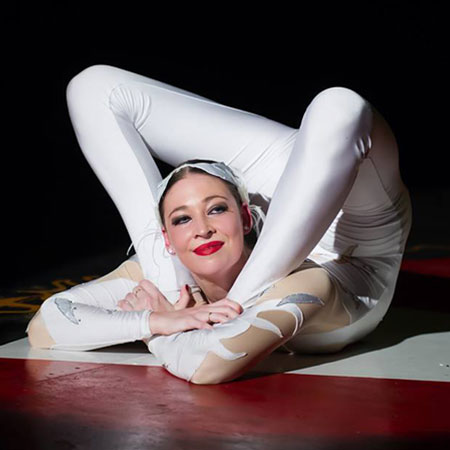 White Swan Contortionist
Female contortionist captivates with amazing and mesmerizing routines
Circus performer showcasing performance experience that will spotlight your event
Dazzling contortion act delivers fierce and elegant atmospheric qualities
Ideal contortionist for private parties, corporate events, themed occasions, etc
Wonderful circus entertainment available for booking across the UK and worldwide
Hire our exceptional and skilled female contortionist, and watch as your guests are treated to a fantastic contortion act delivered by our high quality performer. Our sensational circus performer will showcase a high energy and entertaining circus entertainment experience that features traditional contortion and dance. Also available as a mesmerizing aerial contortion performance that utilizes aerial silks, aerial hoop, and aerial straps! Our unforgettable contortionist will keep your guests engaged and entertained from start to finish, and they will leave your event with lasting memories.
Our wonderful contortion act will keep your guests on their toes, as our beautiful female contortionist engages in an assortment of routines that can be coupled with a variety of musical options to further create a lasting performance experience. Performing with a host of different costumed options, our simple yet complex showcase of circus entertainment will be the highlight of your upcoming special event. Our entertainer showcases epic feats of flexibility, strength, and precision to fine detail. One popular act 'The White Swan' effortlessly combines contortion with the elegant grace with 'ballet en pointe'. Featuring a stunning white costume with feather headdress this would be the perfect accompaniment for a white themed event.
Our popular female contortionist and aerialist features a dance trained background, as she also combined a variety of dance elements to deliver high quality routines around the world. Proving to be a masterful performer, our contortionist holds the title of '2015 Variety Artist Of The World', a title she won by performing in Long Beach, California. A fully dynamic and expressive contortion act experience, the perfect contortion performance for private parties, corporate functions, gala dinners, drink receptions, themed events, theatre performances, charity events, and more.
If you are interested in booking our amazing female contortionist and contortion act for your upcoming event or social gathering, contact any of our fantastic Scarlett Entertainment team members who will be more than happy to guide you through our booking process.