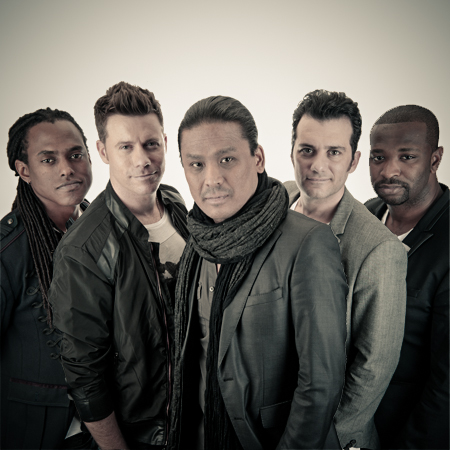 5 Piece Male A Cappella Group
Incredible A Cappella Group who have created a unique signature sound
Deliver a client's message succinctly in an engaging and entertaining way
Have performed alongside Prince, Pussycat dolls, Stevie Wonder and more
Previous Clients incl. Disney, Celebrity Cruises, KIA, McDonalds and more
Based in Orlando and available to perform at events worldwide
5 Piece Male A Cappella Group VIDEOS
5 Piece Male A Cappella Group PHOTOS
With over 10 years of professional experience, our 5-piece A Cappella Group provide high-energy musical entertainment that is perfect for entertaining audiences of all ages at a broad range of events.
Having won worldwide recognition for their unique sound, the A Cappella Group have performed alongside superstars including Prince, Tony Bennett, the Pussycat Dolls, Stevie Wonder, John Legend, and many more.
They are also winners of MTV's "Top Pop Group" and Boyz II Men's "Next Great A Cappella Group", America's Got Talent finalists, and international recording artists.
Boldly taking music to a whole new level - and in ways you might not expect, they provide a mix of modern hits and classic favourites, all of which are customisable and highly interactive making this a truly memorable A Cappella Show.
They blend pop, RnB, jazz, rock, and funk, to successfully create a signature sound, which blurs the genre line and weaves a colourful tapestry of infectious beats, intricate harmonies, and spectacular vocal acrobatics!
Their vast repertoire knows no boundaries to style or genre, and the bands stunning reinterpretations of musical favourites, as well as inventive, contemporary original songs make for an unparalleled entertainment experience. Simple but effective entertainment which is guaranteed to please audiences of all ages and backgrounds.
Blame it on the Boogie
Rock Witchu
I Want You Back
Wanna Be Startin Something
1990's Medley
Poison - BBD
No Diggity - Blackstreet
Be With You - Mr. Big
Smells Like Teen Spirit - Nirvana
Ice Ice Baby - Vanilla Ice
Can't Touch This - MC Hammer
MmBop! - Hanson
Waterfalls - TLC
Motown Philly - Boyz II Men
End of the Road - Boyz II Men
2000's Medley
Hey Ya - Outkast
Use Somebody - Kings of Leon
I Gotta Feelin' - Black Eyed Peas
It's Gonna Be Me - *NSYNC
What Goes Around - Justin Timberlake
Forget You - Ceelo Green
Party Rock - LMFAO
MJ Medley
Shining Star---Earth Wind and Fire
Working Day and Night---Michael Jackson
Happy --- Pharrell Williams
Forget You---Ceelo Green
You've Made Me So Very Happy---Blood Sweat and Tears
Locked Out of Heaven---Bruno Mars
Uptown Funk!---Bruno Mars
Feeling Good --- Michael Buble
Moves Like Jagger---Maroon 5
Come Together---The Beatles
Wonderful World---Louis Armstrong
Use Somebody---Kings of Leon
Secrets---One Republic
Breakaway---Kelly Clarkson
Without You Medley---Usher
Hallelujah---Leonard Cohen
Party Rock Anthem---LMFAO
Lazy Bones---Robin Thicke
Blurred Lines --- Robin Thicke
Ladies Night---Kool and the Gang
Footloose---Kenny Loggins
Black and Gold---Sam Sparro
Biggest Fan---Marc Broussard
2000's Medley Continued
Walt Disney Entertainment
Gaylord Entertainment
Universal Studios
Subway
KIA
El Palacio de Hierro Mexico City
Royal Caribbean Cruise Lines
Roche
Disney Event Group
Marriott Hotels
Phillips
Savers
Passion Parties
Celebrity Cruise Lines
McDonald's
NCR
" Simply amazing, you always deliver "

Mitch Merucci, Cruise Director, Grandeur of the Seas
" We've never had the entire awards attendees get up and dance! They are incredible! "

Mike Spangler, Spangler Events, Awards Event at Gaylord Texan
" Wonderful working with you. They were a big hit and a treasure! "

Colin Paolo, Creative Directior, Roche National Sales Meeting 2015