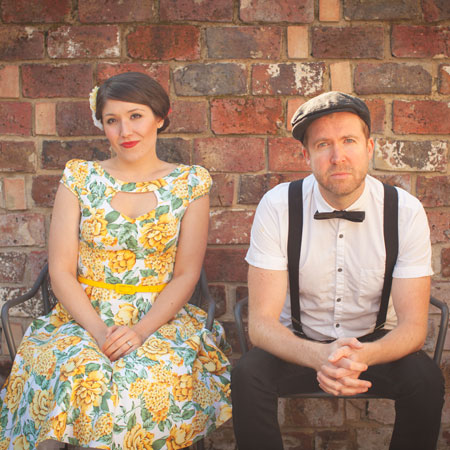 Acoustic Duo Sussex
Amazing dual male and female vocal acoustic songs perfect for any occasion
Simple set-up means this acoustic duo can perform almost anywhere
Eclectic repertoire of well-known covers songs appeal to all generations
Perfect wedding entertainment or live music for intimate events
Based in Chichester and available for events all over the UK
Acoustic Duo Sussex PHOTOS
The Acoustic Duo Sussex is an extremely simple and versatile live music option with amazing dual male and female vocals and acoustic guitar. The pair of very talented musicians have a great deal experience providing live music for a wide variety of events up and down the country and specialise in acoustic covers tailored to wedding entertainment. Their simple set-up means they can set up almost anywhere. 
Our Acoustic Duo Sussex has an eclectic repertoire of songs that appeal to audiences of all generations. They have a great collection top 40 hits, classics an love songs which they have re-arranged in a stripped back, live lounge style, which is obviously the perfect wedding entertainment for the drinks reception or background live music for the wedding breakfast. The acoustic duo's live lounge style songs include the likes of Taylor Swift, Ed Sheeran, Bruno Mars, Stevie Wonder, Katie Perry, Take that and many others. 
Having perfected their live music as flexible wedding entertainment, Acoustic Duo Sussex can provide a song of choice for the bridal entrance, a short set of acoustic covers while guests arrive, one or two acoustic covers during the signing of the register, right the way through the day at different parts of the celebrations. 
Top Tip:
The acoustic duo is also part of a party band that can be booked for your lively evening party. 
Contact us at Scarlett Entertainment if you would like to book our Acoustic Duo Sussex. Whether you're looking for wedding entertainment or chilled acoustic covers for an intimate event, this duo is perfect. 
All  of  Me  -  John  Legend
American  Boy  -  Estelle
Arms  of  the  Angel  -  Sarah  McLaughlin
Beautiful  -  Pharrel  &  Snoop  Dogg
Black  Magic  –  Little  Mix
Blank  Space  -  Taylor  Swift
Call  Me  Maybe  -  Carley  Rae  Jepson
Cry  Me  A  River  –  Justin  Timberlake
Don't  Know  Why  -  Nora  Jones
Easy  -  Lionel  Richie
Everything  has  changed  –  Ed  and  Taylor
God  Only  Knows  -  Beach  Boys
Greatest  Day  -  Take  That
Have  Some  Fun  -  Sheryl  Crow
Ho  Hey  -  Lumineers
How  Long  Will  I  Love  You  -  Ellie  Goulding
I  Just  Wanna  Make  Love  to  You  -  Etta  James
I  won't  Give  Up  –  Jason  Mraz
If  I  Ain't  Got  You  –  Alicia  Keys
Isn't  She  Lovely  -  Stevie  Wonder
I'm  Yours  –  Jason  Mraz
Just  the  Way  Your  Are  –  Bruno  Mars
Kiss  Me  -  Six  Pence  None  the  Richer
Locked  Out  Of  Heaven  –  Bruno  Mars
Love  Machine  –  Girls  Aloud
A  Thousand  Years  -  Christina  Perri
Lovely  Day  -  Bill  Withers
Make  you  Feel  My  Love  -  Adele
Mirror  -  Justin  Timberlake
More  Than  Words  –  Extreme
Nothing's  Gonna  Stop  Us  Now  -  Starship
Put  Your  Records  On  -  Corrine  Bailey  Rae
Royals  -  Lorde
Rule  The  World  -  Take  That
Runaway  -  The  Corrs
Say  You  Won't  Let  Go–  James  Arthur
Shake  It  Off  -  Taylor  Swift
Signed  Sealed  Delivered  -  Stevie  Wonder
Songbird  -  Eva  Cassidy
Stand  By  Me  -  Ben  E  King
Teenage  Dream  -  Katie  Perry
Thinking  Out  Loud  -  Ed  Sheeran
Torn  –  Natalie  Imbruglia
Want  To  Want  Me  -  Jason  Derulo
When  The  Right  One  Comes  Along  –  Nashville
Wherever  You  Will  Go  -  The  Calling
Will  You  Marry  Me  –  Jason  Derulo
Yellow  -  Cold Play
You've  Got  a  Friend  in  Me  -  Randy  Newman
You've  Got  the  Love  -  Candi  Staton
Love  Story  -  Taylor  Swift