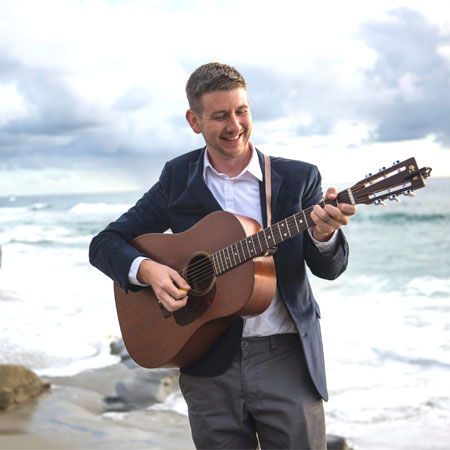 Acoustic Guitarist San Diego
Acoustic guitarist, vocalist & songwriter with over 10 years experience
High quality performances & professionalism will exceed expectations
Can play songs in any style with a repertoire that spans Top 40 hits & classics
Perfect for weddings, private parties, special celebrations & corporate events
Based in San Diego & available to book to perform at events worldwide
Our award winning vocalist, songwriter and acoustic guitarist based in San Diego specializes in providing upscale event entertainment that will really make a lasting impression.
Having performed at thousands of events across California and the rest of the United States over the past 10 years, our talented live lounge singer and guitarist is renowned for his beautiful, soulful voice, soothing acoustic guitar style, amazing versatility and professionalism!
He can play songs in a wide variety of styles including Blues, R&B, Reggae and Country, from a repertoire that spans from Top 40 hits, to classic party favorites. He is more than happy to put together a customized playlist that has been handpicked by you to perfectly compliment your event and musical taste, he can even learn special requests to be played on the night with either guitar or ukulele.
A highly talented performer our acoustic guitarist in California can provide the perfect wedding entertainment for the ceremony, drinks reception and evening party, as well as corporate entertainment that will have delegates dancing the night away. He is able to adapt his style to suit you.
Book our acoustic guitarist and live lounge style singer to perform at your next event and you will not be disappointed!
Top Tip
Want to hear ensure that your special request sounds exactly how you imagined? Our acoustic performer can create an audio recording for you to listen to before performing at your event. Get in touch with our entertainment specialists to find out more.
When I Get My Hands On You - Bob Dylan
The Way You Look Tonight - Frank Sinatra
Everlong - Foo Fighters
A Thousand Years - Christina Perri
Bad Fish - Sublime
Overwhelmed - Tim McMorris
The Guy That Says Goodbye To You Is
Out Of His Mind - Griffin House
Wonderwall - Oasis
Budapest - George Ezra
Lovesong - The Cure
Can't Take My Eyes Off You - Frankie Valli
Thinking Out Loud - Ed Sheeran
All Of Me - John Legend
First Day Of My Life - Bright Eyes
Over The Rainbow/Wonderful World - IZ
Apologize - One Republic
Story Of My Life - One Direction
Blackbird - The Beatles
Hard Days Night - The Beatles
Love Me Do - The Beatles
And I Love Her - The Beatles
In My Life - The Beatles
Imagine - John Lennon
Tangled Up In Blue - Bob Dylan
Toes - Zac Brown Band
Unchained Melody - The Righteous Brothers
Love Me Tender - Elvis
Madness - Muse
Ordinary People - John Legend
Hey Soul Sister - Train
Drops of Jupiter - Train
Ho Hey - The Lumineers
Im Yours - Jason Mraz
I Wont Give Up - Jason Mraz
Home - Phillip Phillips
Get Lucky - Daft Punk
Take Me Home Country Roads - John Denver
Wonderful World - Sam Cooke
I Got You - Jack Johnson
Three Little Birds - Bob Marley
Is This Love - Bob Marley
Better When Were Together - Jack Johnson
I Can Tell That We Are Going To Be Friends - Jack White
Wagon Wheel - Old Crow Medicine Show version
Just The Way You Are - Bruno Mars
When I Was Your Man - Bruno Mars
Hey There Delilah - Plain White Ts
Rhythm of Love - Plain White Ts
Creep - Radiohead
Good Riddance (Time Of Your Life) - Green Day
Blister In The Sun - The Violent Femmes
Lovin (Is What I Got) - Sublime
Santoria - Sublime
No Diggity - Blackstreet
Sea Of Love - Original
Yoshimi Battles The Pink Robots - The Flaming Lips
Bullet And A Target - Citizen Cope
Every Rose Has Its Thorn - Poison
Photograph - Ed Sheeran
Mary Janes Last Dance - Tom Petty
You Dont Know How It Feels - Tom Petty
Hey Jude - The Beatles
House Of The Rising Sun - The Animals
Wonderful Tonight - Eric Clapton
Knocking On Heavens Door - Eric Clapton version
Proud Mary - Credence Clearwater Revival
Signed Sealed Delivered - Stevie Wonder
Wonderful World - Sam Cooke
You Belong To My Heart
More Than Words - Extreme
Harvest Moon - Neil Young
Here Comes The Sun - The Beatles
You Are The Best Thing - Ray LaMontagne
My Sweet Lord - George Harrison
Ain't No Sunshine - Bill Withers
Brown Eyed Girl - Van Morrison
Moondance - Van Morrison
Stand By Me - Ben E. King
Hallelujah - Leonard Cohen
Lets Go Get Stoned - Ray Charles
Fools Rush In - Elvis Presley
Love Me Tender - Elvies Presley
Wish You Were Here - Pink Floyd
Amarillo By Morning - George Strait
I Walk The Line - Johnny Cash
Folsom Prison Blues - Johnny Cash
Ain't No Sunshine - Bill Withers
Melissa - The Allman Brothers Band
Blue Sky - The Allman Brothers Band
Soul Shine - The Allman Brothers Band
Sweet Home Alabama - Lynyrd Skynyrd
Heart Of Gold - Neil Young
Needle and The Damage Done - Neil Young
Love In Mind - Neil Young
Whats Goin On - Marvin Gaye
The Thrill Is Gone - B.B. King
Sweet Little Angel - B.B. King
Rock Me Baby - B.B. King
How Blue Can You Get - B.B. King
Crossroads - Robert Johnson
Black Cat Bone - Albert Collins
That's Alright Mama - Arthur Crudup
Tore Down - Albert King
Kansas City - Albert King
Seven Years - Mike Officer
Story Book Love - Mark Knopfler
Soldier - Gavin DeGraw
Simple Man - Lynyrd Skynyrd
Just The Way You Are - Billy Joel
Stay With Me - Sam Smith
Sunny And 75 - Joe Nichols
Wildflowers - Tom Petty
" Outstanding, truly. You will not be disappointed in hiring [him]. "

Donna F., Corporate Function, La Jolia, CA
" [He] was fantastic! He was prompt, and worked with us on the list of songs. He made our rehearsal dinner dessert, campfire on the beach, a great success! Everyone had such a relaxing and enjoyable evening, especially the bride and groom to be! Thank you! "

Rebecca B., Private Party, Imperial Beach, CA
" I hired [him] to help me with a proposal that I was planning for my girlfriend (now fiancé thanks in part to [him]). From our first contact, he was amazing. [He] was incredibly responsive and accommodating. I asked him to play a particular song for the proposal, not only did he learn the song and allow me to listen to it before hand; [he] recorded three versions of the song as we kept tweaking the style to make sure it was perfect. He never complained and always delivered when he said he would. He is obviously a talented artist, but what sets him apart is his professionalism, enthusiasm, and his desire to make your event as special as possible. "

Victor V., Private Event, San Diego, CA
" [He] was AMAZING!! Was so professional yet fun! Everyone wanted his card and thought he was amazing too! Highly recommend him for anything and will definitely be using him again. Thank you for making our night memorable! "

Vanessa B., Wedding, Oceanside, CA