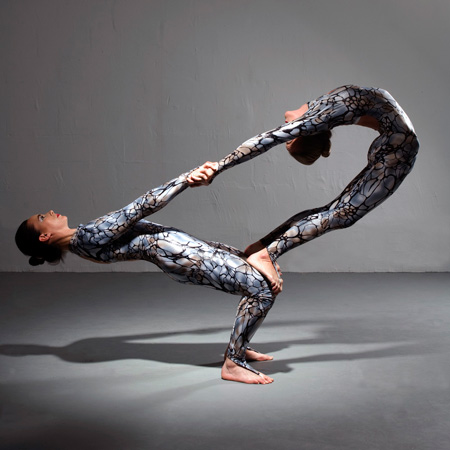 Acro Contortion Duo
Incredibly skilled performers create amazing and improbably shapes with their bodies
Acrobatic duo offer range of impressive hand-balance and contortion shows
Able to include other skills into their act, including pole dancing and gymnastics
Brilliant stage show ideal for large events and smaller ambient functions
UK-based act available for bookings worldwide
Acro Contortion Duo VIDEOS
Acro Contortion Duo PHOTOS
Book our bafflingly skilled contortionists for a hand balance act and acro duo that will take your breath away. These gymnasts and acrobats can perform contortion stunts that defy logic and wow your audience with a variety of objects, including hand balance bars and tiny perspex boxes.
As multi-talented performers, the duo can adapt their act to suit a range of event types and spaces, from being large-scale stage acts to offering ambient sets at corporate functions. Requiring only solid, level ground and/or the small pieces of equipment that they provide, the act is able to be performed anywhere but is enhanced by lighting and a sound system.
From using each other as frames and forging amazing structures to balancing in impossible positions, one-handed, on slender beams, this act drops jaws from start to finish. Their routine incorporates a range of skills outside of the contortionist remit too, including pole dancing and gymnastics. 
The duo can offer a finale of their set where a tiny perspex box is placed onstage, scarcely big enough for a small dog, and somehow the duo both fit in it. It is an astonishing sight to behold and will have your guests' eyebrows stuck in the raised position. 
The acro duo's costumes can be customised to include branding, making the act brilliant for brand activations and product launches, and their normal costumes are glamorous and elegant without restricting movement. This enables them to suit high-profile functions and stages alike. Without a doubt an act that will be a talking point among your guests, this act is a sure-fire success story that will lend a sense of wonder to any event. 
To book our amazing hand balance act and acrobats, contact our dedicated entertainment coordinators today. 
BP;Poland Turkey & England
Bank of Scotland Jersey
Diana Tribute Wembley Stadium
Dubai World Cup Horse Race
Four Seasons Hotel Cyprus
Honda England
MALTA
Mercedes England
Raffles Singapore
Royal Mail Alexandra Palace
Skyper Awards Portugal
T-mobile England
Thomas Cook Turkey
Walkers Crisps England
BBC 1 – National Lottery Awards Silks
ITV – Cabot Circus Advertisement Acrobatic duo & silks
Disney Channel – Childrens' Awards Royal Albert Hall Fire
Festivals
Womad Gran Canaria
Dubai Shopping Festival
'Carmen' Royal Albert Hall – Raymond & Gubbay
Bangkok Motor Show Thailand
Commonwealth Games Manchester
Dubai Shopping Festival Dubai
Elle Magazine
Honda England
Langham Hotel Hong Kong
Macau Fishermans Wharf Macau
National Theatre London
Remington England
Royal Wedding Westminster
Swarovski London
The Peak Hong Kong
Victoria Square Belfast
Wrigley Celtic Manor
TV
Channel 4 Sweden – Nyhetsmorgon Acrobatics
ITV – Giffords Circus Promotion Trapeze
Qatar Eid Festival
Glastonbury England
Harbourside Festival
BMW England
" Amazing acrobatics...Breathtaking...Exceeded my expectations! "

Jo Everett, Audi A1 Launch
" Fantastic Charisma...great artists "

Amphitheatre of the Arts
" They were the talk of the evening! They made our event. "

Charlotte Watmore - Hitatchi Capital Ltd
" They were fabulous and our guests are still talking about it! Thank them for making our night so special "

Sonya Yadin  - Private Wedding at Park Lane Hotel
" They provided a great night out "

Vernon Kay
" Perfect, absolutely perfect! "

Mr Bambos Charalambous - Manager of Four Seasons Hotel, Cyprus