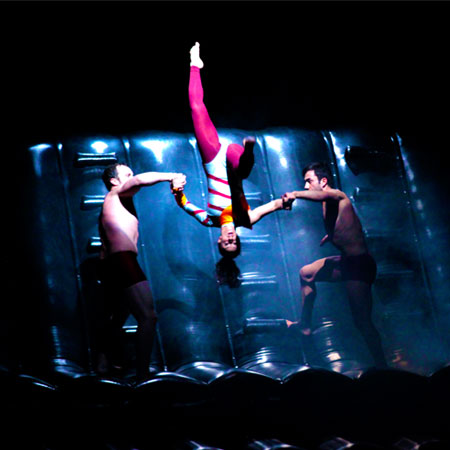 Acro Inflatable Mountain
Combines spectacular acrobatic dance with futuristic aesthetics
Impressive use of bouncing technique from different height levels
A very unique, entertaining and high-energy performance
Huge inflatable structures that will WOW your audience
Based in Rome and available to perform at events worldwide
Acro Inflatable Mountain PHOTOS
The company, directed by a top American choreographer and designer, is a combination of physical theatre, dance, video, and technological innovation and invention. In addition to successful theatrical touring at the highest level, both nationally and internationally, the company also offers highly impactful and creative performances, with a focus on brand-enhancement through live special effects.
With over 25 years of professional theatrical experience, the team produces highly original and unique performances using luminescent screens, giant inflatable acrobatic structures, shadow work, and fluorescent blacklight effects to create and inspire. If you are looking for something different to impress your guests, you are looking for this!
As usual, choreographer Anthony has not searched a dramatic course, secure of the idea that art and creativity can be a wonderful path of research that does not always need a real goal. The only purpose is the pleasure to walk another journey with the intent to transmit a contagious positivity that can approach any audience to dance, with intellectual honesty and charm of the body language.
Always in search of an expressive and eclectic freedom, combining the plurality of research related to technology, dance, sound and colour, "Acro Inflatable Mountain" assures:
Imagination and Creativity in an Explosion of Pure Energy