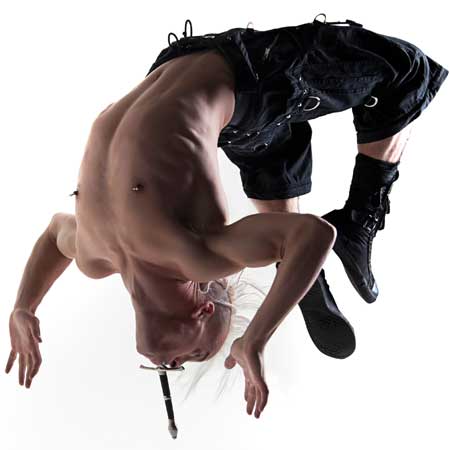 Acrobatic Sword Swallower
Jaw-dropping performances have amazed audiences around the world
Holds over 15 world records for his daring sword swallowing stunts
Contact and Fire Juggling, Acrobatics, Contortion and Sword Swallowing
Perfect for both stage and street performances
Based in Melbourne and available to perform at events worldwide
Acrobatic Sword Swallower PHOTOS
Beware because this artist's acts are not for the faint of heart! This Acrobatic Sword Swallower is the entertainment option you're looking for to leave audiences speechless. Eagerly applauded by action and danger lovers, this skilled acrobatic performer will make hearts pound hard and leave mouths open.
A highly skilled and professional sideshow performer, this act holds over 15 world records for his sword swelling stunts as well as a Guinness World Record for The Most Backflips Performed Whilst Swallowing a Sword in Under 1 Minute (20).
A world-class entertainer with a passion for performing both on the stage and in the street, he has circled the globe with his jaw-dropping acts leaving audiences in awe of his incredible skill. A unique and exciting combination of contact juggling, sword swallowing, fire juggling, acrobatics and contortion, his shows feature daring and dangerous stunts that will have audiences holding their breath in anticipation.
Our professional sword swallower has extensive experience performing at worldwide events. His unique and breath-taking sword-swallowing show has taken him to perform at numerous events around the world.
Some of the most famous ones include the VIP Guinness Show at the Venetian Hotel in Macau, the Royal Easter Show in Sydney and the World Slideshow Festival in Ballart. He's also performed as a guest star for Ed Elonzo's Psycho Circus in Malasya and he has even delighted Sylvester Stallone himself! 
Utterly unforgettable, this pioneering performer will be a fantastic addition to your event. Get people talking and make of your party an occasion to remembered by booking this thrilling sword-swallowing act.
Contact us today and enquire about this phenomenal mind-blowing performance. Our in-house team of entertainment specialists will be more than happy to guide you through the booking process. 
Performed at the Royal Easter Show in Sydney as part of the League of Sideshow Superstars
Performed at the World Sideshow Festival in Ballarat in 2015
Performed for Usher and the cast of his 2011 OMG Tour
Performed as part of the 2015 VIP Guinness Show at the Venetian Hotel Macau
Performed as a guest star of Ed Elonzo's Psycho Circus at Resorts World Genting Malaysia
Performed as part of Lo Show Dei Record in Milan Italy in 2014
" What you do is incredible "

Sylvester Stallone
" Brilliant performances. Please come back next year! "

Jade, Stage Manager at Circus Big Top, Glastonbury Festival
" I would recommend him to anyone looking to contract a talented and professional performer "

Cantwell, Festival Manager Auckland Internation Buskers Festival
" We received many positive feedback from visitors, and staff alike, who enjoyed your show and the presence you added to the resort's atmosphere. Ultimately, you've been an asset to us in the entertainment department for the past 3 months "

Andrew Lee , Genting Highlands Resort, Malaysia
" Walk away from the show taking in deep lungfuls of sea breeze when you realise you haven't taken a breath for fifty-five minutes "

The Western Australian