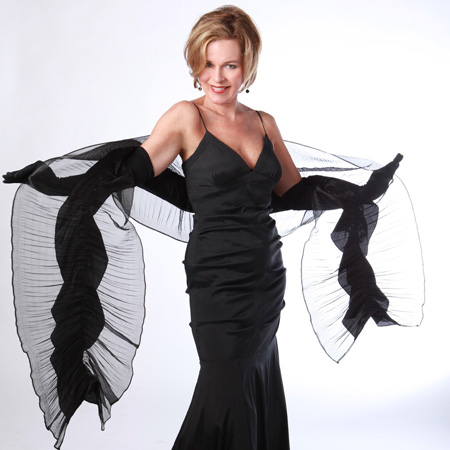 American Jazz Singer
Stylish American jazz singer
Dynamic vocalist performs jazz standards of the Gershwin and Cole Porter era
A unique blend of Spanish boleros, bossa nova and French ballads
Creates a rare and intimate atmosphere with her smoky, warm contralto
In huge demand with hotels, restaurants and corporate events throughout the USA
American Jazz Singer VIDEOS
Jeanne is a dynamic vocalist who has a special love for the jazz standards of the Gershwin, Cole Porter and Jerome Kern era.  She grew up in South Asia and French West Africa, and her musical repertoire represents a fusion of cultures, enriched by her experiences in Europe, Latin and South America.  Jeanne's music is a unique blend of Spanish boleros, Brazilian bossa novas, French ballads and traditional jazz standards.  
During her performances, it has been said that, "She creates a rare and intimate atmosphere with her smoky, warm contralto."  Jeanne's music is spontaneous, intense and emotionally genuine. 
The daughter of a diplomat, Jeanne was raised in French West Africa and South Asia and began her musical career in the early 1990's while living in Poland, performing at local clubs and at benefit concerts.  She is fluent in French and Spanish, and has lived all over the world, while developing highly refined social and interpersonal skills.
Jeanne loves to entertain and bring people together, using her natural ability to bring warmth to any room and create an enjoyable ambience through the International language of music!
Contact one of our Entertainment Co-ordinators who will be able to assist you with anything more that you might need to book this act.
Agua De Beber (Gm)
Ain't Misbehaving (F)
All Of Me (Eb)
All Of You (Ab)
All The Things You Are (C)
Always (Ab)
And I love Her (Eb)
Angel Eyes (Ebm)
Angelitos Negros  (Cm)
Answer me My Love (G)
Antonio's Song  (Ebm)
As Time Goes By (Eb)
Autumn Leaves (Les Feuilles Mortes) (Gm)
Basin Street Blues (E)
Begin the Beguine  (Eb)
Besame Mucho (Fm)
Bewitched (Eb)
Big Spender (Am)
Black Coffee (A)
Blue Bayou (Eb)
Blue Moon (Ab)
Blue Skies  (A)
Body and Soul (F)
Boulevard Of Broken Dreams  (Fm)
Bye Bye Blackbird (Ab)
Bye Bye Love ( A)
Cabaret (Gb)
Can't Buy Me Love (C)
Can't Help Falling In Love With You (G)
Caravan (Fm)
Cheek To Cheek (Db)
Circle In The Sky (C)
Close To You (F)
Come Away With Me  (C)
Como Fue (F)
Como Han Pasado Los Anos (B)
Contigo Aprendi (Bb)
Crazy (G)
Cry Me A River  G/Em
Cuando Calinenta El Sol (D)
Dancing in the Dark  (G)
Day By Day (Bb)
Deed I Do (F)
Deep Purple (Ab)
Delirio (C)
Desafinado (Bb)
Do That To Me One More Time (A)
Don't Blame Me (Eb)
Don't Cry For Me Argentina (G)
Don't Get Around Much Anymore (D)
Don't It Make My Brown Eyes Blue (E)
Don't Know Why I Didn't Come  (G)
Dream A Little Dream Of Me (Bb)
Es Si Tu N'existais Pas (C)
Esta tarde Vi Llover (F)
Everything Must Change (Am)
Feelings (Dime) (A)
Feel Liking Making Love (Bb)
Fever (Gm) /Abm/Am
Fly Me To The Moon (F)
For Sentimental Reasons (A)
Frenesi (Bb)
Frim Fram Sauce (D)
Gentle Rain The (Em)
Georgia On My Mind (C#)
Get Out Of Town (C)
Girl From Ipanema The  (Db)
Goldfinger (D)
Green Dolphin Street  (Eb)
Hello Dolly (D)
Here There and Everywhere (F)
Here's That Rainy Day (Ab)
Here's to Life  (Fm)
Historia De Un Amor (Abm)
How Deep Is The Ocean (Gb)
How Insensitive (Gm)
I Can't Get Started (D)
I Concentrate On You (A)
I Get A Kick Out Of You (Ab)
I Left My Heart In San Francisco (D)
I Love Paris (Cm)
I Love You (Ab)
I Only Have Eyes For You (Eb)
I Wish You Love (A)
I'll Be Seeing You (Gb)
I'll Never Fall In Love Again (G)
I'll Take Romance (Bb)
I'm A Fool To Want You (Gm)
I'm Beginning To See The Light (C)
I'm In The Mood For Love (F)
If (G)
If Ever I See You Again (E)
If I Had You (C)
If I Loved You (D)
Imagine (C)
It Could Happen To You (C)
It's A Heartache (A)
It's Alright With Me (Em/G)
It's Impossible (Somos Novios)  (Ab)
It's Only A Paper Moon (Ab)
It's Too Late (Bb)
I've Got You Under My Skin (Gb)
Jesse (G)
Just The Way You Are (Eb)
Killing Me Softly (E)
L-O-V-E  (D)
La Vie En Rose (F)
Laura (D)
Leaving On A Jet Plane (A)
Let's Face The Music And Dance (Fm)Ab
Little Girl Blue (Bb)
Look of Love The  (Gm)
Love For Sale  (D)
Love Is Blue (C)
Adoro (Dm)
Lover Man (Ab)
Lullaby Of Birdland (C)
Lush Life (Ab)
Mack The Knife (D)
Making Whoopee (G)
Mambo Inn  (Bb)
Man I Love The  (Eb)
Manha De Carnaval (Black Orpheus) (Dm)
Meditation (D)
Misty (Ab)
Mon Dieu (B)
Mona Lisa(G)
Mood Indigo (A)
Moon Dance  (Am)
Moon River (F)
More (C)
My Cup Runneth Over (Eb)
My Elusive Dreams (Ab)
My Favorite Things (Am)
My Foolish Heart (Db/D)
My Funny Valentine (Fm)
My Heart Belongs To Daddy (Ebm)
My Romance (Eb)
My Way (F)
Nature Boy (Abm)
Ne Me Quitte Pas (G)
Nearness of You The  (Bb)
Never On Sunday (F)
New York New York (Eb)
Night And Day (G)
Night in Tunisia A  (Gm)
Nights In White Satin (G)
No Other Love (F)
No Se Tu (Ab)
Non Je Ne Regrette Rien (F)
Old Devil Moon (A)
On Green Dolphin Street (Eb)
On The Street Where You Live (D)
Our Love Is Here To Stay (G)
Over The Rainbow (F)
People (D)
Perfidia (E)
Piel Canela (Bb)
Quando Quando Quando  (Eb)
Que Sera    (G)
Quiet Nights Of Quiet Stars (Corcovado) (G)
Quizas Quizas Quizas (Perhaps Perhaps Perhaps) (Gm)
Rio De Janeiro Blues  (Bbm)
Rose The  (Bb)
S'Wonderful  (Eb)
Sabor A Mi (Bb)
Satin Doll (Eb)
Scotch and Soda (Ab)
Sentimental Journey (C)
Shadow of Your Smile The  (C)
Shiny Stockings (Ab)
Slow Hot Wind  (Eb)
Smoke Gets In Your Eyes (F)
So In Love (Abm)
Solamente Una Vez (G)
Someone To Watch Over Me (Eb)
Somos Novios (It's Impossible) (Ab)
Speak Low (G)
Strangers In The Night (Ab)
Summertime (Am)
Sunny (G)
Sway (Gm)
Switchin' In The Kitchen (Eb)
Taste of Honey The  (Fm)
Tea For Two (Bb)
Teach Me Tonight  (F)
Tenderly (Eb)
That Old Black Magic (G)
They Can't Take That Away From Me (Ab)
This Masquerade (Ab)
Time After Time (G)
Time For Us A   (Cm)
Tonight I Celebrate My Love For You (G)
Too Young (Db)
Torn Between Two Lovers (F)
Unchained Melody (B)
Unforgettable (Bb)
Vereda Tropical (F)
Very Thought of You The  (C)
Walk On By  (D)
Watermelon Man  (F)
Wave (Bb)
Way You Look Tonight The  (F)
What A Wonderful World (G)
What Is This Thing Called Love (Eb)
What's New (Eb)
Whatever Lola Wants (Bbm)
When I Fall In Love (G)
Where or When  (Bb)
When Sunny Gets Blue (Bb)
When The Saints Go Marching In (A/Ab)
When You Wish Upon a Star  (Gb)
Where or When  (Bb)
Will You Still Love Me Tomorrow (G)
Words (A)
Yesterday (Fm)
Yesterdays (G)
You Are So Beautiful (F#)
You Are The Sunshine Of My Life (Bb)
You Can Close Your Eyes (Ab)
You Go To My Head (Ab)
You Must Love Me (F)
You Needed Me (G)
You Took Advantage Of Me (Eb)
You Were Always On My Mind  (A)
You'd Be So Nice To Come Home To (Eb)
2Your Heart Is As Black As Night (Cm)
You've Changed  (G)
You've Got A Friend (E)
Love Me Tender (Bb)