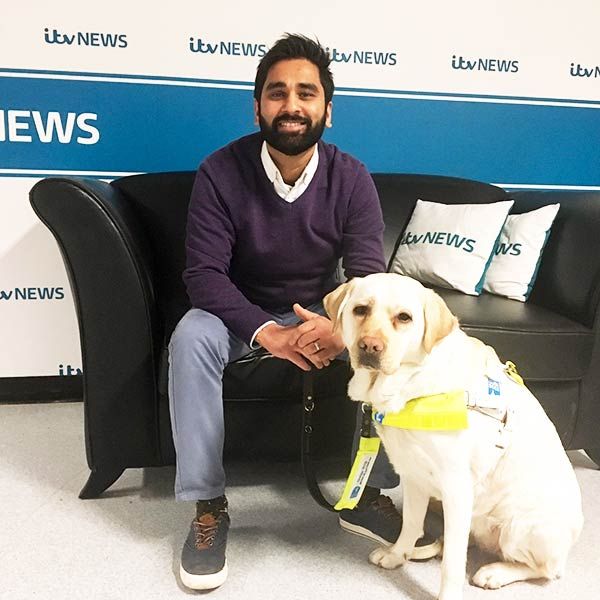 Amit Patel & Kika
A trauma doctor, author and keynote speaker diagnosed with keratoconus disease who has inspired many suffering with sight loss
Has addressed conferences for numerous blue-chip companies including American Express, AXA, the NHS, and Legal & General Investments
An active campaigner for accessibility, he has featured on various national news channels such as BBC Asian Network, BBC Radio 4 and London Radio
Amit has a large following of 17,000 and his guide dog Kiki has around 25,000 followers on social media
Amit will provide inspirational and motivating keynote speeches for conferences, activations and corporate events
A highly successful trauma doctor, author and independent consultant, Amit's life was dealt a blow when he was diagnosed with keratoconus a disease which led to him becoming blind. Amit slowly re-learnt life skills which he would later teach to others who were also suffering from the loss of sight.
In 2015 he was paired with his guide dog, Kika. It wasn't until video footage of both man and dog being abused on the Underground went viral that Amit's life changed again. He now attaches a Go-Pro camera to Kika, capturing a dog's eye view fo the world. On the online feed they document their travels, challenges and the people they meet along the way.
Amit is now an active campaigner for accessibility, has featured on various national news channels and is a regular contributor to BBC Asian Network, BBC Radio 4 and London Radio.  He is also the author of the book Kika & Me, talking about how his world suddenly changed and how one guide dog changed his life for the better, an inspirational book for all!
Amit's upbeat personality and his unique story makes him an incredible public and keynote speaker and has addressed conferences for numerous blue-chip companies including American Express, AXA, the NHS, and Legal & General Investments.
Diversity
Inclusion
Disability
Accessibility
Discrimination