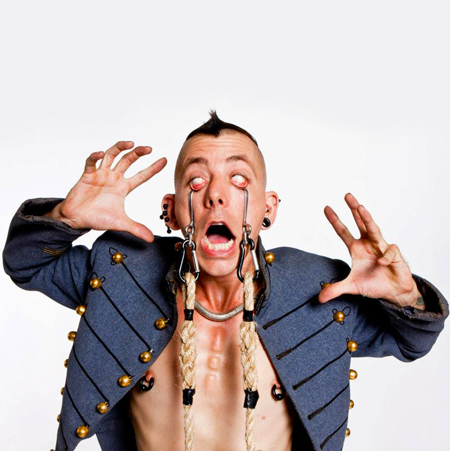 Australian Freak Show Performer
An award winning freak show performer not for the faint-hearted
Multiple skills include sword swelling, chainsaw juggling, weight lifting with his piercings and much more
Seen at Glastonbury Festival, BBC, Edinburgh Fringe Festival and Australia's Got Talent
Australia's most prolific Guinness world record holder and currently has 46 world records
Based in Byron Bay, Australia and available for international events
Australian Freak Show Performer PHOTOS
Always taking things to the extreme, our award winning Australian Freak Show Performer is a truly unique entertainer who delivers a combination of freak show acts, bizarre circus skills and incredible adrenaline pumping stunts. This multi skilled entertainer has a variety of routines that are not for the faint-hearted, but he can also tailor his act for younger audiences or clients who are a bit too squeamish. His gentlemanly wit and charm are an effective juxtapose to his ghoulish acts. His previous track record and continous achievements make him one of the best freak show entertainers in the world!
If you're looking for a freak show performer to deliver a wide variety of bizarre circus acts a extreme stunts then this multi skilled performer is your man. his abilities range from multiple sword swallowing, chainsaw juggling, 3 metre tall unicycle, blindfolded arrow catching, weight lifting with his piercings, motorbike stunts, knife throwing, bed of nail stunts, mind bending and the list goes on and on and on.
Our freak show performer is Australia's most prolific Guinness World Record holder and currently has 46 world records. He has shocked and amazed audiences in over 40 countries at festivals, events and in sold out venues around the world and made numerous television appearances. Our freak show performer has appeared at the Edinburgh Fringe Festival sixteen years in a row, presented numerous shows at the Sydney Opera house, toured with famous rock bands and shocked motorcycle dare-devils in mega arena stunt shows and appeared on Australia's Got Talent.
The Australian Freak Show Performer is a living phenomena guaranteed to leave a lasting impression on the spectators of his incredible acts. He is a great addition to many different event types and sure to deliver a show that your guests will not forget.
Top Tip:
This multiskilled performer can also team up with our Australian Freak Show Pin Up. 
Contact our team at Scarlett Entertainment if you would like to book this bizarre circus entertainer to have your guests on the edge of their seats.
" A record breaking hero "

Craig Glenday - Guiness World Records Editor In Chief
" Truly remarkable "

Oprah Winfrey
" Absolutely 100% magnificent "

Danii Minogue
IDEA ARTICLES RELATED TO Australian Freak Show Performer