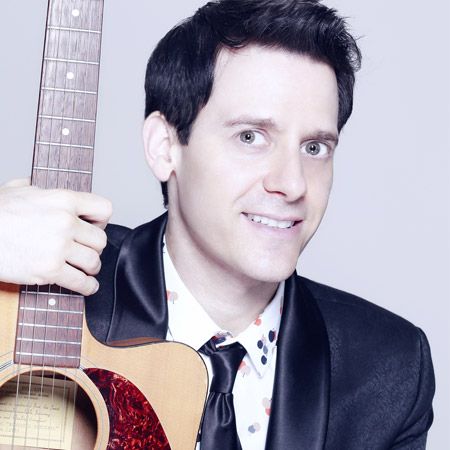 Australian Vocalist & Guitarist
Sounds like a full band performing all your favourites from pop, rock, country, dance, disco, R&B, smooth jazz and reggae
Choose from over 1500 songs in his diverse repertoire!
He performs for 18th birthday parties to 80th birthdays...think Buddy Holly, Beatles to Bruno Mars and everything in between
Over 15 years experience at 5-star hotels, resorts and cruise lines including Royal Caribbean, Hilton, Marriott, Caesars Palace & Hard Rock Casino
Based in Melbourne and available to perform at events worldwide with his own PA
Australian Vocalist & Guitarist VIDEOS
Australian Vocalist & Guitarist PHOTOS
Solo singer, guitarist and entertainer Ron is your perfect choice for an all in one fun music entertainer who actually sounds like a full band! As one of Australia's most diverse performers with a repertoire of 1500+ songs Ron will take your requests and keep you singing along to familiar pop, rock, country, jazz, soul, latin, reggae, R&B and dance hits… you will be glad you booked a real live musician!
As a popular presence at festivals, conferences and casinos, Ron has also entertained audiences in hundreds of five-star hotels and resorts, including such internationally recognised chains as Four Seasons, Hilton, Shangri-la, Intercontinental, Marriott, Sheraton, Taj and Moevenpick. With a repertoire of over 1500 songs, he offers guests a familiar selection of different genres as well as current top 40 covers - with a versatility that invites the likes of Sting, Garth Brooks, Bob Marley, Sade, Keith Urban, Michael Buble and Stevie Wonder.
Ron has performed for presidents, diplomats and alongside numerous celebrities; and has also produced and released four solo albums that garnered international song writing awards. Interesting to note that he typically sings 40 songs at each show, certainly more than most singers can deliver in a night.
The perfect one man band for a variety of occasions, this live lounge style singer is the perfect vocalist and guitarist for receptions, private parties, festivals, corporate events, and many more!
Top Tip:
Mixing live guitar playing with vocals and DJing our multi-skilled performer brings an eclectic mix of musical styles to your event.
Contact one of our Entertainment Team who will be able to assist you in booking this acoustic covers singer and guitarist or any other act on our global roster.
Across the universe - Beatles
Africa – Toto
All Along the Watchtower - Bob Dylan
All My Loving - Beatles
All night long - Lionel Ritchie
Amazing - George Michael
And I Love Her – Beatles
Another Day in Paradise – Phil Collins
April Sun in Cuba - Dragon
Arthur's Theme – Christopher Cross
Autumn Leaves – Nat King Cole
Baby Come Back – The Player
Back in the day – Erykah Badu
Baker Street – Gerry Rafferty
Behind Blue Eyes - The Who/ Limp Biscuit
Better be home soon – Crowded House
Big Yellow Taxi - Joni Mitchell Counting Crows
Black Velvet – Alanah Myles
Bleeding Love – Leona Lewis
Born to be alive - Patrick Hernandez
Brick House - Commodores
Brown Eyed Girl – Van Morrison
By Your Side - Sade
Cant Feel My Face - The Weekend
Cant Help Falling in Love – Elvis Presley
Cant smile without you - Barry Manilow
Can't Stop the Feeling - Justin Timberlake
Casablanca – Bertie Higgins
Change the world – Eric Clapton
Chicken Fried - Zac Brown Band
Come Together - Beatles
Corcovado – Astrud Gilberto
Crazy - Seal
Crazy Love – Van Morrison/Brian McKnight
Cruisin – Smokey Robinson
Day In the Life of a Fool – Frank Sinatra
Delicate - Terence Tren Darby
Distant Sun - Crowded House
Don't dream it's over – Crowded House
Don't let me be lonely tonight – James Taylor
Don't Stop Believing - Journey
Down under – Men at Work
Dream Weaver – Gary Wright
Drift Away – Dobie Gray
Drive - Incubus
El condor Pasa – Simon & Garfunkel
Englishman in New York - Sting
Everybody Hurts - REM
Every breath you take – Police
Every rose has its thorn - Poison
Father Figure – George Michael
Fallen – Lauren Wood
Fame - David Bowie
Fast Love – George Michael
Feeling Good – Nina Simone
Feel like making love – Roberta Flack
Fever – Peggy Lee/ Elvis Presley
Fields of gold - Sting
Fire and Rain - James Taylor
Flame Trees - Cold Chisel Jimmy Barnes
Fly Love – Jamie Foxx
Follow Me - Uncle Kracker
For What Its Worth – Buffalo Springfield
Fragile – Sting
Friends in Low Places - Garth Brooks
Georgia on my mind – Ray Charles
Get Back - Beatles
Gimme One Reason – Tracy Chapman
Girl From Ipanema – Astrud Gilberto
Give a little bit - Supertramp
Hang on to your love - Sade
Happy Feelings - Maze & Frankie Beverly
Hazard – Richard Marx
Have you ever seen the rain - CCR
Hello – Lionel Ritchie
Help Is on Its Way – Little River Band
Here without you - 3 Doors Down
Hey Baby - Bruce Channel
High and Dry – Jamie Cullum/Radiohead
Hold on I'm coming - Sam & Dave
Honesty – Billy Joel
Hot Stuff - Donna Summer
Hotline Bling - Drake
How deep is your love – Bee Gees
Human nature – Michael Jackson
I can see clearly now – Johnny Nash
I can't tell you why – The Eagles
I feel good - James Brown
I heard it through the grapevine – Marvin Gaye
I love you more than you know - Donny Hathaway
I Saw her standing there - The Beatles
I want it that way – Backstreet Boys
I wish you love- Dean Martin
If I aint got you – Alicia Keys
If you could only see - Tonic
If you don't know me by now – Simply Red
I'm a believer - Monkeys
Im not in love - 10CC
In the midnight hour – Wilson Pickett
Iris - Goo Goo Dolls
Is This Love – Bob Marley
It's five o'clock somewhere - Alan Jackson
It's Probably Me - Sting
It's my life – Bon Jovi
Jasmine Flower - Chinese standard
Johnny Be Goode - Chuck Berry
Just the two of us – Bill Withers
Just the way you are – Bruno Mars
Kingston Town - UB40
Kiss of Life- Sade
Knocks me off my feet - Stevie Wonder
Kokomo - Beach Boys
Lady in Red – Chris De Burgh
Lazy Song – Bruno Mars
Leaving on a Jet plane - John Denver
Let it be - Beatles
Letter - Joe Cocker
Listen to the music – Doobie Brothers
Living on a prayer - Bon Jovi
Locked Out - Crowded House
Long Train Running - Doobie Brothers
Lost Without You – Robin Thicke
Love After War - Robin Thicke
Love TKO – Teddy Pendergrass
Love will keep us alive - Eagles
Lover Lover - Sonia Dada
Make you feel my love - Bob Dylan
Margaritaville – Jimmy Buffett
Mrs Robinson – Simon & Garfunkle
Marry You – Bruno Mars
Me and Mrs Jones – Michael Buble
Midnight at the oasis - Brand New Heavies
Moon Blue – Stevie Wonder
Moondance – Van Morrisson
More than I can say – Leo Sayer
Music – Leela James
Mustang Sally – Commitments
My Heart will go on – Celine Dion
Never Tear Us Apart - INXS
Night Demon - Karen Souza
No Ordinary Love - Sade
No woman no cry - Bob Marley
Norwegian wood – Beatles
Nothing Compares to you – Sinead O Connor
Now We're getting somewhere - Crowded House
Old time Rock & Roll - Bob Segar
One Love - Bob Marley
Ordinary People – John Legend
Piano Man – Billy Joel
Pineapple Head - Crowded House
Playing Your Game – Barry White
Price Tag - Jessie J
Private Universe – Crowded House
Purple Rain - Prince
Pushbike - The Mixtures
Put your records on – Corinne Bailey Rae
Quizás Quizás Quizás - Andrea Bochelli
Rapture - iiO
Reminiscing – Little River Band
Ring Of Fire - Johnny Cash
Runaway - Del Shannon
Sailing – Rod Stewart
Save Tonight - Eagle Eye Cherry
Sealed With A Kiss – Bobby Vinton
Shape of my Heart - Sting
She will be loved – Maroon 5
Sign your name – Terence Trent Darby
Sister Madly - Crowded House
Smooth - Santana
Somebody Like You - Keith Urban
Somewhere over the rainbow – Judy Garland
Something so strong - Crowded House
Solsbury Hill - Peter Gabriel
Sorry seems to be hardest – Elton John
So sick – Neyo
Still Got The Blues – Gary Moore
Stuck In the middle with you – Steelers Wheel
Still haven't found – U2
Stitches - Shawn Mendes
Summer Breeze – Seals and Crofts
Summertime – Billy Holiday/ Ella Fitzgerald
Sunny - Bobby Hebb
Superstition - Stevie Wonder
Sway – Dean Martin / Michael Buble
Sweet Child O Mine – Guns n Roses
Sweet Home Alabama - Lynard Skynard
Tainted Love - Soft Cell
Take me to your heart – Michael learns to rock
Talking about a revolution – Tracy Chapman
Tempted - Squeeze
Tide is High - Blondie
That'll Be The Day - Buddy Holly
The Way it is - Bruce Hornsby
There goes my baby - Charlie Wilson
The One You Love – Glenn Frey
Three little birds – Bob Marley
Tian Mimi - Teresa Teng
Till the cops come knocking - Maxwell
Time of your life - Green Day
To Be With You – Mr Big
Touch of Paradise – John Farnham
Treasure - Bruno Mars
Turn Your Love Around – George Benson
Tyrone - Erykah Badu
Unchained Melody – Righteous Brothers
Under The Bridge - Red Hot Chilli Peppers
Use me – Bill Withers
Wagon Wheel - Darius Rucker
Waiting in vain – Bob Marley
Wake up little Susie - Everly Brothers
Walking Away – Craig David
Wanted dead or alive - Bon Jovi
Weather with you – Crowded House
What do you mean - Justin Bieber
What I Like about you - The Romantics
What's going on – Marvin Gaye
Whats Up - Four Non Blondes
When you say nothing at all – Ronan Keating
Wicked Game – Chris Isaak
Wild World – Cat Stevens
Wish I didn't miss you – Angie Stone
Wonderful tonight – Eric Clapton
Words – Bee Gees
Yellow - Coldplay
Yesterday - Beatles
You are my starship – Norman Connors
You can't make old friends – Kenny Rogers
You Might Need Somebody – Randy Crawford
You sexy thing - Hot Chocolate
Your body is wonderland - John Mayer
You'll Never Find – Lou Rawls
You're on my Mind - Kem
Zombie - The Cranberries
Achy Breaky Heart - Billy Ray Cyrus
Aint no sunshine – Bill Withers
All My Life – KC & Jojo
All Out of Love - Air Supply
Amazed – Lonestar
American Pie – Don Mclean
Angel – Anita Baker
Apologise – One Republic
Are you lonesome tonight - Elvis Presley
At Last – Etta James
Baby can I hold you – Tracy Chapman
Baby Come to me – James Ingram
Bailamos – Enrique Iglesias
Because of you - Neyo
Besame Mucho – Dean Martin
Between the sheets – Isley Brothers
Black Magic Woman - Santana
Blame it on the boogie - Jacksons
Boogie Street – Leonard Cohen
Breakfast at Tiffany's - Deep Blue Something
Broken Wings – Mr. Mister
Brown Skin - India Arie
California Dreaming – Mamas & Papas
Cant get you out of my head - Kylie Minogue
Can't help it – Michael Jackson
Can't take my eyes off you – Lauren Hill
Careless whisper – George Michael
Celebration – Kool & the Gang
Cherish The Day – Sade
Come Away with me – Norah Jones
Comfortably Numb - Pink Floyd
Country Roads – John Denver
Crazy Little Thing Called Love – Queen
Crocodile Rock - Elton John
Cry me a river - Julie London
Deep waters – Incognito
Desire - U2
Do Wah Diddy Diddy - Manfred Mann
Don't know why – Norah Jones
Dont look back in anger - Oasis
Do you really want to hurt me – Culture Club
Dreams – Fleetwood Mac
Drops of Jupiter - Train
Drive - Cars
Easy - Commodores
Endless Summer Nights – Richard Marx
Even When I'm Sleeping - Leonardo's Bride
Everything I do - Bryan Adams
Every time she whispers – Michael Franks
Evil Ways - Santana
Fairy Tale – Michael Learns to Rock
Fall at your feet – Crowded House
Fast Car – Tracy Chapman
Feel – Robbie Williams
Feelings – Albert Morris
Feel No Pain - Sade
Feliz Navidad - Jose Feliciano
Find Your Way - Kem
First Cut is the Deepest - Cat Stevens
Fly Like an Eagle – Seal/Steve Miller
Fly me to the moon - Frank Sinatra
Footloose - Kenny Loggins
Four seasons in one day – Crowded House
Free Falling - Tom Petty
Funky Town - Pseudo Echo
Georgy porgy - Toto
Get Lucky - Daft Punk
Gimme Some Loving - Blues Brothers
Girl is mine – Michael Jackson
Go your own way - Fleetwood Mac
Happy – Pharrell Williams
Harvest Moon - Neil Young
Have I told you lately – Rod Stewart
Have you loved a woman – Bryan Adams
Help – Beatles
Here comes the sun - Beatles
Hero – Enrique Iglesias
Hey Jude – Beatles
Holding back the years – Simply Red
Home – Michael Buble
Horses – Daryl Braithwaite
Hotel California - Eagles
How can you mend a broken heart - Bee Gees
How deep is your LUV - Calvin Harris
I Believe I can fly – R Kelly
I can't make you love me – Bonnie Raitt
I don't wanna miss a thing - Aerosmith
I got you - Split Enz
I knew I Loved You – Savage Garden
I still haven't found - U2
I Swear – John Montgomery
I wanna be loved – Eric Benet
I'm Yours – Jason Mraz
If tomorrow never comes - Garth Brooks
If you could read my mind - Gordon Lightfoot
if you leave me now - Chicago
I'm on fire - Bruce Springsteen
Imagine – John Lennon
Into temptation – Crowded House
Islands in the stream - Kenny Rogers
Isn't She Lovely – Stevie Wonder
It's Only Natural - Crowded House
It aint over till its over – Lenny Kravitz
Jack & Diane - John Mellencamp
Jessie's Girl - Rick Springfield
Joker - Steve Miller Band
Just the way you are – Billy Joel
Killing me softly – Roberta Flack
Kiss from a rose - Seal
Kiss Me – Sixpence None the Richer
Knocking on heaven's door – Bob Dylan
Lady – Modjo
Lady wants to know – Michael Franks
Learn to fly - Foo Fighters
Lemon Tree – Fool's Garden
Let's Stay Together – Al Green
Light My Fire – The Doors
Little Wing – Jimmy Hendrix
Living Years – Mike & the Mechanics
Look of Love – Diana Krall
Long Walk – Jill Scott
Love – Nat King Cole
Love Calls - Kem
Love is in the air – John Paul Young
Lovely Day – Bill Withers
Loving You – Minnie Riperton
Mambo No 5 – Lou Bega
Mr Bojangles – Sammy Davis Jr
Man in the mirror – Michael Jackson
Maybe Tomorrow - Stereophonics
Message to my girl – Split Enz
Missing – Everything but the girl
Moon River – Frank Sinatra
Most people I know - Billy Thorpe
More than words – Extreme
Music sounds better with you - Stardust
My Girl – Temptations
My Love – Westlife
New Sensation - INXS
No One – Alicia Keys
No shoes, no shirt no problem - Kenny Chesney
Nobody knows – Tony Rich Project
Nothing Can Come Between Us – Sade
Nothings gonna change – George Benson
Nutbush City Limits - Tina Turner
One – U2
Only Wanna Be With You - Hootie & the Blowfish
Perhaps Perhaps Perhaps - Doris Day
Pina Colada song - Rupert Holmes
Play That Funky Music - Wild Cherry
Pretty Woman – Roy Orbison
Private Eyes - Hall and Oats
Proud Mary – Creedence Clearwater
Push - Matchbox 20
Put your lights on - Santana
Quando Quando Quando – Michael Buble
Rainy Night in Georgia – Randy Crawford
Red Red Wine – UB40
Right here waiting – Richard Marx
Roxanne – Police
Sacrifice – Elton John
Satisfaction – Rolling Stones
Say Something – A Great Big World
Secret Garden – Bruce Springsteen
Shape of You - Ed Sheeran
Show and Tell - Al Wilson
Sitting on the dock of the bay - Otis Redding
Smile – Nat King Cole
Smooth Operator – Sade
Someone Like You - Adele
Something – Beatles
Something Stupid – Frank & Nancy Sinatra
Son Of A Preacher man - Dusty Springfield
Sound of Silence - Simon & Garfunkel
Stand By Me/ Beautiful girls – John Lennon
Strawberry Fields Forever – Beatles
Still a friend of mine - Incognito
Stir it up - Bob Marley
Sugar - Robin Shultz
Summer of 69 - Bryan Adams
Sumthin sumthin – Maxwell
Sunshine of my life – Stevie Wonder
Surfing USA - Beach Boys
Sweet Caroline - Neil Diamond
Sweet Dreams – Eurythmics
Sweet Thing – Chaka Khan
Take It Easy - Eagles
Take My Breath Away - Berlin
Tears in heaven – Eric Clapton
Tennessee Whiskey - Chris Stapleton
Thank you – Dido
The Wanderer - Dion
The Weight - The Band
Thinking out loud - Ed Sheeran
This Masquerade - Carpenters
Throw Your Arms Around - Hunters & Collectors
Ticket To Ride - Beatles
Time after time – Cyndi Lauper
To Her Door - Paul Kelly
Tonight - Enrique Iglesias
Train - Drops of Jupiter
True - Spandau Ballet
Twist and Shout - The Beatles
Umbrella - Rihanna
Under the boardwalk – Drifters
Unforgettable – Nat King Cole
Valerie – Amy Winehouse
Waiting For A Girl Like You - Foreigner
Wake me up - Avicii
Walk Of Life- Dire Straits
Walking in Memphis - Marc Cohn
We Don't Talk Anymore - Charlie Puth
What a difference a day made - Dinah Washington
What a wonderful world – Louis Armstrong
What you won't do for love – Bobby Caldwell
Whats My Scene - Hoodoo Gurus
When I fall in love - Nat King Cole
Who You Love – John Mayer & Katy Perry
Wild Horses – Rolling Stones
Wind of Change - Scorpion
Without You – Mariah Carey/Harry Nilsson
Wonderwall - Oasis
Yearning for your Love – Gap Band
Yellow Submarine - Beatles
Yesterday once more – Carpenters
You can leave your hat on – Joe Cocker
You Got it - Roy Orbison
You Raise me up - Josh Grobin
You shook me all night long - AC/DC
Your Love is King – Sade
You're beautiful – James Blunt
You've got a friend – James Taylor
3am - Matchbox 20