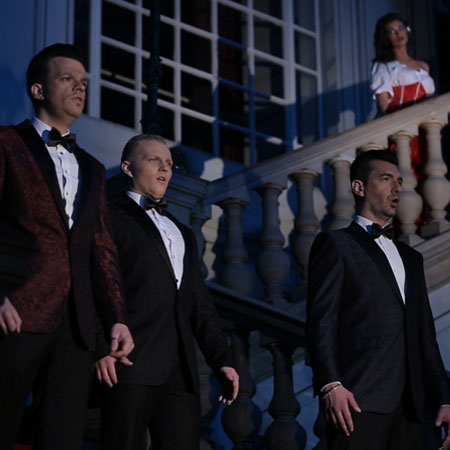 Bilingual Operatic Pop Show
Made up of 3 extremely successful pop-opera stars, this ensemble can sing in Spanish, Italian, French & English
Members of our trio have reached the semi-finals of X-Factor, finals of 'Battle of Songs' & won the grand prize in 'Lonel Perlea' competition
Our operatic pop show features a variety of well known songs inc. Belle, You raise me up & Hallelujah
Their expressive & powerful voices are suited to grand theatres, beautiful wedding venues, festival halls & gala venues
Based in Hamburg & available to perform at events worldwide
Bilingual Operatic Pop Show PHOTOS
A highly sought after operatic pop group, Scarlett Entertainment Germany are proud to represent this trio of talented classical singers. The multi-lingual singers can perform in English, French, Italian and Spanish, often combining a mixture of all 4 to add an international touch to their shows.
Performing at theatres, wedding receptions, corporate events and galas in Germany and across the world, our gifted opera artists add poise and sophistication to all occasions.
The crossover band's experienced members have achieved some admirable accomplishments individually, including reaching the semi finals of X Factor Romani, the finals of "Battle of Songs" and winning numerous competitions including Haricleea Darclee and Lolnel Perlea. Now touring as a power-house trio, the renown of Bilingual Operatic Pop Show only continues to grow.
Featuring a range of well known pop-opera songs in their extensive repertoire, the spectacular ensemble cover everything from Belle (Notre Dame de Paris) and You raise me up to My Way and Phantom of the Opera. Also able to learn specific songs on request, our classical crossover singers work with each client to ensure that their event is extra special. If you would like any more information about hiring our operatic band, speak to our team at Scarlett Entertainment Germany today. 
Top Tip!
Able to adapt the length of their performances, Bilingual Operatic Pop Show can be hired for everything from a 30 min to 2 hour show.
Caruso
Adagio
You raise me up
My way
Time to say goodbye
Il mondo
Phantom of the opera
Halleluyah
O sole mio
Nessun dorma
La donna e mobile
Granada
Santa Lucia
Belle (Notre Dame de Paris)
Ochi chornye
Passione
Non ti scordar di me
Coren´grato
My way
Halleluyah
Parlami d´amore Mariu
Home
So in love
Edelweiss
Torreador