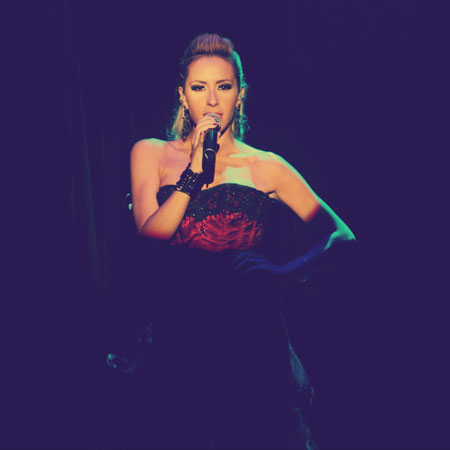 Bilingual Vocalist Ruth
Talented female vocalist will delight your guests with sensational performance
Provides live music entertainment as cover artist or with original songs
Can perform as soloist or alongside musical ensembles or professional DJ
Ideal for weddings, parties, club nights, festivals, corporate functions, etc.
Party singer available to hire for events in Mallorca and across Spain
Bilingual Vocalist Ruth PHOTOS
A versatile and accomplished performer, our female vocalist is certain to cause a stir at your event as she provides fantastic live music entertainment for all to enjoy. Bringing an incredible atmosphere to every occasion, this professional party singer can perform as a cover artist or introduce your guests to a new sound with her own original material, and is available to hire as a soloist or alongside other musical acts.
Drawing on her wealth of performance experience, our gifted party singer delivers musical excellence every time she takes to the stage, and promises to leave a lasting impression on your guests thanks to her distinctive style and powerful vocals. Tailoring her set to your event, our brilliant female vocalist offers something for everyone, and is guaranteed to have universal appeal and she creates the perfect mood for your special occasion.
A musical chameleon, our talented cover artist has the ability to perform in a wide variety of styles, adapting to different genres with ease and taking inspiration from major influences such as Christina Aguilera, Celine Dion, The Coors, Madonna, and many others. Covering a range of hits, this soloist can also offer a diverse set of original material, showcasing her prowess as a songwriter and also performing many of the international dance tracks on which she is the featured singer, giving your event a unique soundtrack with something for everyone.
Displaying her talent as a vocal powerhouse, this party singer will captivate audiences as a solo performer, but can also offer performances alongside professional musicians and DJs in addition to singing as a soloist. Ideal for private parties, weddings, nightclubs, corporate events, festivals and more, our female vocalist is available to book for events in Mallorca and throughout Spain.
Just one of the many musical acts that we can offer, at Scarlett Entertainment we specialise in providing exceptional live music entertainment to both private and corporate events around the world. For more information on what we can offer you for your special occasion, contact our entertainment co-ordinators today and let us help you turn your event into something extraordinary.