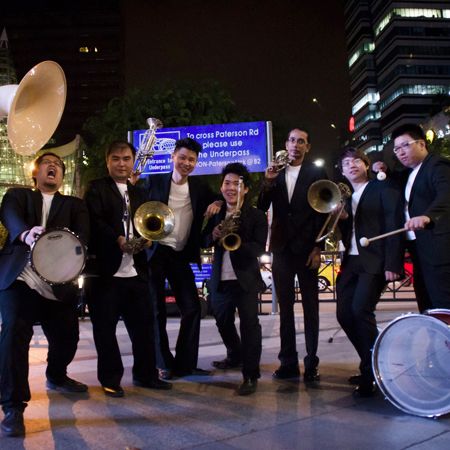 Brass Nation
Incorporate elements of Soul, Funk, Hip-Hop, Rock and Pop music
Put a traditional spin on the music of their generation
The eight-piece brass ensemble can perform while roving or on stage
Perfect for corporate events & attracting attention at exhibitions
Based in Singapore & available to perform at events worldwide
This eight-piece brass ensemble based in Singapore incorporates elements of SOUL, FUNK, HIP-HOP, ROCK and POP music within a contemporary brass band framework.
The group comprises of trained musicians from all walks of life - from classical virtuosos to hard hitters of rock. This concoction of extreme influences creates an amazing musical experience that is truly unique. As one of the first groups in Singapore of such composition to venture into corporate territories, the band aims to reach out to the younger crowd by putting a traditional spin on the music of their generation.
The Brass Ensemble are able to perform while roving to attract customers to a certain area or to perform on stage with the latest pop songs.