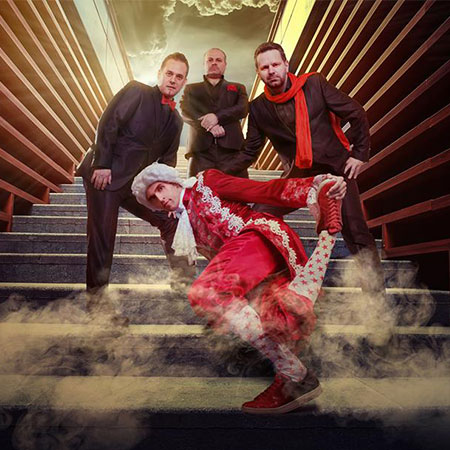 Breakdance Opera Act
An original and majestic combination of breakdancing with classical music
Performed by a dynamic breakdancing crew and a group of sophisticated pop opera singers
Dancers wear comedy tragedy masks and harlequin costumes and singers sophisticated suits
Unique entertainment option suitable for weddings, private parties, festivals, etc.
This Breakdance Opera Act is available for bookings in Slovakia and around the world
Breakdance Opera Act PHOTOS
If you're looking for a truly unique entertainment option to surprise your guests with, then this Breakdance Opera Act is the performance your event needs. An original artistic concept designed by a group of street dancers and opera singers, this opera and breakdancing spectacle brings the best of two very different worlds together on one stage.
A creative combination of popping and locking with classical melodies by Beethoven and other classical composers, this opera and breakdance act shows what can come up when Mozart meet breakdance. Some of the songs our break dancers perform to include compositions by the above mentioned composers.
Wearing comedy tragedy masks, harlequin costumes and other iconic accessories from opera and theatre such a white colonial wigs, our dancers will recreate a typical opera stage design but will elements of breakdance and other modern styles. Behind them, our pop opera singers dressed in elegant evening suits will accompany the choreography with their melodious voices.
This group of performers joined forces to create a show that blends two opposed artistic disciplines, resulting in an unusual choreography full of colour and rich sounds. Our singers and dancers offer a mesmerising musical and visual experience that pay tribute to classical music and modern dance.
This unique entertainment option is ad very in-demand act for weddings, private parties and festivals organisers, among other events. It also can be an instant hit at other occasions requiring something truly innovative and groundbreaking. Widely applauded by both classical music fans and street dancing lovers, this majestic combination of breakdancing and classical music is guaranteed to get people talking for years to come.
Enquire about this original Breakdance Opera Act by contacting us today. Ask to speak to one of our Entertainment Specialists and request further information about this opera and breakdancing performance. They will be delighted to assist you and guide you through the booking process.