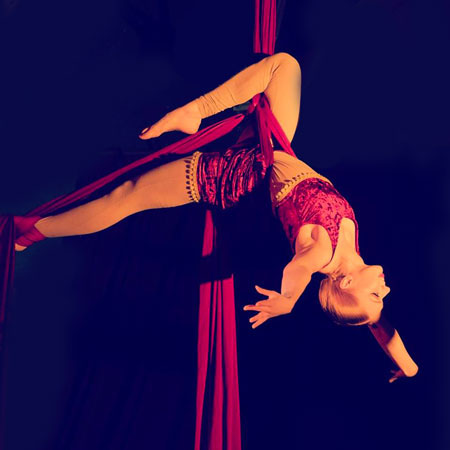 Bristol Aerialist
Multi-dexterous female aerialist that specialises in traditional and contemporary circus-style entertainment
Book with hoops or silks and fully customisation to suit your event theme
Available with a self-contained stunning gold birdcage prop
Performed at the Cirque le Soir in Dubai, Abu Dhabi and Bahrain
Based in Bristol and available for events all over the world
Our multi-dexterous Bristol Aerialist specialises in a range of traditional and contemporary circus-style aerial entertainment for private and public events throughout the UK, as well as internationally. She has been performing for many years in various circus and entertainment environments including the Cirque le Soir in Dubai, Abu Dhabi and Bahrain.
This female aerialist is able to perform on a wide range of props such as hoops or silks upon which she can gracefully entertain your guests with some incredible sky-high displays filled with beauty and elegance. The performer has on multiple occasions completely tailored her appearance to suit an event theme from costumes right through to full face and body painting. 
Able to fully tailor her act, our Bristol Aerialist can be booked for everything from corporate functions and brand launch events to circus shows and themed events. Her aerial entertainment is client focused and she will always tailor her act to best suit the client's visions. 
Let your aerial entertainment excel at your event with our female aerialist's stunning gold birdcage. This is a fully self-contained prop oozing with decadence, that can have guests viewing the acrobatic performances from every single angle. Alternatively, this UK aerialist will provide a choreographed or freestyled acrobatic show as ambience or the main focal point of your event. 
Top Tip:
This circus performer has a varied range of circus skills that includes far more than just aerial acts. 
To book this amazingly versatile circus performer and her captivating aerial entertainment, contact us at Scarlett Entertainment.