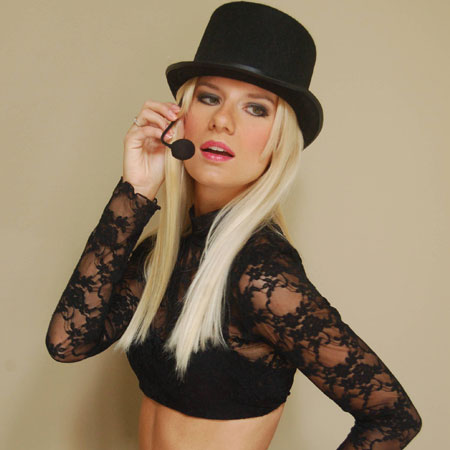 Britney Tribute Las Vegas
Popular tribute act to the American pop princess Britney Spears
Appeared on MTV, music videos and TV celebrity impersonator contest
Covers all of Miss Spears hits. Available with two professional dancers
Performed in many venues across the United States and the Caribbean
Based in Las Vegas and available to perform at events worldwide
Britney Tribute Las Vegas PHOTOS
Christina not only resembles Britney, she also generates an equal amount of charisma and electrifying stage presence to her show stopping performances.  A professional impersonator and look-alike since 2000, she has performed in many venues across the United States and the Caribbean.  She also appeared on MTV, music videos, and also performed on national television in a celebrity impersonator contest.
Hear her commanding voice and watch her perfectly rehearsed dance steps; her star quality comes from a natural gift for singing and dance, combined with training and a sincere dedication to her craft.  The audience won't be disappointed as she performs all of Britney's biggest numbers which include Baby One More Time, Toxic, Slave 4 U, Womanizer, Circus to name a few... as well as other well known numbers such as I love rock n roll.
To find out more get in touch with our team of entertainment experts.
Opps... I Did It Again
Crazy (The Stop Remix)
Lucky
Don't Let Me Be The Last To Know
Stronger
Don't Go Knockin On My Door
Sometimes
I'm A Slave For You
Not A Girl Not Yet A Women
Boys
Baby/Crazy (Special Remix)
What Its Like To Be Me
Baby One More Time
Overprotected
Me Against The Music
Everytime
Toxic
(I've Got That) Boom Boom
Gimmie More
Piece of Me
Womenizer
Circus
If You Seek Amy
Till The World Ends
Hold It Against Me
I Love Rock and Roll
" I surprised my daughter Lindsey for her birthday to have a Britney Spears impersonator. She was thrilled and so were all of her friends. They were all dancing and singing and loved every minute of it. They even followed her out to the car because they didn't want her to leave. She is a great performer. "

Helen K
" She was wonderful, She looked just Like Britney and her dancing was very professional. The girls loved her and somehow she even had the boys wanting to participate. I highly recommend her for your next party. "

Elizabeth D
" Well, my parents surprised me with this for my graduation and I'll just say that she was amazing. She moves, sings, and acts just like the Real Britney Spears. She will definitley make it to the big time—I know it! Thanks for doing such a great job at my party–You made it even more memorable "

Vince P