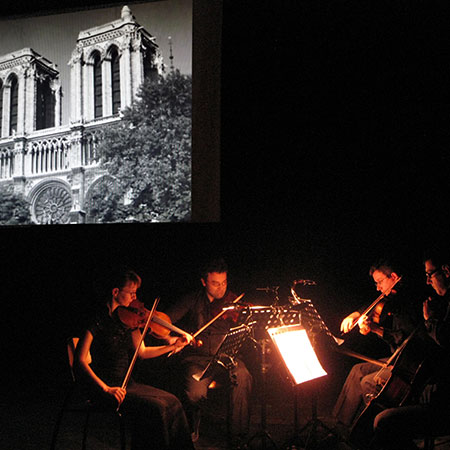 Cine Concert String Quartet
A unique approach to the classic string quartet
Perform live music for silent films
Have set a precedent in the world of cine-concerts
Over 15 years of experience performing in France and abroad
Based in Paris and available to perform at events worldwide
A truly original and captivating form of entertainment, our fantastic Paris based string quartet play unique cine-concerts, in which they accompany silent movies with film music, with original scores composed by the group. They believe that cinema has its own exclusive genre of music, and that each score is an opportunity to indulge in a unique musical and cinematic world.
The quartet are respectful of the aesthetic of each film, having explored cinematic genres as diverse as slapstick, expressionism, social realism, historical, melodrama, swashbuckler, war, cartoon and documentary. They have also performed their original scores on a range of international movies, accompanying not only French silent films but also American, German, Russian, and Chinese pictures.
Featuring two violins, a viola and a cello, our brilliant string quartet allow you to discover a full range of emotions as they play alongside masterpieces of silent cinema. The group eschew all modern technology in favour of the raw experience of pure hand-eye coordination, with the composer keeping the images and sound in fluent synchronisation.