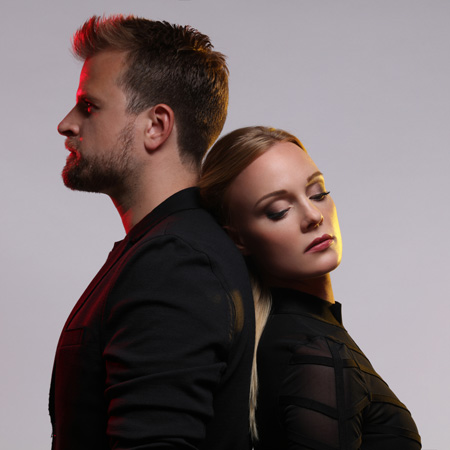 Classical Crossover Opera Duo
Elegant and powerful classical crossover duo
Female soprano singer and male baritone singer
Perform opera classics and film scores to jazz standards and pop
Tailorable performances from five songs to a full hour show
Based in London and available for international bookings
Classical Crossover Opera Duo VIDEOS
Classical Crossover Opera Duo PHOTOS
Scarlett Entertainment is pleased to offer the hugely talented and wonderfully elegant classical crossover opera duo delivering incredibly high standard opera music with a gentle twist. The powerful and dynamic opera duo have an unbelievably strong creative bond which empowers their live performances and guarantees an exceptional live music show that audiences all over the world will adore.
The incredibly impressive classical crossover opera duo's performance is opera music but modernised. They perform a range of film scores, opera classics, jazz standards and pop songs with the elegance of a classical sound. This repertoire of songs flourishes and evolves from the likes of the Feeling Good, Ave Maria and Somewhere to the Godfather theme, a Bond medley and You Raise Me Up. 
The brilliant opera music performers always come dressed in sophisticated dinner party attire, but can adopt a more relaxed approach as you can see in the photos. Their performance is very versatile and can be customisable for a variety of events. Clients may chose either just five songs or anything right up to a full hour long show.
Our innovative opera duo is made up the half Swedish, half Norwegian female soprano and the half Dutch, Half Australian male Baritone. Both are professional, classically trained singers with a wealth of experience working within music, theatre and opera music performing all over the world as well as in venues such as the Royal Albert Hall, Buxton Opera House, Queen Elizabeth Hall, Royal Festival Hall, Olavshallen, Harrogate Hall, with London Festival Orchestra and in musicals such as Les Miserables, Sweeny Todd and the 39 Steps. 
Contact our team of Entertainment Experts if you would like to book the classical crossover opera duo to perform at your next event.
Autumn Leaves
Ave Maria
Bond Medley (From Russia With Love For Your Eyes Only Writing's On The Wall Skyfall)
Can't Help Falling In Love
Caruso
City of Stars
Feeling Good
Hallelujah
Il Gladiatore – Gladiator theme
Il Mio Cuore Va – My Heart Will Go On
Io Che Non Vivo
Adagio
Nella Fantasia
Nessun Dorma
Parla Piu Piano – Godfather theme
Remember when it rained
Somewhere
Summertime
The Prayer
Time To Say Goodbye
When you say you love me
You Raise Me Up
Love Story