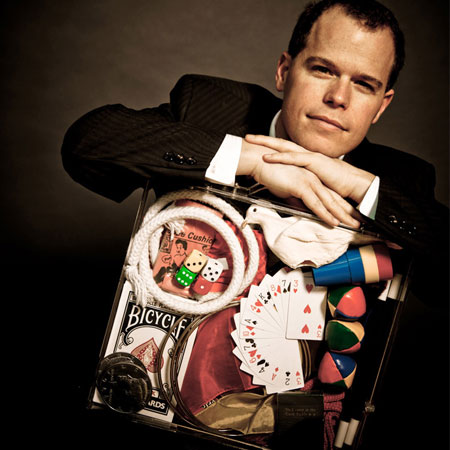 Comedy Magician & Emcee
Over 15 years experience performing worldwide as a magician & emcee
Offers unique style, quick wit & completely original magic & illusions
Can incorporate corporate messages, instructional material, logos & more
Perfect for corporate events, private functions, cruise ships & more
Based in Los Angeles & available to perform at events worldwide
Comedy Magician & Emcee PHOTOS
This Los Angeles based magician has spent over 15 years travelling around the world performing his unique brand of comedy magic and acting as a world-class comic-emcee. With over 3,000 shows to his name he has performed for Hollywood celebrities, Fortune 500 companies' CEOs and royalty, and is a regular favourite for corporate and private events, clubs, theatres, hotels, casinos and cruise ships. 
Combining quick wit, intellect and hilarious humour with original mind-boggling magic and illusions, he produces award-winning shows with plenty of audience interaction. He is guaranteed to have audiences howling with laughter and gasping in astonishment! A true professional, he can adapt his performance to suit any audience and event type, whether performing as a headlining act on stage or as a close-up magician. 
With experience hosting over 1,000 shows across the USA in both the theatrical and corporate world, you can rest assured that he has the experience to ensure that your event runs like clock-work. Mixing his award-winning comedy with a professional hosting style, he is a natural at connecting with his audience on an intellectual level and in a fun relatable way. He can also include corporate messages, instructional material and other specific information on request, making your event truly reflect your brand or product. 
Performing spectacular magic tricks, impossible sleights of hand and acting as a fun and engaging emcee and keynotes speaker he is a truly versatile entertainer. There is no doubt that he will be a huge hit with guests at your event. 
Southern California Edison
Rockwell Automation
SARA Inc.
PVXPlus
Northrop Grumman
Forest Lawn
Aon
Radio IP
Klorman Construction
Oracle
Varian
Medical Specialties Management
Zeacom
Tristar
United Way
L.A. Fairplex
Crest Office Furniture
Bank of America
Sedgewick CMS
GKK Works
Bain & Co.
Eastern Carolina Internal Medicine
Comcast
CMS
Priority One Credit Union
Hillcrest Country Club
Southern California Association of Governments
Kaiser Permanente
Carrows Restaurants
Whitelight Chiropractic
Disney
SSI Post
LBBS Law
California Science Center
Riverside Council of Governments
Whittier Country Club
Many More...
Nightclubs and Theaters
Tropicana Hotel and Casino
Gold Coast Hotel and Casino
Thousand Oaks Civic Arts Plaza
The Second City
Lily Langtry's Showroom
Ford Theater Los Angeles
Morongo Hotel and Casino
Ice House
California Magic Theater
Mary Linn Performing Arts Center
Milt Larson's It's Magic
Theater on High Street
Las Vegas Magic Theater
Dill Performing Arts Center
Good Day L.A. (Fox)
Hollywood 411 (TV Guide Network)
Eye On L.A. (ABC)
25 Alive (NBC)
The Extreme Gong Show (GSN)
Corporate Clients
Wells Fargo
IPSOS
Achievers
Chicago Title Insurance
Royal American Investment Advisors
ACCO
Hecate Energy
Global Airtech
Toshiba
Spirit Awards (Host)
Assistance League
American Public Works Association
Canoga Park Chamber of Commerce
Unum
ITT
Omni Hotels
Ernst & Young
HealthCare Partners
Turner Classic Movies
Sony Music
Physicians Associates
Pringle & Associates
Optimum First Mortgage
Sierra Investments
Esthetic Professionals
Palm Desert National Bank
Mercury Insurance
SEMA
Advanced Imaging Center
Parker-Anderson
OOCL
J&J Productions
Heartland Farms
Kaballah Center of Los Angeles
Salvation Army
Miller's Children's Hospital
Flamingo Hotel and Casino
Golden Nugget Hotel and Casino
The Magic Castle
Ford Theater
Heritage Forum
Sahara Hotel and Casino
Laugh Factory
The Comedy and Magic Club
South Broadway Cultural Center
Wizards Magic Theater
Gaslight Theater
Hermosa Beach Performing Arts Center
Madrid Theater
Canyon Club
Many More...
Television and Film Appearances
Masters of Illusion (MyNetwork TV; CW Network)
Magic Castle After Dark (A&E)
KTLA Morning News (Los Angeles)
Destination Stardom (PAX)
KCAL Morning News (Los Angeles)
Farmers Insurance
" [He] is definitely VERY good at his job. And I don't just mean the actual magic. Yes -- his magic tricks kept the entire room amazed, but he was excellent at bringing people from different tables together. He got people talking, he got people moving around the room. Really, another true professional. Frank LOVED him, and raved about him all night. Ha...this from the guy who didn't think a magician was a good idea at all! "

Sue Judge, Radio IP
" Your show was fantastic and made our event. I really appreciate not only the hard work and attention to detail you put into your show, but your obvious passion and enjoyment you have and get from what you do. Everyone commented on what a great time they had. Looking forward to working with you again. "

Bill Klorman, President and CEO, Klorman Construction
" [He] was easily the most professional and entertaining emcee we've ever used for our program. From start to finish, [he] was a joy to work with. Even our seasoned audio-visual staff were impressed, commenting on [his] talent and ability to make our show seamless and entertaining. Well done! "

Mike Stull, Producer and Director, Spirit Awards
" Thank you so much for being part of IPP last week. Our attendees loved the magic break -- very appropriate and funny for our corporate audience! The feedback from the attendees has been simply phenomenal -- many said it was the best educational experience/conference they had ever attended! The next IPP is September 18-22 in Silicon Valley, and I hope we can host you again! "

Kian Gohar, Executive Director, IPP Partnership Program
" Thanks again for a great show… Your memorable presentations were not only baffling, but they kept the audience howling with laughter and made the entire event a smashing success. Best of all, you made me look good. "

Ronald Sugar, CEO, Northrop Grumman
" I expected a great show and you still managed to exceed it. At the end of a long day of business meetings we needed an energy boost which your show provided in spades. Without exception I have heard nonstop compliments on how much fun my team had with your show and they are still trying to figure out how you did some of what you did. On top of it all you are VERY funny. Thank you! "

Mike Roland, E&J Gallo Winery