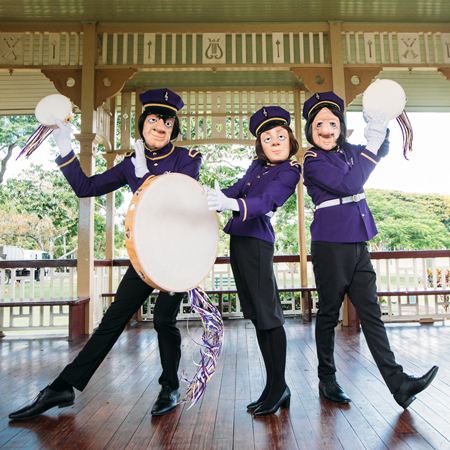 Comedy Tambourine Band
Visually captivating comedy musicians are great fun for all audiences
Very engaging attraction guaranteed to leave a lasting impression
Amusing non-spoken roaming act perfect for family friendly events
Their inabilities to play in time with each other is hilarious to watch
Available for events throughout Australia and New Zealand
Comedy Tambourine Band PHOTOS
Our fascinating Comedy Tambourine Band is a highly amusing roaming act that will grab the attention of any audience. The trio of comedy musicians is dressed like a traditional marching band, with tambourines instead of brass instruments, and they have totally unique masks that make them really stand out. Their astonishing appearance results in highly visual entertainment that makes a long-lasting impression.
The Comedy Tambourine Band is a very joyful and endearing roaming act to experience. Their completely non-spoken theatrical walkabout act focuses on their inabilities to play in time with each other in a kind of hilarious chaos audiences cannot keep their eyes off. Despite they ineptitude, the comedy musician persevere in their performance and delight audiences with their comedy antics along the way.
This walkabout act is really well suited to family friendly occasions, public events, festivals and summer fétes. They provide a type of visual entertainment that brings joy to any kind of event and is a guaranteed roaming act that your guests will not forget. The comedy musicians will fascinate little kids and amuse older guests alike. 
Top Tip:
The masked walkabout act is also available in other themes: English Policemen, Tourists, Lollipop Ladies and Vintage Tailors.
If you would like to book the brilliant Comedy Tambourine Band to bring some fun to your event, get in touch with our team at Scarlett Entertainment.