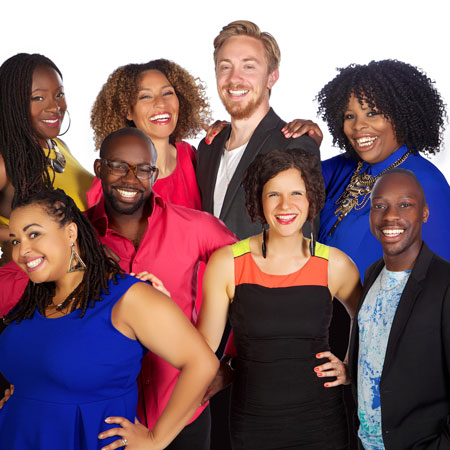 Contemporary Gospel Choir
Outstanding modern gospel choir fills shows with personality and soul
Performs everything from gospel and soul to pop and christmas songs and hymns too
Available with four to ten members to perform A Capella, with a pianist, full band or backing tracks
Past clients include Sainsbury's, Amazon and Cancer Research
Based in London and available to perform at events worldwide
Contemporary Gospel Choir VIDEOS
Contemporary Gospel Choir PHOTOS
Made up of a group of outstanding singers who are all professional artists in their own right, the contemporary gospel choir bring a modern, upbeat flavour to the traditional live gospel choir performances. The gospel choir have creative arrangements that that bring an up-to-date feel to amazing music from the last five decades. They perform everything from gospel and soul to pop and Christmas songs and have a fantastic and varied repertoire of cover songs. They put their heart and soul into contemporary gospel tunes, to their own versions of pop songs and old hymns. 
Available to book as a four, six, seven or ten piece, the contemporary gospel choir can perform A Cappella, with a backing track or with live musician. Whatever your event, the fabulous London vocal group have a line upTop Tip: and set up that will suit you. From show stopping full gospel choir performances to laid back wedding music accompaniments, these amazing singers will provide brilliant live music that your guests will love. 
Performances are tailorable to your needs and the contemporary gospel choir will customise their set list to provide you with the best possible live music experience. Take a look at their repertoire to see the songs they have on offer. Some are possible A Cappella, whilst other are not. 
Members of the London vocal group have collectively performed alongside some amazing artists including Stevie Wonder, Gorillaz, Candi Staton, Gareth Malone, Jocelyn Brown, Pixie Lott, Pharrell Williams, Shlomo's Vocal Orchestra, Muyiwa and Riversongz, Michael Ball and Keane. Together The gospel choir has performed for BBC Radio 1Xtra, BBC Radio 2, Songs Of Praise, BBC London and BBC Berkshire. Previous clients include Sainsbury's and Amazon plus wonderful charities such as Cancer Research and Prostate Cancer UK. 
Top Tip:
Our in demand choir has a brilliant repertoire of Christmas songs. Watch the videos above to see examples of this special event choir in action.
Whether you are planning a wedding, private party, concert or awards evening, this passionate group will fill your event with energy and joy. Enquire today to book this Contemporary Gospel Choir for your event
*BT = Backing Track
*AC = A Capella
A Crazy Little Thing Called Love - Queen AC
Ain't No Mountain High Enough BT
Alive (Israel Houghton) BT
All I Want for Christmas (whole song) AC
All I want for Christmas (Mariah Carey) - Go Tell it on the mountain Medley BT
All Of Me - John Legend AC
All You Need Is Love
All you need is love - The Beatles BT AC
Amazing Grace
Amazing Grace (hymn)
As - Stevie Wonder BT
At Last - Etta James AC
Blue Moon AC
Blue moon
Brighter Day (Kirk Franklin) BT
Budapest - Hallelujah I Love Her So BT
Christmas Carol medley: O Come All Ye Faithful-In the bleak midwinter-Joy to the world BT
Cranes In The Sky (Solange Knowles)
Deck the halls with bows of holly AC
Diamonds - Rihanna
Everybody's Free - Rozalla (as seen in Romeo & Juliet) AC only
Feel the love - Rudimental BT
Feeling Good
Feeling Good - Nina Simone BT AC
Feels Like Home (from the Notebook) AC
Fly Me To The Moon
Fly Me To The Moon - jazz standard AC
For once in my life - Stevie Wonder BT
Forever In My Life (Prince)
From This Moment - Shania Twain BT
Gospel Medley - Jesus Loves Me What A Friend We Have In Jesus Swing Low Sweet Chariot BT
Hail Holy Queen (Oh Maria) from Sister Act BT
Hallelujah -Alexandra Burke BT
Happy - Oh Happy Day Mash Up
Happy - Pharrell Williams BT
Happy AC
Hark The Herald Angels Sing AC
Have yourself a merry little Christmas AC
Higher Love - Steve Winwood
Higher and Higher (Your love keeps lifting me) - Jackie Wilson
Highly Exalted (Lakewood) BT
Ho Hey - The Lumineers AC
Hosanna (Kirk Franklin) BT
How I Got Over
How I got over (LCGC) BT AC
I Say A Little Prayer - Aretha Franklin AC BT
I Say A Little Prayer For You
I Swear (All 4 One)
I Swear AC
I Wanna Hold Your Hand - Shake It Off mash up
I Will Follow Him (from Sister Act) - Little Peggy March
I won't give up - Jason Mraz BT
If I Ain't Got You - Alicia Keys BT
In Christ Alone (hymn) BT
I'll Take You There (Staple Singers) - People Get Ready
I've Got My Love To Keep Me Warm - The First Noel AC
Jazz Christmas Medley - Sleigh Ride - Let It Snow - Santa Claus is coming to town BT
Jesus Oh what a wonderful child AC
Joyful Joyful
Joyful joyful (from Sister Act II) BT AC
Latch - Disclosure/Sam Smith
p.p1 {margin: 0.0px 0.0px 0.0px 0.0px; font: 12.0px Helvetica; color: #454545}
Let It Be
Let It Be AC
Lord you are good and your mercy (Israel Houghton)
Love (Kirk Franklin)
Love - Musiq Soulchild
Love Has Fallen On Me (6 singers only) BT
Lovely Day
Lovely Day - Bill Withers AC
Made Up love Song - The Guillemots
Midnight Train to Georgia - Gladys Knight and the Pips BT
Mirrors
Mirrors AC
Movin On Up BT
My Hood (Ray BLK)
My life is in your hands (Kirk Franklin)
My life my love my all (Kirk Franklin) BT
Never would have made it (Marvin Sapp)
Nothing's Gonna Stop Us Now BT
O Little Town Of Bethlehem AC
Oceans (Hillsong) BT
Oh Happy Day
Oh Happy Day Backing Track (BT) available. A cappella arrangement (AC) available
Oh Holy Night BT
On Revival Day
On Revival Day (Laverne Baker) AC
Praise The Lord (LCGC)
Rather Be BT
Retrograde (James Blake)
Signed Sealed Delivered - Stevie Wonder BT
Silent night AC
Smile (Kirk Franklin) BT
Songbird - Fleetwood Mac/Eva Cassidy
Stand By Me
Stand by me - Otis Redding AC
Stevie Wonder Medley: Don't you worry bout a thing - For once in my life - Sir Duke BT
The Christmas Song (Chestnuts Roasting) - What Christmas Means To Me (Stevie Wonder) BT
The Lord Is My Shepherd (Dionne Warwick)
The Promise
The Promise (Tracy Chapman) AC
The reason why I sing (Kirk Franklin)
There Must Be An Angel
There Must Be An Angel AC
There must be an angel - Eurythmics AC
Thinking Out Loud - Ed Sheeran BT
This Christmas (Donny Hathaway) - Silent Night BT
This Christmas (whole song)
This Will Be (An Everlasting Love)
This Will Be An Everlasting Love (Natalie Cole) AC
Total Praise (Richard Smallwood) BT
We wish you a merry Christmas AC
What a friend we have in Jesus (hymn)
What a wonderful world this would be - Sam Cooke
When You're Smiling (jazz standard)
White Christmas BT
Will You Be There - Michael Jackson
You Raise Me Up - Westlife BT
Your love keeps lifting me higher - Jackie Wilson BT
You'll Never Walk Alone
You'll Never Walk Alone   BT AC
You're All I Need To Get By - Aretha Franklin/Marvin Gaye/Tammi Terrel BT
You're my destiny - Lionel Richie
You've got a friend - Carole King BT
Lean on Me - Bill Withers BT AC
COTY
Geri Halliwell
Ideal Home Show
Premier Christian Radio
Sainsbury's
The Chelsea Club
Village Water
ACE Europe
Cancer Research
Hearst Magazines (Good Housekeeping)
JDRF Diabetes Research
Prostate Cancer UK
St John's Ambulance
Vesta Rowing Club
Amazon
" Thank you so much for singing at my 21st Birthday party! You were amazing and really added to the atmosphere of the afternoon, you guys are incredible singers! "

Talia King, Private Client
" All our guests commented on how amazing you all were and how stunning your voices are. I can't wait to see the DVD just to hear you again! "

Lauren Kaye Dorney, London - Corporate Client