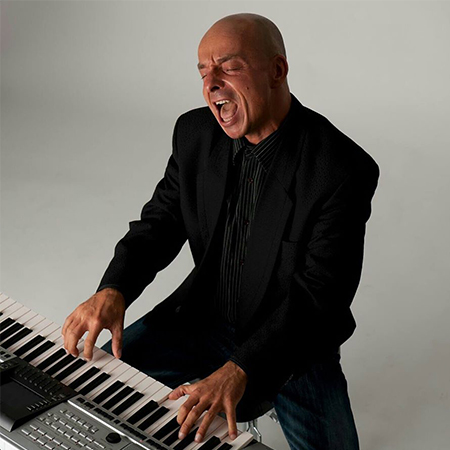 Contemporary Pianist & Singer
A talented piano player who plays both classic and modern tunes and also sings
This versatile pianist is also a wonderful singer who delivers stunning vocal arrangements
Offers a varied set list that includes classical pieces, pop and rock classics and modern tunes, etc.
Can perform as a soloist and also ask other musicians and singers to join him for some performances
Germany-based and available for performances all around the world
Contemporary Pianist & Singer VIDEOS
Contemporary Pianist & Singer PHOTOS
Impress audiences at your upcoming event, ceremony or gala dinner with this amazing Contemporary Pianist & Singer, a versatile and talented piano player who also delivers stunning vocal arrangements. This passionate live musician's varied set list includes both classical pieces by Mozart and Vivaldi and also rock and roll songs by Elvis Presley or Chuck Berry. 
Both as a soloist or accompanied by other pianists and singers, our talented piano player always performs with great passion and enthusiasm. His repertoire includes 435 songs that are meant to satisfy different music tastes. From classical pieces by Mozart and Vivaldi to rock and roll classics by Elvis Presley and Chuck Berry, our Contemporary Pianist & Singer will make sure he adapts his set list to the type of audience he performs for.
Some of the famous tunes he can delight audiences with include Chopin's valses, 'For Elise' by Beethoven and other classic pieces by famous composers like Vivaldi and J.S. Bach. Our versatile pianist can also play and sing some of the most famous Sinatra's songs such as 'Fly Me To The Moon' and 'Something Stupid', Elvis Presly's 'Love Me Tender' or more modern tunes like 'Angels' by Robbie Williams. Queen, ACDC, Abba and Metallica lovers will also be amazed by his covers of songs like 'Nothing Else Matters' or 'Shook Me All Night Long'. He's also a songwriter and can amaze listeners with his compositions in both, English and German. 
As a singer, he delivers stunning vocal arrangements. You can check the videos above and see for yourself how he sounds like when he performs a cappella. Our versatile performer's varied set list is one of the reasons why he's a popular musical entertainment option, especially for events requiring fully live music.
At Scarlett Entertainment we pride ourselves on providing a variety or pianists and live musicians for events all around the world.
If this Contemporary Pianist & Singer is the musician you had in mind for your event, contact us today and make an enquiry. Our team of experts will assist you through the booking process and ask all the questions you may have.
Always On My Mind – Michael Buble
Angels – Robbie Willams
Apologise – One Republic
Can't Help Falling In Love – Elvis Presly
Fly Me To The Moon – Frank Sinatra
It Must Have Been Love – Roxette
Jailhouse Rock – Elvis Presly
Love Me Tender – Elvis Presly
Nothing Else Matters – Matallica
She's The One – Robbie Williams
Something Stupid – Frank Sinatra
We Are The Champions – Queen
With Or Without You – U2
You Shook Me All Night Long – ACDC
​YMCA - Village People
Popular Music:
Beethoven Fur Elise
Chopin Etude op.10 Nr.3
Chopin Valse Nr.1
Chopin Valse Nr.2
J.S. Bach Jesus Joy of Man's Desiring
Mozart Sonate C Allegro
Mozart Turskish March
Schubert Valse
Tschaikowski Ballet
Tschaikowski Valse Des Fleurs
Classical: