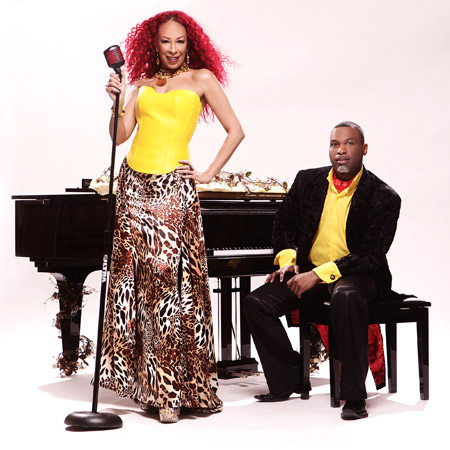 Covers Singer London
Fantastic female singer Sylver is guaranteed to bring a wow factor to your event
Formerly of the band CHIC, our famed singer toured the world for more than 20 years
Available to hire as a solo singer, duo or musical ensemble, Sylver can tailor her shows for your event
Live music shows, our singer's career has seen her collaborate with artists like Kid Rock and performed at events like Night of the Proms
Book female singer for events across the United Kingdom and worldwide.
Covers Singer London VIDEOS
Covers Singer London PHOTOS
Sylver, former lead singer of the legendary group CHIC, delivers dynamic live music shows, bound to leave a lasting impression on your guests. Performing a variety of different cover songs and originals, many of which shot to immediate success as #1 Billboard hits, our Covers Singer London has achieved critical acclaim in her capacity as the famed singer of CHIC and as a talented solo singer. Capturing the attention of audiences with her dynamic stage performance, female singer Sylver is guaranteed bring a WOW factor to your event!
For more than two decades our famed singer graced the stages of venues across the world with her band CHIC. Bringing down the roof at events in the US, Europe, Japan, the UK, as well as making numerous TV and Video appearances, Sylver has achieved global renown. Passionate about forming connections with other talented performers, our female singer has had the pleasure of performing and recording with the likes of Yolanda Adama, Patti Labelle, Kid Rock, Michael Bolton, Roberta Flack, Ledisi and Chic, to name just a few. Having dedicated years to perfecting her distinctive style, Sylver is true natural performer, always rushing past peoples' expectations. 
Available to perform one or more sets in her live music show, Sylver will entertain and engage your audience, keeping them energized with her sensational vocals. Able to supply an assortment of different musical options to accompany her smooth singing voice, she can be booked as a solo singer, a duo with a pianist or a large band upwards of six members. This remarkable female singer is versatile and can adapt her act to fit most event themes and style guidelines. The perfect live show for private parties, festivals, corporate events, award ceremonies, receptions and a whole lot more, guests love Sylver's unique combination of original music and covers.
If you are interested in treating your guests to an entertaining show from the glorious Covers Singer London, get in contact with our outstanding event specialists at Scarlett Entertainment who are standing by to answer your questions and assist you with our booking process. 
Ellen
MIDEM 2015 Cannes
Montreux Jazz Festival
The Paradiso
Osaka Jo Hall
Yolanda Adams
Michael Bolton
Ledisi
VH-1 Storytellers
The Rai TV network
Night of the Proms
Hollywood Bowl
The Budokan
Blue Note
Collaborations
Patti Labelle
Roberta Flack
Whoopi Goldberg
Larry The Cable Guy's Christmas Special