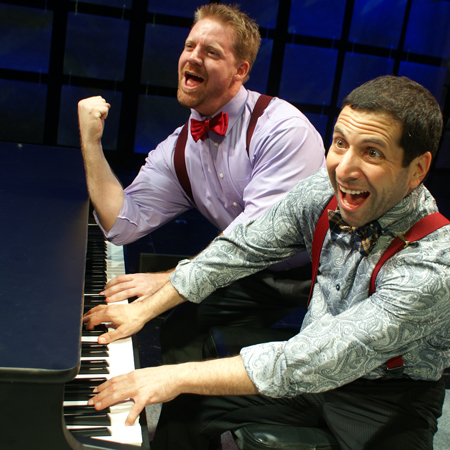 Cutting Edge Duelling Pianos
Incredible duelling pianos deliver an electrifying and highly interactive performance
Piano duo can perform any request in any genre or style in a fun filled and exciting show.
Outstanding duelling piano show offer specialised shows for weddings, parties and children's events
Live pianos and party band will get the whole room singing and dancing along with their rapid fire renditions of big hits
Fabulous covers band available for shows worldwide
Book our incredible duelling piano show for a spectacular night of musical entertainment. Our duelling pianos are a fun filled and interactive music performance that's sure to raise the roof at any event. Our piano duo can perform any request given to them, from any style or genre you can imagine and their dazzling performances are guaranteed to get the whole room singing and dancing along.  This incredible covers band are perfect for a huge range of occasions and their inventive, exciting sets are full of surprises and brilliant arrangements of all your favourite songs. Book our incredible party band for a stunning and electrifying performance that promises to be the highlight of any event.
Our outstanding duelling pianos create a thrilling and interactive show where guests or audience members shout our requests and our ingenious duo play them in dazzling style. This rapid fire and high energy duelling pianos show is perfect for a whole range of occasions and our talented duo and their covers band have performed all over the world. This unique piano duo make the ultimate party band for weddings and occasions and their spontaneous renditions of classic rock, pop, hip hop and funk tunes are sure to fill any dance floor.
This piano duo offer a range of unique services to take your event to the next level, from DJ sets to end the night to hosting your entire event with style and charisma. Our energetic and madcap piano duo are also great for children's events and parties, where their sing-along renditions of the latest pop hits and fun filled show is sure to be a hit with families and kids of all ages.
Scarlett Entertainment offers you a great range of duelling pianos and bands for events and performances worldwide. 
Contact our team to arrange booking.
" LOVED having them at our non-profit event!! The trio is so laid-back yet so much fun! Minimal prep was needed on our side – the band brought all the AV equipment they needed – such a plus! Our crowd was out of their seats by the end of the night! Highly recommend "

Hannah French