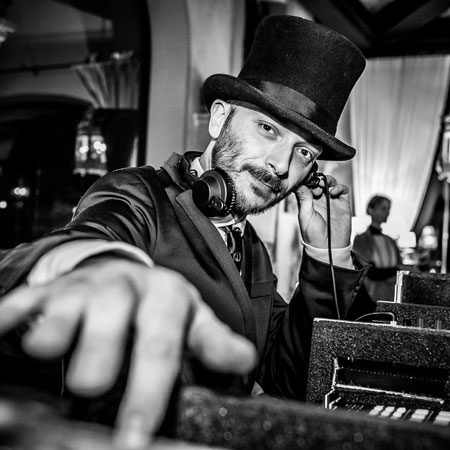 DJ Fabio
Cutting edge, luxury DJ for private parties and corporate events
Grew up playing synthesizers and listening to electronic melodies
DJs at 100's of events a year from weddings, corporate and private parties
From the funky music of the 70/80's to current electronic beats
Based in Florence and available to perform at events worldwide
If you are looking for a DJ that can entertain the masses, then look no further!
Whether you want your dance floor filled all night or require relaxed background music, DJ Fabio is more than happy to cater for your entertainment needs.
Born into a musical family, Fabio grew up playing keyboards, synthesizers, and listening to the revolutionary sounds of Kraftwerk and electronic melodies of the Moog by Giorgio Moroder, Donna Summer and Boney M and at 5 years old received his first turntables and tape players.
At 6 he started to "mix tapes" for friend's birthday parties, as he got older he began playing at festivals, and soon after landed a slot at the Music Cafe Florentine.
Whether it's a party on Tuesday night, or a must-drink on Friday night, a wedding, birthday or graduation to celebrate in the weekend, DJ Fabio has learned what drives people to the dancefloor thanks to the hundreds of luxury parties he DJs at every year.
From the funky music of the 70/80 current electronics, DJ Fabio has always been cutting edge.
Contact one of our excellent members of staff if you wish to know more about this or any of our acts.