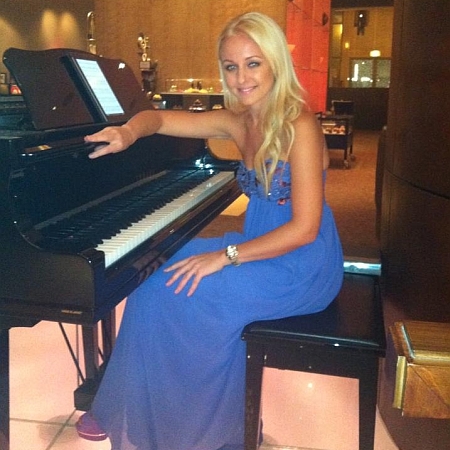 Dubai Pianist Victoria
Versatile pianist that plays classical, jazz, fusion, pop & bossa nova
Perfect background piano player for hotels & restaurants in the UAE
Able to provide tasteful vocals, as well as instrumental only music
She can perform either alone or with a group
Based in Dubai and available to perform at events worldwide
Dubai based pianist Victoria is a soulful musician, gifted in playing the piano. With a degree in Music from the Luthuanian Academy of Music and Theatre, this solo instrumentalist has been a regular fixture in a number of hotels and fine dining restaurants in the city.  
Victoria looks back to her younger years growing in a family of professional musicians as the reason for her passion for music. At the age of 8, she had already performed in a jazz band. Growing up, her passion for music did not wane. She studied both classical and jazz piano, as well as taking up different musical styles such as contemporary, pop, and fusion.
She now plays regularly in hotels, corporate events, music shows, lounges, restaurants either alone or with a group. A versatile pianist, Victoria can play classical, jazz, fusion, pop, and bossa nova.