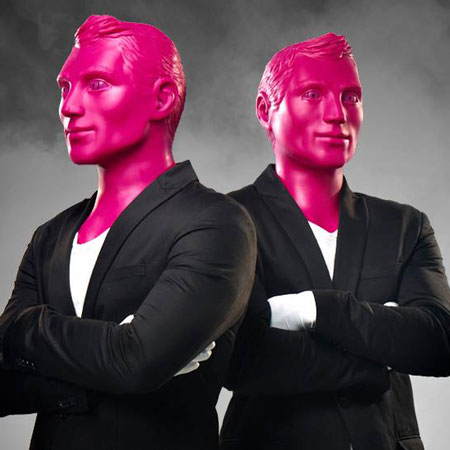 Dutch DJ Duo
The Dutch DJ Duo, whose identity remains a secret!
Their mask wearing act has turned them into a global phenomenon
Have proved that their sound can tear up dance floors around the globe
One of the leading names in fresh new talent from Holland's house scene
Based in Amsterdam and available to perform at events worldwide
Dutch DJs/Producers from Amsterdam travelling the world! Music out on Armada Music, Spinnin Records and Mixmash Records. Ready to rock 2014!
The Dutch DJ Duos, whose identity remains a secret, have been working together since 2008. Gathering over 10 years of DJ experience, the young Dutch talents have rocked crowds in China, Aruba and Colombia to as far as Russia, Poland, Abu Dhabi, Germany, Japan, Sweden and beyond.
What initially started as a joke, dj'ing with cheap pink masks on, has turned into an ever-growing, global phenomenon.
Dutch DJ Duo: "We had been dj'ing as a duo for quite a while, when we decided to throw a special birthday party for one of us. We bought some cheap, pink masks and advertised with the fact that we managed to book 2 world-famous DJ's. That night sold out completely, with 1500 people dancing to our set."
That was the moment the duo decided to take the project to the next level. And it worked!
They've had several masks in the meantime, but really wanted to cut loose from the alien-image some people had of them. So, they emailed Rogier Samuels (Lord of the Rings, The Hobbit) and he worked on a more friendly-looking, gentlemen type of mask for the act!
Contact one of our Entertainment Team who will be able to assist you in booking this or any other act on our global roster.