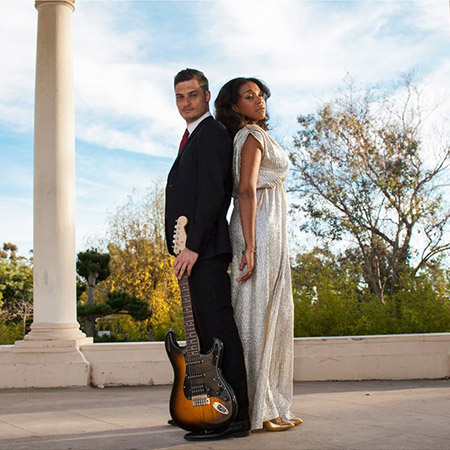 Dynamic Acoustic Singing Duo
Acoustic duo have a varied repertoire of over 300 songs
Genres covered range from classic jazz to contemporary chart hits
Acoustic act is comprised of a vocalist and a guitarist
Perfect for weddings, dinner parties, outdoor occasions and corporate events
Based in California, USA and available for hire worldwide
Looking for a talented and experienced acoustic duo to perform at your event?  Then look no further than our Acoustic Duo.
Our dynamic acoustic duo combine a talented guitarist with a stunning female vocalist to produce beautiful interpretations of popular and well known songs. With a repertoire of over 300 songs, these talented musicians can perform almost any genre and style of music. Our talented jazz musicians are constantly working on new material and expanding their roster so if you want them to perform a specific song, no problem! When our Acoustic Duo perform at your event you can be certain that everyone will know and love the music and our musicians will do all in their power to make your event unforgettable. 
Our acoustic duo are perfect for almost any event. Whether it be a private celebration outdoors on a perfect summer evening, or at a large corporate event during a cocktail and drinks reception, our acoustic band will keep your guests entertained with their beautiful music. Our two musicians are able to create a bespoke performance that is customized to your requirements and will create the perfect set list to ensure all the music you know and love is performed during your event.
Do you have any questions? Contact our entertainment specialists today to find out more about our unique and talented acoustic duo.