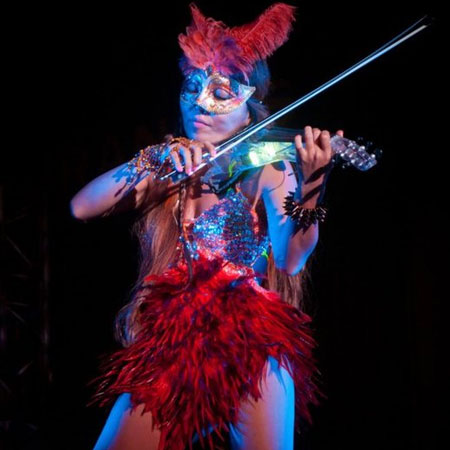 Electric Violinist: Sarina
One of the most exciting and in demand electric violinists in the world
Worked internationally for high profile clients & brands
Performed at Radio City Hall, Carnegie Hall, Roseland Ballroom...
Featured performer at opening of Sheraton Hotel & Casino in San Juan
Based in New York & available to perform at events worldwide
Electric Violinist: Sarina PHOTOS
Electric Violinist Sarina has been playing the violin from the age of five. She started with a classical training, but also explored other areas, such as Jazz and Electric music. As a child, and all the way into her late teens, Sarina performed all over Japan as a classical violinist and won a several classical violin competitions. 
Shortly after graduating from College, Sarina got a record deal with Victor Entertainment, one of the largest major labels in Japan, under SONY Music management, and from 2006 to 2007, she toured intensively all over Japan, released three CDs all of which made it to the top 20 charts on iTunes, released two music videos which got extensive air time on MTV Japan, performed live on dozens of national radio stations and on several national talk shows and TV programs. Her hit single "Silver Storm" has been purchased for use as theme song in a primetime TV show on major Japanese network channel Fuji TV.
Since Sarina moved to New York City in 2007, she has been performing regularly at some of the most famous night clubs and concert halls of New York including Radio City Hall, Carnegie Hall, Roseland Ballroom, Lincoln Center, Highline Ballroom, Blue Note, Webster Hall, Pacha, Nikki Beach, Kiss & Fly, Lavo, Juliet, Marquee, Pink Elephant, Greenhouse, 1Oak and many others.
In April of 2009, she played an opening solo act for the famous Mexican Wrestling show "Lucha Libre" at the Arena of the New Orleans Hotel in Las Vegas, performing in front of an estimated 10,000 people. She has also been frequently performing internationally. In Nov 2010, she performed as the featured performer at the grand opening of the Sheraton Hotel & Casino in San Juan. Since the summer of 2009, she had 5 successful shows at the biggest nightclub in St Maarten "Tantra". Sarina's also had shows in Istanbul, Tel Aviv, St Barths, Guadeloupe, Panama, London, Rome, Milan, San Juan, Miami, Houston, Athens, Boston, Washington D.C and Nantucket. In October of 2010, Sarina performed as the only featured performer along with a legendary DJ Jonathan Peters at "JP Classics" party @ Roseland Ballroom. In July of 2011, Sarina performed along with multiple Grammy winnig rapper FloRida and celebrity/actress/singer Milla Jovovich on a private island in Italy.