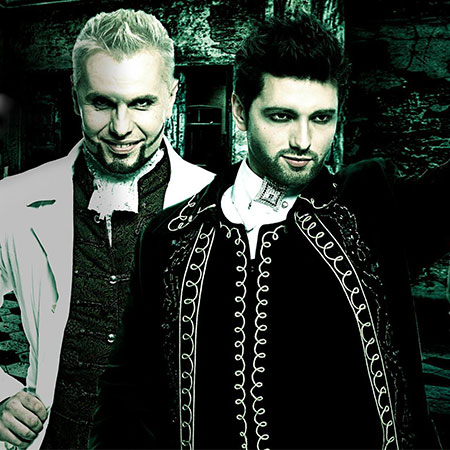 Electro Folk Party Band
Five-piece band leaded by a male vocalist/guitarist and a DJ
A party folk show that combines modern electro beats and traditional folk music
Their vampire-inspired outfits make them the ideal choice for theme parties and Halloween celebrations
Have successfully performed at famous festivals in the UK such as Bestival and Maui Waui
Based in Romania and available for international bookings
Electro Folk Party Band PHOTOS
There's no better way to define this Electro Folk Party Band than stressing what they do best: have fun! This five-piece band will make festivalgoers and party animals dance and enjoy until dawn. This vampire-inspired ensemble combines modern electro beats with traditional folk melodies. An unprecedented party folk show that mixes the best of both worlds.
Leaded by one male vocalist/guitarist and one DJ, this live party band is completed by three other modern folk musicians including a talented accordionist, a gifted saxophonist and a skilled trumpeter. Our Electro Folk Party Band knows how to satisfy the tastes of different type of audiences by striking the perfect balance between folk music and electronic sounds.
This live party band has all the ingredients so crowds at your festival, nightclub and themed party jump, dance and go crazy.
Besides their musical talent, these modern folk musicians' costumes will wow audiences. Dressed in traditional clothes that recall Count Dracula's outfit, these neoclassical 'vampires' will give an original touch, and even eerie to some extent, to your night party or celebration. This makes them the perfect entertainment option for your vampire theme party and Halloween celebration.
Our Electro Folk Party Band has made people dance and party across the world, from Romania to UK. They have successfully performed in international festivals such as Bestival and Maui Waui in the UK and Lowlands Festival in Holland. Our live party band can take their party folk show, their energy and desire to have a good time to events all around the world.
They can fluently speak English and some of them can even speak five languages! This talent makes it easy for them to connect with audiences from different countries and cultures.
Is this combination or modern electro beats and folk music something you're interested in? Then contact us today and make your enquiry.
Our in-house team of Entertainment Coordinators can discuss further details on this act and will be happy to guide you trough the booking process. 
Lowlands Festival (Holland)
Nottingham Riverside  (Notthingham UK)
Styx Bar (London UK)
World Meyouzik Festival (Luxembourg)
Bestival (Downend Isle of Wight UK)
Maui Waui Festival (Theberton Suffolk UK)
Pontardawe arts centre (Wales UK)
The Brook (UK)
World Unlimited Devon (Kingskerwell Parish Church UK)
Boomtown (Nr. Winchester Hampshire UK)
IDEA ARTICLES RELATED TO Electro Folk Party Band