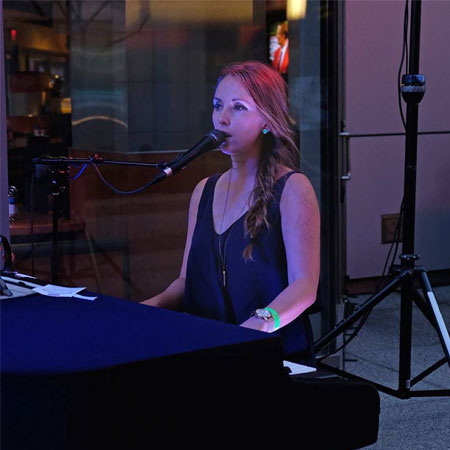 Elegant Vocalist
Elegant, vocalist offers spine-tingling sophisticated performances
Can perform as a solo jazz vocalist or accompanied by musicians or a band
An all-round authentic talent, she also writes her own scores and songs
Perfect for special occasions, weddings, corporate functions & much more
Based in LA & available to perform at events worldwide
This incredibly talented young female vocalist is a rising star on the international music scene having received critics' praise with her latest EP and breathtaking live performances. 
A graduate in song writing, music production and music business from Boston's prestigious Berklee College of Music, she is an innovative performer with a creative musical spirit. Having written scores for television commercials and movies, she writes and performs her own music and songs as well as offering spine-tingling covers of jazz classics and songs from a wide repertoire of genres. A versatile singer-songwriter she can tailor her musical performances to suit your event. 
Available to book as a solo vocalist or as a singer accompanied by additional musicians of choice or a full band, she is perfect for ambient sets as well as captivating stage performances. 
Enquire today to book this stunning artist for your special occasion, wedding, corporate function, hotel, bar or cub today!
3 More Days    Ray LaMontagne
500 Miles    The Proclaimers
A Groovy Kind of Love    Phil Collins
A Thousand Years    Christina Perri
Adia    Sarah McLachlan
Ain't No Reason    Brett Dennen
Ain't No Sunshine    Bill Withers
Alive    Pearl Jam
All About That Bass    Meghan Trainor
All For You    Sister Hazel
All I Wanna Do    Sheryl Crow
All Of Me    Jazz Standards
All Of Me    John Legend
All Summer Long    Kid Rock
All The Small Things    Blink 182
All These Things That I've Done    The Killers
Allstar    Smashmouth
Alone    Heart
American Boy    Estelle Kanye West
American Pie    Don McClean
American Pie    Don McClean
Angel    Sarah McLachlan
Angel    Sarah McLachlan
Animal    Neon Trees
Any Way You Want It    Journey
Anything Anything    Dramarama
Are You Gonna Be My Girl    Jet
Are You That Somebody    Aaliyah
As Long as you Love Me    Backstreet Boys
At Last    Etta James
At Last    Jazz Standards
Baby    Justin Bieber
Baby Got Back    Sir Mixalot
Bad Bad Leroy Brown    Jim Croce
Bad Fish    Sublime
Bad Romance    Lady Gaga
Banana Pancakes    Jack Johnson
Bang Bang    Jessie J Ariana Grande Nicki Manaj
Barbie Girl    Aqua
Basket Case    Greenday
Beast Of Burdern    Rolling Stones
Before He Cheats    Carrie Underwood
Believe    Cher
Bennie and the Jets    Elton John
Best Day Of My Life    American Authors
Best Of You    Foo Fighters
Better Man    Pearl Jam
Billie Jean    Michael Jackson
Bitch    Meredith Brooks
Black Velvet    Alannah Myles
Blank Space    Taylor Swift
Bless The Broken Road    Rascal Flatts
Blue Skies    Jazz Standards
Blurred Lines    Robin Thicke Pharrell T.I.
Brandy    3 Dog Night
Brave    Sara Bareilles
Breakdown    Tom Petty
Breakeven    The Script
Brick    Ben Folds
Bright Lights    Matchbox 20
Brokenhearted    Karmin
Brown Eyed Girl    Van Morrison
Bubbly    Colbie Callait
Build Me Up Buttercup    The Foundations
California Dreaming    Mamas and the Papas
California Gurlz    Katy Perry
California Love    2Pac
Californiacation    Red Hot Chili Peppers
Call Me Maybe    Carly Rae Jepson
Careless Whisper    George Michaels
Cats In The Cradle    Harry Chapin
Chandelier    Sia
Chasing Pavements    Adele
Chicken Fried    Zac Brown Band
Chumbawumba    Tubthumping
Clarity    Zedd
Clocks    Coldplay
Come As You Are    Nirvana
Come Away With Me    Norah Jones
Come to my Window    Melissa Etheridge
Come To My Window    Melissa Etheridge
Come Together    Beatles
Could You Be Loved    Bob Marley
Counting Stars    OneRepublic
Crazy    Gnarles Barkley
Creep    Radiohead
Criminal    Fiona Apple
Crocodile Rock    Elton John
Cruisin    Smokey Robinson
Cry Me A River     Justin Timberlake
Dark Horse    Katy Perry
Demons    Imagine Dragons
Desperado    The Eagles
Diamonds    Rihanna
Dock of the Bay    Otis Redding
Domino    Jessie J
Don't Know Why    Norah Jones
Don't Speak    No Doubt
Don't Stop Believin    Journey
Doo Wop (That Thing)    Lauryn Hill
Dream On    Aerosmith
Dreams    Fleetwood Mac
Dreams    The Cranberries
Drive    Incubus
Drive By    Train
Drops of Jupiter    Train
Edge Of Glory    Lady Gaga
Elastic Heart    Sia
Empty    Ray LaMontagne
Englishman In New York    Sting
Enter Sandman    Metallica
Evaporated    Ben Folds
Even Flow    Pearl Jam
Even Flow    Pearl Jam
Everlong    Foo Fighters
Every Breath You Take    The Police
Every Little Thing She Does Is Magic    The Police
Everything I do I Do It For You    Bryan Adams
Everything You Want    Vertical Horizon
Everything You Want    Vertical Horizon
Everything's Not Lost    Coldplay
Faith    George Michaels
Faithfully    Journey
Fallin    Alicia Keys
Fancy    Iggy Azalea
Fantasy    Mariah Carey
Feeling Good    Michael Buble
Fields of Gold    Sting
Fire and Rain    James Taylor
Firework    Katy Perry
Fix You    Coldplay
Fly Away    Lenny Kravitz
Fly Me To The Moon    Frank Sinatra
Foolish Games    Jewel
Forget You    CLo Green
Free Fallin    Tom Petty
Friends in Low Places    Garth Brooks
From Eden    Hozier
From This Moment    Shania Twain
Frontin    Pharell Jay Z
Game Of Love    Michelle Branch
Gatekeeper    Feist
General    Dispatch
Genie In A Bottle    Christina Aguilera
Georgia On My Mind    Ray Charles
Get A Job    The Offspring
Get Lucky    Daft Punk
Gimme One Reason    Tracy Chapman
Girl On Fire    Alicia Keys
Girls Chase Boys    Ingrid Michaelson
Girls Just Want to Have Fun    Cyndi Lauper
Give A Little Bit    Supertramp
Glad You Came    The Wanted
Good Riddance Time Of Your Life    Greenday
Good Time    Carly Rae Jepson Owl City
Goodbye Earl    Dixie Chicks
Grenade    Bruno Mars
Hallelujah    Jeff Buckley
Hand in my Pocket    Alanis Morisette
Hang    Matchbox 20
Hanging By A Moment    Lifehouse
Happy    Pharrell Williams
Haven't Met You Yet    Michael Buble
Head Over Feet    Alanis Morisette
Heard It Through The Grapevine    Marvin Gaye
Heart a Break    Demi Levato
Heart Of Life    John Mayer
Heart Wants What It Wants    Selena Gomez
Heartbreak Warfare    John Mayer
Heartbreaker    Pat Benatar
Heartless    Kanye West
Heatbeats    Jose Gonzales
Hella Good    No Doubt
Here Comes The Sun    George Harrison
Hey Jude    Beatles
Hey Mickey    Toni Basil
Hey Ya    Outkast
High and Dry    Radiohead
Hit Me Baby One More Time    Britney Spears
Hit Me With Your Best Shot    Pat Benatar
Ho Hey    The Lumineers
Hold On We're Going Home    Drake
Hold You In My Arms    Ray LaMontagne
Honky Tonk Woman    Rolling Stones
Hotel California    Eagles
House of the Rising Sun    Animals
How Come You Don't Call    Prince
How Far We've Come    Matchbox 20
How To Save a Life    The Fray
Human    Christina Perri
I Am The Highway    Audioslave
I Can't Make You Love Me    Bonnie Raitt
I Can't Go For That    Hall and Oats
I Just Called To Say I Love You    Stevie Wonder
I Kissed A Girl    Katy Perry
I Knew I Loved You    Savage Garden
I Love Rock and Roll    Joan Jett
I Love This Bar    Toby Keith
I Melt    Rascall Flatts
I Still Haven't Found What I'm Looking For    U2
I Touch Myself    Divynls
I Try    Macy Gray
I Want It That Way    Backstreet Boys
I Want To Dance With Somebody    Whitney Houston
I Want To Talk About Me    Toby Keith
I Will Survive    Gloria Gaynor
I Will Wait    Mumford and Sons
I Wish    Stevie Wonder
I Wont Back Down    Tom Petty
I Wont Give Up    Jason Mraz
I'll Be    Edwin McCain
I'll Stand By You    Pretenders
I'm Gonna Find Another You    John Mayer
I'm Like a Bird    Nelly Furtado
I'm Not The Only One    Sam Smith
I'm On Fire    Bruce Springsteen
I'm The Only One    Melissa Etheridge
I'm Yours    Jason Mraz
If It Makes You Happy    Sheryl Crow
Ignition    R. Kelly
Imagine    John Lennon
In Front Of The Alamo    Hal Ketchem
In My Place    Coldplay
In The Air Tonight    Phil Collins
Iris    Goo Goo Dolls
Ironic    Alanis Morisette
Irreplaceable    Beyonce
Is She Really Going Out With Him    Joe Jackson
Island In The Sun    Weezer
It's My Life    No Doubt
It's Raining Men    The Weather Girls
It's Time    Imagine Dragons
Jack & Diane    John Mellencamp
Jealous    Nick Jonas
Jessie's Girl    RIck Springfield
Jumper    Third Eye Blind
Just A Girl    No Doubt
Just Dance    Lady Gaga
Just Friends    Musiq Soulchild
Just Give Me A Reason    Pink
Just Like A Pill    Pink
Just The Way You Are    Bruno Mars
Killing Me Softly    The Fugees
King of Anything    Sara Bareilles
Kiss    Prince
Lady Marm    Patti LaBelle
Landed    Ben Folds
Landslide    Stevie Nicks
Last Friday Night    Katy Perry
Last Kiss    Pearl Jam
Latch    Sam Smith
Layla    Eric Clapton
Learning To Fly     Tom Petty
Let Her Go    Passenger
Let It Be    Beatles
Let It Go    Idina Menzel
Let's Get It On    Marvin Gaye
Let's Stay Together    Al Green
Life Is a Highway    Tom Cochrane
Life's Been Good    Joe Walsh
Lights    Journey
Lights    Journey
Like A Prayer    Madonna
Like a Stone    Audioslave
3 A.M.    Matchbox 20
Little Lion Man    Mumford and Sons
Little Red Corvette    Prince
Livin' On A Prayer    Bon Jovi
Locked Out Of Heaven    Bruno Mars
Locomotion    Kylie Minogue
Look What You've Done    Jet
Lost Without You    Robin Thicke
Love Shack    The B52's
Love Song    311
Love Song    Sara Bareilles
Lucky    Colbie Callait Jason Mraz
Magic Carpet Ride    Steppenwolf
Make You Feel My Love    Adele
Man In The Mirror    Michael Jackson
Man I Feel Like a Woman    Shania Twain
Margaritaville    Jimmy Buffet
Mary Jane's Last Dance     Tom Petty
Maybe I'm Amazed    Paul McCartney
Me And Bobby McGee    Janis Joplin
Mirrors    Justin Timberlake
Misty    Jazz Standards
Moves Like Jagger    Maroon 5 Christina Aguilera
Mr Brightside    The Killers
My Favorite Mistake    Sheryl Crow
Natural Woman    Carole King
Natural Woman    Carole King
New York    Alicia Keys
Next To Me    Emeli Sande
No Scrubs    TLC
No Woman No Cry    Bob Marley
Not Over You    Gavin Degraw
Nothing Else Matters    Metallica
OK It's Alright With Me    Eric Hutchinson
Old Time Rock and Roll    Bob Seger
One More Night    Maroon 5
Only Girl in the World    Rihanna
Only The Good Die Young    Billy Joel
Ordinary People    John Legend
Out Of My League    Fitz and the Tantrums
Paper Moon    Jazz Standards
Party in the U.S.A.     Miley Cyrus
Piano Man    Billy Joel
Picture    Sheryl Crow Kid Rock
Pink Houses    John Mellencamp
Poeple Get Ready    Otis Redding
Poker Face    Lady Gaga
Price Tag    Jessie J
Pumped Up Kicks    Foster The People
Push    Matchbox 20
Put Your Records On    Corinne Bailey Rae
Quit Playing Games With My Heart    Backstreet Boys
Rack City    Tyga
Radioactive    Imagine Dragons
Raise Your Glass    Pink
Red Red Wine    UB40
Red Solo Cup    Toby Keith
Redneck Woman    Gretchen WIlson
Rehab    Amy Whinehouse
RESPECT    Aretha Franklin
Rhiannon    Fleetwood Mac
Ring Of Fire    Johnny Cash
Riptide    Vance Joy
Roar    Katy Perry
Rocket Man    Elton John
Rolling in the Deep    Adele
Rolling on the River    Tina Turner
Roxanne    The Police
Royals    Lorde
Rude - Magic    Magic
S&M    Rihanna
Santeria    Sublime
Satisfaction    Rolling Stones
Save Tonight    Eagle Eye Cherry
Say    John Mayer
Say It Aint So    Weezer
Say My Name    Destiny's Child
Say What You Need To Say    John Mayer
Say You'll Be There    The Spice Girls
Scar Tissue    Red Hot Chili Peppers
Secret Heart    Feist
Semi-Charmed    Third Eye Blind
Separate Ways    Journey
September    Earth Wind and Fire
Shake It Off    Taylor Swift
Shape of my Heart    Backstreet Boys
She Drives Me Crazy    Fine Young Cannibals
She Will Be Loved    Maroon 5
Shook Me All Night Long    ACDC
Show Me Love    Robin
Signed Sealed Delivered    Stevie Wonder
Simple Man    Lynyrd Skynrd
Since You've Been Gone    Kelly Clarkson
Sister Christian    Night Ranger
Sittin On The Dock of the Bay    Otis Redding
Sky Full Of Stars    Coldplay
Smells Like Teen Spirit    Nirvana
Smooth    Santana
Somebody That I Used To Know    Gotye Kimbra
Someone Like You    Adele
Something Like That    Tim McGraw
Something To Talk About    Bonnie Raitt
Soul Sister    Train
Stacy's Mom    Fountains of Wayne
Stay    Lisa Loeb
Stay    Rihanna
Stay With Me    Sam Smith
Stir It Up    Bob Marley
Straight Up    Paula Abdul
Strong Enough    Sheryl Crow
Stronger What Doesn't Kill ou    Kelly Clarkson
Stuck In The Middle With You    Steelers Wheel
Sugar    Maroon 5
Suit & Tie    Justin Timberlake
Summer Nights    Grease
Summer of 69    Bryan Adams
Sunday Morning    Maroon 5
Sunny Came Home    Shawn Colvin
Super Freak    Rick James
Superstition    Stevie Wonder
Sweater Weather    The Neighborhood
Sweet Caroline    Neil Diamond
Sweet Child of Mine    Guns N Roses
Sweet Home Alabama    Lynyrd Skynrd
Tainted Love    Soft Cell
Take Me Home Tonight    Edie Money
Take Me To Church    Hozier
Tearing Up My Heart    N'SYNC
Teenage Dream    Katy Perry
That Thing You Do     The Oneders
That's What Makes You Beautiful    One Direction
The A Team    Ed Sheeran
The Dog Days Are Over    Florence and the Machine
The Joker    Steve Miller Band
The One That Got Away    Katy Perry
The Scientist    Coldplay
The Show    Lenka
The Sign    Ace Of Base
The Way You Look Tonight    Frank Sinatra
The Way You Make Me Feel    Michael Jackson
These Days    Rascall Flatts
Thinking Out Loud    Ed Sheeran
This Love    Maroon 5
This Year's Love    David Gray
Times Like These    Foo Fighters
Tiny Dancer    Elton John
Too Close    Alex Clare
Torn    Natalie Imbruglia
Total Eclipse of the Heart    Bonnie Tyler
Toxic    Britney Spears
Travelin Soldier    Dixie Chicks
Treasure    Bruno Mars
Trojans    Atlas Genius
Trouble    Taylor Swift
Truly Madly Deeply    Savage Garden
Try    Colbie Callait
Try    Pink
Two Princes    Spin Doctors
U Remind Me    Usher
Unbelievers    Vampire Weekend
Under The Bridge    Red Hot Chili Peppers
Unwell    Matchbox 20
Uptown Funk     Bruno Mars
Use Somebody    Kings of Leon
Valerie    Amy Whinehouse
Viva La Vida    Colplay
Wagon Wheel    Old Crow Medicine Show
Walking On Sunshine    Katrina & The Waves
Wannabe    The Spice Girls
Wanted Dead or Alive    Bon Jovi
Waterfalls    TLC
We Are Never Getting Back Together    Taylor Swift
We Are Young    F.U.N.
We Can't Stop    Miley Cyrus
We Found Love    Rihanna
What Hurts The Most    Rascal Flatts
What I Got    Sublime
What's Up    4 Non Blondes
When Doves Cry    Prince
When I Come Around    Greenday
When I Was Your Man    Bruno Mars
Where Have All The Cowboys Gone    Paula Cole
White Horses    Rolling Stones
Why Georgia    John Mayer
Why You Only Call Me When You're High    Arctic Monkeys
Wide Awake    Katy Perry
Wild Horses    Rolling Stones
Wild Night    Van Morrison
Wonderwall    Oasis
Work Song    Hozier
Wrecking Ball    Miley Cyrus
Yellow    Coldplay
Yesterday    Beatles
You and Me    Lifehouse
You Belong with Me    Taylor Swift
You Give Love a Bad Name    Bon Jovi
You Gotta Be    Des'Re
You Live You Learn    Alanis Morisette
You Make My Dreams Come True    Hall and Oats
You Oughta Know    Alanis Morisette
You Shook Me All Night Long    AC/DC
You Were Meant For Me    Jewel
You're Still The One    Shania Twain
You're So Vain    Carly Simon
Your Life Is Now    John Mellencamp
Your Song    Elton John
Zombie    The Cranberries
I Don't Mind    Usher
Love Me Harder    Ariana Grande
Problem    Ariana Grande
Chains    Nick Jonas
Animals    Maroon 5
I Lived    OneRepublic
Geronimo    Shepphard
Sorry    Justin Bieber
What Do You Mean    Justin Bieber
Can't Feel My Face    The Weekend
I1234    Feist
ABC    Jackson Five
Back To Black    Amy Whinehouse
Bad Blood    Taylor Swift
Out of the Woods    Taylor Swift
Big Yellow Taxi    Joni Mitchell
Can't Help Falling In Love    Elvis Presley
Crazy    Patsy Cline
Dancing Queen    ABBA
Daughters    John Mayer
The Heart Wants What It Wants    Selena Gomez
Dreams    Cranberries
Escape (Pina Colada Song)    Rupert Holmes
Fidelity    Regina Spektor
Follow Me    Uncle Kracker
Hello    Adele
Heroes    Alesso
Hotline Bling    Drake
Hold Back the River    James Bay
Let It Go    James Bay
Love You Like a Love Song    Selena Gomez
Magic    Coldplay
Marry You    Bruno Mars
Never Gonna Give You Up    Rick Astley
No Diggity    Blackstreet
Poetry Man    Pheobe Snow
Please Don't Stop The Music    Rihanna
Pony    Genuwine
Proud Mary    Tina Turner
Rumor Has It    Adele
Save Room    John Legend
Single Ladies    Beyonce
Story of My Life    One Direction
This Is How We Do It    Montell Jordan
Timber    Ke$ha
Titanium    David Guetta feat. Sia
To Sir With Love    LuLu
Try    Colbie Callait
Try    Pink
Unconditionally    Katy Perry
What Doesn't Kill You    Kelly Clarkson
Like A Virgin    Madonna
AEG Live
Palantir Technologies
Howl at the Moon
and many more.
NFL
Insurity
Mandalay Bay
De Beers Jewelers
Staples Center