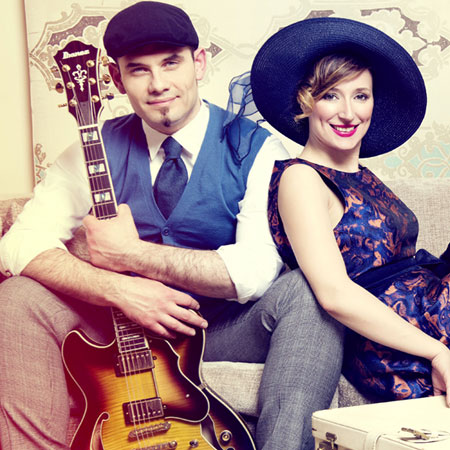 Entertainment Duo Italy
Popular party duo with award winning female singer & male guitarist
Available as a trio (with piano) or with a full live band
Flexible repertoire adaptable to suit any kind of event
Offers music for wedding ceremonies and a Dj set for the evening
Based in North Italy and available to perform worldwide
Entertainment Duo Italy VIDEOS
Entertainment Duo Italy PHOTOS
This party covers duo features a multi award winning female singer and a male guitarist and backing vocalist, and they can add additional musicians including a Piano, Violin, Trumpet, Sax and Double Bass, to create the perfect atmosphere for any event! If you require a fuller sound they can form as a six piece band playing Latin-jazz and Funk music! Extremely flexible to hire as a funk band or as one of their other popular line ups such as a duo, trio and quartet, they can tailor their set list to suit any wedding, party, dinner or corporate event.
Live performances can last up to 2 hours, and their versatile repertoire has been carefully chosen to ensure they can cater to a variety of tastes for any occasion! Other credit's to this talented covers duos name include realising original songs arranged by Andrea Zupplini, who has worked with the internationally famous Italian singer Eros Ramazzotti. Having performed wedding music and live party covers across the globe at events in Croatia, and the UAE through to prestigious events and venues throughout Italy.
Experienced in performing to crowds of 10,000 people to small and intimate wedding ceremony's they are able to cater their performance to suit, and will adapt their show to suit your audience and event, with one of their most popular packages comprising of smooth jazz, bossa, and pop-soul, followed by a live DJ set, they are the perfect Wedding entertainment in Italy.
Our acoustic duo are in high demand as one of Italy's most go to entertainment for wedding music, get in touch with one of our Entertainment Co-ordinators to book Entertainment Duo Italy who can put together a tailor-made package performed by this Party Covers Duo!
Hits from the 70's 80's 90's
Salsa
Latin
Italian and International Pop/ Rock
Jazz/Swing
Chill out
Bossa