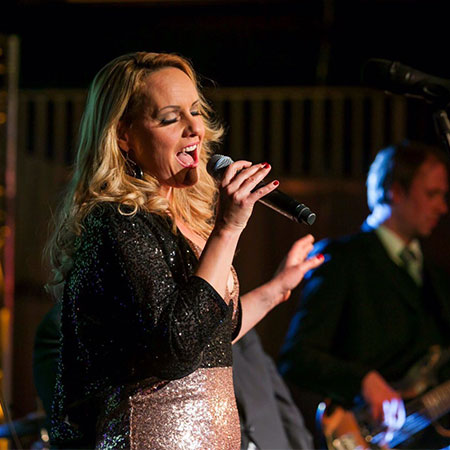 Event & Wedding Singer
Talented singer and accomplished pianist can perform at live events and weddings
Repertoire covers different genres and styles like pop, rock, jazz, party and ceremony music
Can perform in both German and English, as a soloist or accompanied by live musicians
Especially suitable for drinks receptions, wedding ceremonies and parties, nightclubs, corporate events, etc.
This Event and Wedding Singer is based in Berlin and available for worldwide bookings
Event & Wedding Singer VIDEOS
Event & Wedding Singer PHOTOS
Make sure your special day or party is an occasion to be remembered by booking this Event and Wedding singer, a talented vocalist and an accomplished musician who will ensure your event or wedding is the special occasion you always dreamed of.
Besides being a sensational vocalist with a melodious voice, this versatile artist is also a wonderful pianist. Our live covers singer can captivate listeners with her various musical skills and live cover songs in both German and English. This makes her performances suitable for events in Germany, where she's originally from, and anywhere in the world.
Our female singer and pianist's extensive repertoire covers various music genres and styles. Among the songs this live covers singer can perform at your wedding or party you can find 'All Of Me' by John Legend or 'Halo' by Beyonce, and some German hits like 'Ich Lass Fur Duch Das Licht An' by 'Revolverhead or Du Lässt Mich Sein So Wie Ich Bin' by Helene Fischer..
As a soloist or along with other musicians, DJs or a live band, our female singer and pianist can sing and play a variety of pop, rock, jazz and party music. Her varied set list can be customised in order to suit your special occasion's requirements and to satisfy the different music tastes of your guests
Our live event singer regularly performs at corporate events, private parties, nightclubs and product launches, but she also can perform soothing background music for wedding ceremonies, drinks receptions and cocktail lounges.
Scarlett Entertainment offers a variety of Cover Singers for events, parties and weddings in Germany and all over the world.
If you would like to check our wonderful Event and Wedding Singer's availability for your event, don't hesitate to contact us today and make an enquiry. Our in-house team of Entertainment Specialists will be more than happy to provide further details on this live covers singer and assist you in the booking process.
Diamonds are the Girls best Friend
Du lässt mich sein so wie
Fehlerfre
Fever
Fieber spürn
Girls from little Rock
Happy Birthday
I wanna be loved by you
Marathon
My Heart belongs to Daddy
Phänomen
And many more....
Atemlos
Estre
Kia
Mercedes
Robinson-Club
AROSA-Golf-Club-Resort
Hyatt
Maritim Berlin
Ritz-Carlton
BMW München