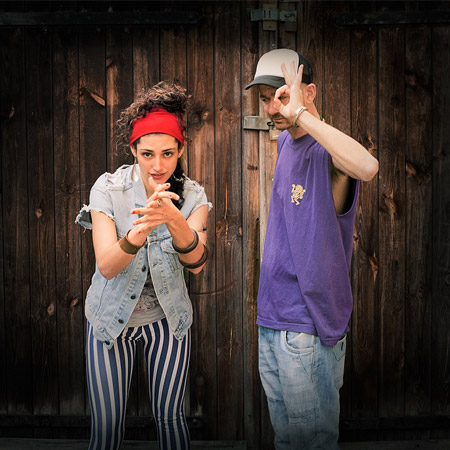 Expressive Musical Duo
Talented acoustic duo will perform remarkable original songs with in an upbeat acoustic style which includes body percussion, dance and percussion.
Sensational live music show filled with acoustic atmospheric qualities.
Exceptional bilingual singers will captivate guests both young and old.
Create a unique audience interaction musical experience that will be perfect private parties, weddings and corporate events.
Book our expressive musical duo for events in Spain and worldwide.
Expressive Musical Duo VIDEOS
Expressive Musical Duo PHOTOS
Treat your guests to a phenomenal original music duo that will provide an amazing live music show experience for your upcoming special event or social gathering. Professional bilingual singers can perform a flurry of different acoustic music arrangements in a variety of different languages, creating a unique and exceptional form of live music entertainment. Performing as a phenomenal acoustic duo, our multi skilled function duo are bound to have mass appeal thanks to their unique multi language performances that can be delivered in a variety of ways, a sensational and unforgettable live music show experience.
Our highly talented and skilled original music duo create their own unique arrangements with acoustic proportions to give each song an emotional and expressive personality that will turn heads and capture attention with ease. Our dazzling bilingual singers will quickly become the highlight of your special occasion, as guests attempt to sing along with our sensational acoustic duo. Our wonderful live music show comes prepared in a variety of ways that includes our lovely male and female dual vocalists that will surely leave a lasting impression.  
Truly unique, our sensational function duo perform with passion and sophistication, delivering each live performance with a sense of dynamic flair and elegance. Creating a rich sounding atmosphere that will fill your venue with our duo's pure care free attitude, creating an environment that can be enjoyed by all. An eccentric acoustic duo that are always working hard to perfect their live music show experience, our hard hitting and dynamic performers provide the perfect entertainment option for private parties, corporate functions, charity events, gala dinners, drink receptions, and much more. 
If you're interested in booking our phenomenal bilingual singers to perform at your upcoming social gathering, contact any of our phenomenal Scarlett Entertainment team members who will help you with our booking process, as well as answer any questions you might have.