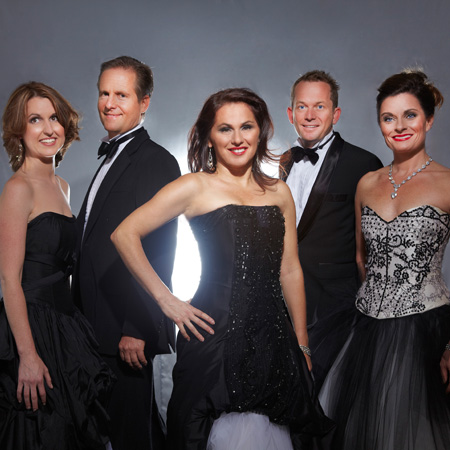 Feature Entertainment Act
Interactive show combines Opera, Broadway, Comedy, Cabaret & Didgeridoo
Featuring well-known hits from Phantom of the Opera & Les Miserables
Will leave your audience standing and singing out for more
Performed worldwide for Prime Ministers, Presidents & CEOs
Voted Australian Event Entertainers of the Year
Feature Entertainment Act PHOTOS
This Music Theatre Group are regarded as one of Australia's leading feature acts and are highly sought after for the corporate and conference stage as well as performing at major venues, festivals and events around the world. If you are looking for that perfect feature act guaranteed to bring down the house, then don't miss booking this group! They will ensure your event is fun, magical, impressive and memorable and will leave your audience standing and singing out for more!
Voted Australian Event Entertainers of the Year with their Silver Anniversary in 2012, these sensational songsters have been wowing audiences around Australia and internationally on the concert stage and conference and event circuit. With a new line-up, look and show, 40 overseas tours and 6 CDs under their belt, they are described as brilliantly talented, funny, fresh, moving and must-see....do not miss them! This is the show! Entertainment for all, entertainment at its best!
Their new shows are spellbinding, interactive and an uplifting celebration of the human spirit combining Opera, Broadway, Comedy, Cabaret, Didgeridoo, Dance, Acrobatics and Magic. Always full of surprises!
They have received standing ovations for a diverse range of clients, as well as performances at concerts and festivals around Australia and internationally including Opera in the Vineyards, Broadway under the Stars, their first performance at the beautiful Melbourne Recital Centre and performances in China, Singapore, Japan, Italy, USA, Malaysia and Hong Kong. They have released 6 CDs.
This is a sparkling and unique feature performance (plus encores!) featuring well-known hits from Opera to Broadway and songs from Phantom of the Opera, Les Miserables Westside Story La Traviata, Turandot, Carmen, Lakme, The Pearl Fishers and favourites and international hits from Leonard Cohen, IL DIVO, Josh Groban and Andrea Bocelli including Nella Fantasia, You Raise Me Up, Hallelujah, The Prayer and Time to Say Goodbye! These talented artists hit those high C's in Opera, belt out Broadway, seduce with song, dance up a storm, create magic and stir your soul with haunting ballads.
The diversity in the performance and the music and comedy crosses all boundaries of background, nationality and culture, and really helps to put the audience in a positive, celebratory and uplifted mood. The group can also prepare a special song and other material with lyrics related to the client and industry. As well, the artists will charm their way around the audience and your special guests with comical interactive moments.
The group were selected as one of the companies to represent Australia internationally for the Reaching the World program of The Sydney Olympic Games and were invited to perform at the World Expo 2000 in Hannover as a result of a standing ovation at the Australia Germany Association Conference Gala Dinner in Brisbane. They also performed as guest artists with the Seoul Symphony Orchestra in Korea.
Australian Pain Society Conference
Bangkok Public Insurance Co.
Bionic Ear Institute
BMW
Channel Ten
Crown Casino
Herald & Weekly Times
International Plumbers Conference
Melbourne City Council
Monash Medical Centre
Pfizer
Price Waterhouse Coopers
Royal Melbourne Hospital
Sheraton Imperial (Kuala Lumpur)
Starwood Hotels & Resorts
The Walt Disney Company (National Tour)
ANZ Bank
Australian Unity
BHP
Blake Dawson Waldron
British International School (Indonesia)
Coles Myer
Ford Motor Company
Howard Florey Institute
Isuzu Italian Chamber of Commerce
Merrill Lynch
National Australia Bank
President's Cup Ball
Rotary International
SAP
Spotless Group
Telstra
Australia Post