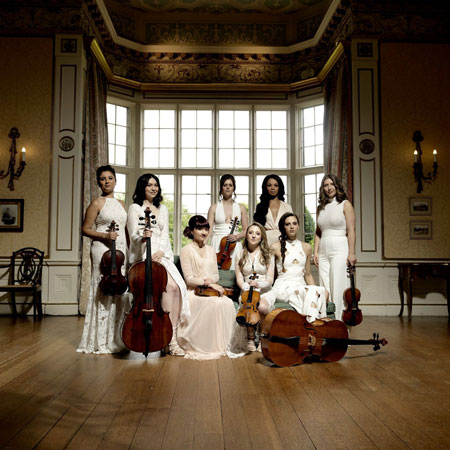 Female Acoustic Strings
Highly glamorous and incredibly versatile crossover acoustic string ensemble
Cover a wide selection of music genres from classical to modern pop songs
Completely tailored service with choice of 1 to 20 players or more
Have performed for X Factor and with the BBC Philharmonic Orchestra
Based in Manchester and available all over the world
Female Acoustic Strings PHOTOS
Female Acoustic Strings is a stunning, highly glamorous and incredibly versatile all female string ensemble able to cater for all your string music needs. They specialise in delivering world class entertainment tailored to any event. From quiet atmospheric background music to exhilarating and captivating loud performances and everything in between, they are your one-stop for string music.  
Our fantastic all female string ensemble are available from one to twenty or more performers, so whether you're looking for full orchestra or an intimate solo string music performance, our Female Acoustic Strings have you covered. Each and every member of the string ensemble is a young and vibrant professionally trained musician from a top UK conservatoire. Together they have a natural flair for live performance bursting with charisma and real determination 
Our Female Acoustic Strings have a vast and varied repertoire of songs that covers many genres and span across all decades ranging from classical right through to the most current pop songs. The superb all female string ensemble tailor every single performance to the clients requirements building a set list of songs dedicated to that particular event. This combined with their eye for fashion means they deliver a visual and sonically pleasing performance that makes a big impact, whatever the occasion. 
The all female string ensemble is incredibly versatile and always of the highest calibre. They are open to any challenge and will always work to creating wonderful string music for any event. We think they are highly suited to weddings, private function right up to very large corporate events. They have experience providing session work for national and international artists, performed at the O2 arena, played alongside he BBC Philharmonic Orchestra and provided string music for the X Factor. 
Contact our entertainment specialists to book the all female string ensemble for you next event however big or small it may be. 
Top Tip:
This superb string ensemble is also available as Female Electric Strings for a more contemporary and electrifying performance
A Whole New World - Aladdin
A Thousand Years - Christina Perri
Adventures of a Lifetime - Coldplay
Ain't No Mountain High Enough - Diana Ross
All of Me - John Legend
All You Need is Love - the Beatles
Angel - Lionel Ritchie
At Last - Etta James
Beneath Your Beautiful - Labrinth
Bittersweet Symphony  - the Verve
Bohemian Rhapsody - Queen
Bridge over Troubled Water - Simon and Garfunkel
California Dreamin - Philips
Candle in the Wind - Taupin
Can't Help Falling in Love - Elvis Presley
Chandelier - Sia
Chasing Cars - Snow Patrol
Clown - Emile Sande
Concerning Hobbits - Lord of the Rings
Crazy Little Thing Called Love - Queen
Crazy in Love - Beyonce
Dancing Queen - Abba
Diamonds - Rihanna
Divenire - Einaudi
Don't Stop Me Now – Queen
Don't Be So Hard on Yourself - Jess Glynne
Don't Want To Miss A Thing - Aerosmith
Earth Song - Michael Jackson
Everlasting Love - Love Affair
Everything - Michael Buble
Fake Plastic Trees - Radiohead
Fields of Gold - Eva Cassidy
Fireflies - Owl City
Flashing Lights - Kayne West
Game of Thrones - Djawadi
Greatest Love of All - Whitney Houston
Halo - Beyonce
Happy - Pharrell Williams
Happy Anniversary - Little River Band
Hello - Adele
Here Comes The Sun - The Beatles
Here Comes Your Man
Hey Jude - The Beatles
Highway to Hell - AC/DC
History - One Direction
Hoppipolla - Sigur Ros
How Long Will I Love You - Ellie Goulding
I Just Called to Say I Love You - Stevie Wonder
I Do It for You - Kamen
I Would Do Anything for Love - Meatloaf
Imagine - John Lennon
It Must Be Love - Madness
I'll Be There for You - Friends Theme
I'm Kissing You - Des'ree
I'm Yours - Jason Mraz
Just the Way You Are - Bruno Mars
Killing Me Softly - Fox
Let It Go - Kristen and Lopez (Frozen)
Linger - The Cranberries
Love Story - Taylor Swift
A Dream is a Wish Your Heart
Marry You - Bruno Mars
Moon River - Mancini
Moves Like Jagger - Maroon 5
Mr Brightside - The Killers
My Funny Valentine - Ella Fitzgerald
Once Upon a Dream - Lana Del Ray
One Day Like This - Elbow
Only Girl - Rihanna
Only Time - Enya
Paradise - Cold Play
Pure Imagination - Charlie & the Chocolate Factory
Radioacticve - Imagine Dragons
Rather Be - Clean Bandit
Riptide - Vance Joy
Rockabye - Clean Bandit
Rolling in the Deep - Adele
Rule the World - Take That
Run - Leona Lewis
Say You Won't Let Go - James Arthur
Shine - Take That
Signed Sealed Delivered - Stevie Wonder
Slipping Through My Fingers - Abba
Smooth Criminal - Michael Jackson
Somebody to Love - Queen
Starlight - Muse
Stay with Me - Sam Smith
Stitches - Shawn Mendez
Sweet Disposition - the Temper Trap
Sweet Child of Mine - Guns and Roses
Thank You for the Music - Abba
The Entertainer – Joplin
The Greatest Love if All - Micheal Masser
The Prayer - Celine Dion
The Scientist - Coldplay
The First Time Ever I Saw Your - Roberta Flack
Thinking out Loud - Ed Sheeran
Unchained Melody - Robson and Jerome
Uptown Funk - Bruno Mars
Utopia  - Goldfrapp
Viva La Vida - Coldplay
Wake Me Up - Avicii
We Belong
We've Only Just Begun - Carpenters
What a Wonderful World - Weiss
What Makes You Beautiful - One Direction
When I Was Your Man - Bruno Mars
When a Man Loves a Woman - Percy Sledge
Wings - Birdy
Wishin and Hopin - Difranco
Without You - Evans
Wonderful Tonight
Wonderwall - Oasis
Wouldn't It Be Nice - The Beach Boys
Yesterday - The Beatles
You Raise Me Up - West Life
Your Song - Elton John
You're Beautiful - James Blunt
Z Cars - Johnny Keating
Make You Feel My Love - Adele
" ..incredibly talented and a pleasure to work with. The girls have a brilliant attitude and know exactly what they're doing and how to do it; there's no messing around and unnecessarily wasting time. Most importantly though, you can tell that they love what they're doing, and that passion shines throughout their work. "

Chris Forshaw
" They played acoustic by day and electric by night. What a show! They were awesome! We were blown away. It truly made it a memorable day. "

Lynda Coates (wedding)