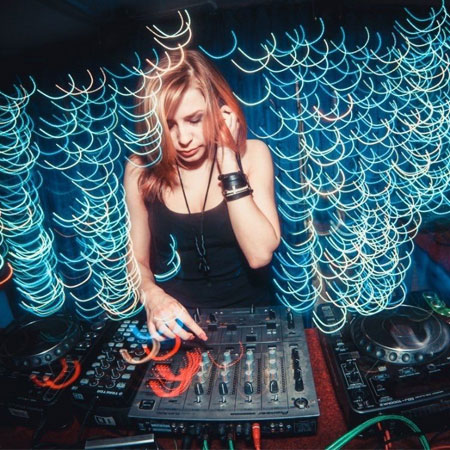 Female Club DJ Dubai
Strikingly beautiful and exceptionally talented, your guests won't believe how good this female DJ is
Playing everything house music to club and disco classics, our DJ will make sure that your dance floor is buzzing
Available as a party DJ or for venue residencies, our experienced disc jockey has worked all over the world
Ideal for club nights, wedding receptions, venue openings and more, this professional DJ will guarantee that your event is a huge success
Hire Female Club DJ Dubai for events in the United Arab Emirates and worldwide
Female Club DJ Dubai PHOTOS
There is no better way to pack the dance floor of your event than with a banging custom set. At award-winning booking agency Scarlett Entertainment, we have a wide range of professional DJs, guaranteed to kick off your party or bring the night to a close in just the right way. Our Female Club DJ Dubai is well known throughout the UAE and internationally for her talent on the decks and highly sought after for many events. A stunning model as well as an incredible disco disc jockey, your guests will go wild when our DJ takes to the decks. 
Originally from the Ukraine, this female DJ is an internationally renowned professional act. Known for her ability to pack out the dance floor at any venue, this skilful mixer will get everybody jumping like they want to demolish the floor. Playing a wide range of house, club and disco music, as well as the best chill out songs, our female DJ samples everything from classic hits to cutting-edge contemporary tracks. Able to tailor her set to suit your event, the club DJ is happy to incorporate your chosen music to make the night extra special.
The versatile club and party DJ Has loads of experience at the likes of the Westin Hotel in Abu Dhabi and the likes of Radisson Blue in Dubai plus many clubs and VIP bars. 
Available for single shows or extended residencies, our Female Club DJ Dubai is perfectly suited to classy club nights, glittering parties, wow factor corporate functions and memorable venue openings. Always looking her best and bringing mixes that will win over your ears, feet and heart, Fthis professional DJ should be the only spinner you need to consider for your event.
If you have any questions about booking this act, get in touch with our office at Scarlett Entertainment today.