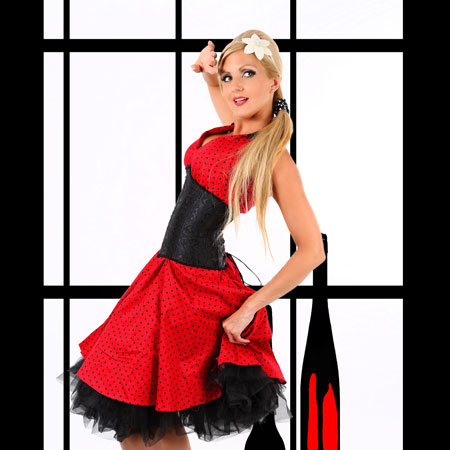 Female Covers Singer London
Sensational vocalist will wow audiences at your event
Delivers wide repertoire of classic hits with a fresh, modern feel
Talented choreographer puts on an all singing, all dancing performance
Perfect entertainment for parties, clubs, corporate functions, etc.
Based in London and available to perform at events worldwide
The ideal choice if you are looking for energetic, upbeat entertainment for your event, our wonderful female covers singer delivers a spectacular show every time she takes to the stage, and will delight your guests with her charismatic performances.
Performing a range of classic tracks from the 1920s through to present day, she adds her own unique style to each famous song, giving it a fresh new feel and making for a fantastic show. Based in London but experienced at playing for audiences all over the world, our female covers singer will adapt her repetoire and set performances to your specific events requirements making her great to work with and ultimately providing you with the best live entertainment at your next event. 
Certain to be the highlight of your event, our brilliant covers singer will create lasting memories at your next wedding, private function or corporate event. Enquire today to find out more!
" …an incredible artist, her show "Taste of Caberet" was excellent, so highly praised, that we had to book her again just to satisfy our clients. We are so disappointed she has returned to England, but we have booked her to come back to Mallorca and perform in our bar again next year. She has the perfect balance of cheeky sexy sass, and sophisticated class. Her voice is to die for, and don't get me started about how she sings and dances at the same time, it is amazing! "

Humphrey Roberto van Esch, Status Bar, Mallorca
" Over the last few years [she] has been a constant crowd attraction. Our regulars love her, and new clients are drawn to her professional and bubbly personality. She's got the voice and the personality. …You're guaranteed to have a successful night. Friendly, Fun, Fantastic...she delivers every time! "

Alex hernandez Lupiañez, Pizzeria d'arfils
" …you were great last night, I don't think the night would've been the same without your presence, your incredible voice and your beautiful performance. You made the night so special, Thank you so much. "

Heidi Lochender, Private Birthday party
" We always endeavour to deliver the highest quality to our clients, and the entertainment is part of that high service standard, so it speaks volumes that [she] was a regular performer. Her smooth, sophisticated and sexy style in the beginning of the evening really set the scene. Her easy transition into a dance section would really liven up the crown. I would recommend [her] for any event, as she covers all bases with her varied flexible vocal ability, and her easy going, fun loving personality. "

Sean Scanlan, Manager, Key West, Mallorca
" From the first moment I met [her] she became like family. She performed for my whole family and all our friends. The night was a huge success and we tried to get her to come back to the UK, but it didn't work out, so we flew to Mallorca just to see her. We weren't disappointed. We are so happy to have her back in the UK and are planning an evening with her performing. "

Chad Nagrecha, Private event
" Thank you sweet heart for all your hard work, thank you for making our third year super duper. You gave us two fantastic nights a week, with your unceasing energy, and enthusiasm. "

Andy Lindley, Owner and Manager Lindleys bar, Cala d'or Mallorca
" After years of watching different peoples shows, I believe hers is the best combination of vocals, beauty, moves, and attitude with a classy twist that you'd never expect from such a sexy and stunning woman! "

Alejandro de Maria Peiro, Head of entertainment, Playas Ca's Sabonners Aparthotel, Palma de Mallorca
" …I can ensure anyone, any company, individual, business, or venue who would be interested in contracting her, that you can count on her. She is an amazing artist, singer dancer and so much more, more than I can express in words. She is born to be on stage, she's an extrovert, incredible vocalist, fabulous, good looking and she really connects, and interacts with the audience. She is the complete package and worth booking! "

Deseada Fernandez Cuervo, Strings Pub, Mallorca