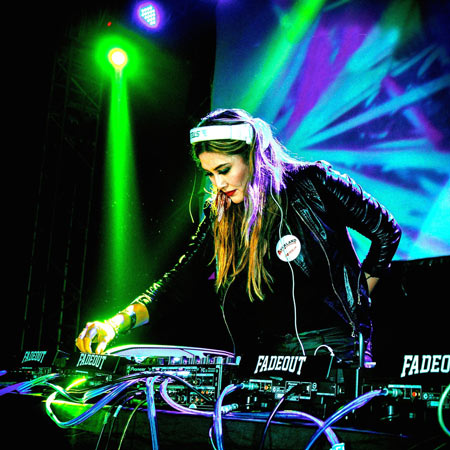 Female Event DJ Netherlands
Highly energetic female DJ keeps guests on their feet moving
Sensational party DJ brings the club scene to any sized events
Remarkable DJ brings an exciting and fun atmosphere to your event
Passionate live music show ideal for club nights, festivals, corporate events, and more
Book club styled entertainment for your events in Roterdam, The Netherlands and worldwide
Female Event DJ Netherlands PHOTOS
Book our high energy and dynamic female DJ for your upcoming special event or social gathering, and provide your guests with a fun club styled entertainment experience and live music show! Featuring our fantastic and skilled party DJ, our DJ is ready to keep your guests on their feet all night long with her dazzling spin skills that feature a variety of different genres and mixes.
Creating a stunning and heart pounding atmosphere, our party DJ will transform your special occasion into an exceptional live music explosion! Our incredible DJ will fill your venue with awesome hits and sounds that your guests will love. 
Bringing the heat of a traditional night club scene, our incredible music entertainment will immerse your special event within her own mixture of club styled entertainment thanks to her powerful and memorable live music show. Creating a tailor made experience, our fantastic party disc jockey mixes many genres together to come to a full blown mix and match of sounds for your event.
A fun and exciting DJ is what you will receive when you bring our sensational and memorable live music show to entertain at your social gathering. Engaging guests and keeping them entertained, our magnificent DJ will exceed expectations. 
The ideal live music entertainment experience for club nights, music festivals, corporate functions, wedding receptions, private parties, and much more! Our incredible female DJ has been performing for years, around the globe, and is ready to travel to your upcoming special event and treat your guests to her full blown live music show. An amazing live music experience that is bound to leave your guests feeling energetic and excited, as well as filled with unforgettable memories. 
If you're interested in booking our incredible female disc jockey for your upcoming gathering or event, contact any of our on hand Scarlett Entertainment team of experts who'll answer any questions regarding our live music entertainment options, as well as help guide you through our booking process.