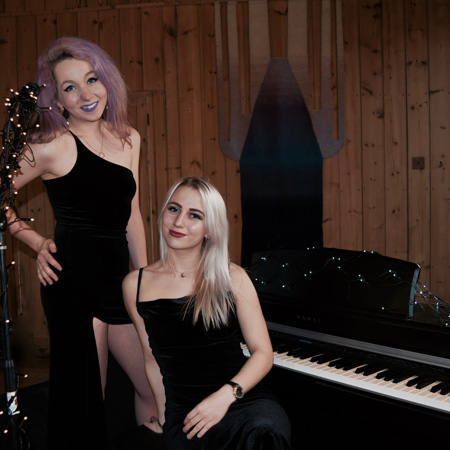 Female Jazz Duo
Sophisticated and accomplished female jazz duo on piano and vocals
Conservatoire-trained musicians play jazz and pop repertoire
Have performed at prestigious international festivals including Reading and Ealing Jazz Festival
Vibrant act is perfect classy entertainment for weddings, corporate receptions and more
London-based act available for bookings worldwide
Book our sophisticated jazz duo for events wanting a touch of class and the soothing sounds of cocktail jazz. This all female band features a jazz vocalist and lounge pianist, together creating luxurious wedding entertainment and corporate reception music. 
Bedecked in arresting cocktail dresses, this duo present an accomplished set of jazz standards and classics, as well as offering a pop/modern set in their own intricate style. Unusually for a jazz group they cover some of the lesser known standards such as Lullaby of Birdland and Skylark whilst making everyone wonder why they aren't better known today. 
Their repertoire of well-known and loved standards and hits from the 20th century is well-arranged and features skilled performances on the piano and vocals. With sultry and emotionally-engaging tones, this jazz duo are guaranteed to have your audience enraptured and applauding.
Much of their set is high-energy, encouraging guests to have a dance if the mood takes them. They are equally comfortable playing laid-back and romantic numbers that provide either the perfect background to a reception or a stage performance for a discerning crowd. 
Both musicians are conservatoire-trained and have developed their admirable skills under the tutelage of master musicians. Their areas of composition and voice uniquely equip them to provide interesting, crowd-pleasing takes on favourites your guests know and love, making them an instant hit with audiences of any age. 
While wedding entertainment is the obvious choice for this sophisticated duo, their sound is adaptable to any fashionable event. Be it a restaurant opening, an art exhibition, the foyer of a corporate black-tie dinner, an awards-ceremony or occupying a stage at a jazz festival, the pair won't disappoint and will leave your guests asking for more.
To book this classy all female band, contact our dedicated team of entertainment coordinators. 
Ain't Necessarily So - George Gershwin
Baltimore Oriole - Hoagy Carmichael
Beautiful Love - Wayne King/ Victor Young
Cry Me A River - Julie London/ Arthur Hamilton
Don't Know Why - Norah Jones/ Jesse Harris
Fever - Peggy Lee/ Eddie Cooley
Fly Me To The Moon - Bart Howard
Georgia On My Mind - Hoagy Carmichael
Girl From Ipanema - Astrud Gilberto/ Antonio Carlos Jobim
He's a Tramp - Peggy Lee/ Sonny Burke
I Get Along Without You Very Well - Hoagy Carmichael
Lullaby Of Birdland - George Shearing
Lullaby Of The Leaves - Bernice Petkere
Moondance - Van Morrison
Agua De Beber - Astrud Gilberto/ Antonio Carlos Jobim
Nature Boy - Nat King Cole/ Eden Ahbez
Night And Day - Cole Porter
Nightingale Sang In Berkley Square - Manning Sherwin
Round Midnight - Thelonious Monk
Skylark - Hoagy Carmichael/ Jonny Mercer
Sugar - Stanley Turrentine
Sway - Luis Demetrio/ Pablo Beltrán Ruiz
Taking A Chance On Love - Vernon Duke
Tea For Two - Vincent Yumans/ Irving Caesar
Them There Eyes - Maceo Pinkard
Triste - Antonio Carlos Jobim
The Very Thought Of You - Ray Noble
Wave - Antonio Carlos Jobim
We'll Be Together Again - Carl T. Fischer/ Frankie Laine
When Sunny Gets Blue  - Jonny Mathis
My Funny Valentine - Richard Rodgers/Lorenz Hart
The Landmark Hotel
Hampton Court Palace
The Great Fosters Hotel - Tudor Room
The Savoy- Thames Foyer
Ealing Jazz Festival - Main Stage
The Isle Of Wight Festival
The Ritz - Main Restaurant & Palm Court