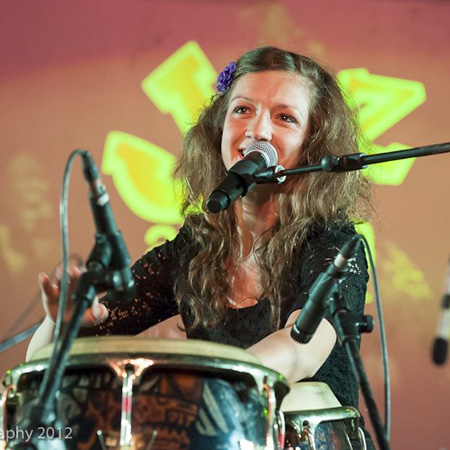 Female Percussionist France
Unique performer sings & performs percussionist set simultaneously
Her percussion ensemble includes guitar, bass & percussion/vocals
Percussionist performs Afro-american, cuban & Mandé musical traditions mixed with jazz/pop
Female drummer has performed at Casablanca Jazz Festival & Festival des Musiques Du Monde
Drumming percussion act is based in France & available to perform at events worldwide
Female Percussionist France PHOTOS
As a unique performer, our female percussionist excels in the mastery of her percussions as she exudes her soulful and luminous voice.
Since late 2010, she is the key character of a polymorphic group of musicians that can go from the acoustic duo to a quintet.
With compositions matured over the last five years and rooted in many different backgrounds, such as afro-american, afro-cuban and Mandé musical traditions mixed with jazz and pop, it's a mind blowing trip from one shore of the Atlantic ocean to the other. These inspirations allow her to create a more contemporary music in perfect osmosis with today's time.  A trained percussionist and a self trained vocalist, her project revolves around her voice that she developped during her career's early days, helping her to free the emotions contained in the multiple musical traditions that she mastered over the years.
Together with her band, she performed at the Drammen Fest in Norway and in the Casablanca Jazz Festival and is a regular at the famous Baiser Salé in France, as well as on the Scènes Musique Actuelles.  In October 2012 she delivered a brilliant performance at the Festival des Musiques du Monde (93) and released her first record «Rise Your Soul» with a concert accompanied by her sextet at the New Morning in Paris.