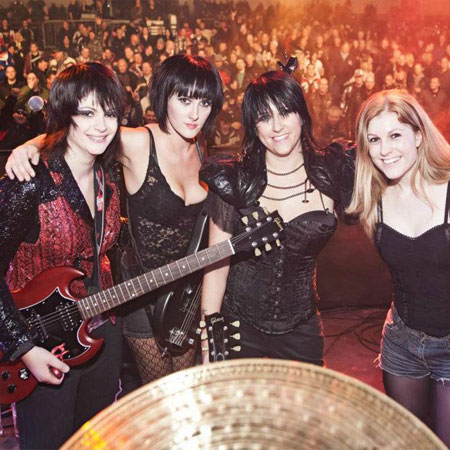 Female Pop Rock Band
All female rock band performs hard, grunge, gothic, and slow rock
Have made a huge impression among Rock legends in the business
Produce a tight mix of pop rock and heavy rock tunes
Previous clients include Harley Davidson, Chicago Rock Cafe, Center Parcs
Based in London and available to perform at events worldwide
Female Pop Rock Band PHOTOS
This Female Pop Rock Band are based in London and are fast emerging as favourite among rock enthusiasts in and around UK. Since emerging into the rock scene in 2011, they have made such an impression among legends in the business that their newest single was produced by no less than Led Zeppelin's legendary producer Stuart Epps, as well as Oasis and Elton John!
Consisting of four highly talented and passionate musicians, the band produces a tight mix of rock pop as well as some heavy metal, grunge, gothic, and slow rock ballads.
Due to their success, the girls have already seen a number of concert tours around Europe and the world, playing in the USA, Caribbean, Austria, Rome, Slovakia, Germany, Holland, and New Zealand. Their music has taken them to play at the London Astoria, cafe De Paris, and O2 Indigo as well as in countless numbers of festivals around the world.
Today, when the band is not busy planning for the release of another album, they receive invites to perform at corporate events, hotel shows, cafes, clubs, and even private events and parties. What makes these girls thrive in an otherwise male-dominated genre? Simple - they look and sound great on stage!
Contact our Entertainment Specialists for more information. 
THIS LOVE – MAROON 5
SINGLE LADIES – BEYONCE
WE FOUND LOVE - RIHANNA
ROLLING IN THE DEEP – ADELE
KIDS IN AMERICA – KIM WILDE
BLACK HORSE & THE CHERRY TREE – KT TUNSTALL
GET LUCKY – DAFT PUNK
DON'T CHA – THE PUSSYCAT DOLLS
SUPERSTITION – STEVIE WONDER
BEAT IT- MICHAEL JACKSON
SMOOTH – SANTANA FT. ROB THOMAS
ONE WAY OR ANOTHER – BLONDIE
I KISSED A GIRL- KATY PERRY
WHATS UP? – 4 NON BLONDES
WITH OR WITHOUT YOU – U2
SUMMER OF 69 – BRYAN ADAMS
YELLOW – COLDPLAY
VALERIE – AMY WINEHOUSE
SPACE ODDITY – DAVID BOWIE
IRIS- GOO GOO DOLLS
STILL GO THE BLUES/PARISIANNE – GARY MOORE
PRICE TAG – JESSE J
FEELIN HOT HOT HOT – THE ARROWS
GOLDENEYE – TINA TURNER
TAKE YOUR MAMA OUT – SCISSOR SISTERS
TOWN CALLED MALICE – THE JAM
GO YOUR OWN WAY – FLEETWOOD MAC
TORN – NATALIE IMBRUGLIA
WE BULIT THIS CITY – STAR SHIP
ADDICTED TO LOVE – ROBERT PALMER
FAST CAR- TRACY CHAPMAN
YOU AND ME SONG – THE WANNADIES
DAY TRIPPER – THE BEATLES
DON'T SPEAK – NO DOUBT
SIMPLY THE BEST – TINA TURNER
NEXT TO ME – EMILI SANDE
LA BAMBA – GYPSY KINGS
DANCE
I WILL SURVIVE – GLORIA GAYNOR
PLAY THAT FUNKY MUSIC – WILD CHERRY
FOOTLOOSE – KENNY LOGGINS
LONG TRAIN RUNNING – DOOBIE BROTHERS
I FEEL GOOD – JAMES BROWN
LOVE SHACK – B 52S
MATERIAL GIRL – MADONNA
HEY YA – OUTKAST
MOVES LIKE JAGGER – MAROON 5
TWIST N SHOUT – BEATLES
500 MILES – THE PROCLAIMERS
WALKING ON SUNSHINE – KATRINA AND THE WAVES
JOHNNY B GOOD – CHUCK BERRY
FORGET YOU – CEE LO GREEN
POKER FACE – LADY GA GA
SURFIN USA- BEACH BOYS
WIPEOUT- BEACH BOYS
MUSTANG SALLY – THE COMMITMENTS
I'M A BELIEVER – THE MONKEES
WALK LIKE AN EGYPTIAN – THE BANGLES
LET ME ENTERTAIN YOU – ROBBIE WILLIAMS
I GOTTA FEELING – BLACK EYED PEAS
GET THE PARTY STARTED – PINK
BROWN EYED GIRL – VAN MORRISON
POP
PURPLE RAIN – PRINCE
CRAZY - AEROSMITH
DON'T STOP ME NOW/ WE WILL ROCK YOU - QUEEN
I LOVE ROCK N ROLL – JOAN JETT
LIVING ON A PRAYER – BON JOVI
HIGHWAY TO HELL - ACDC
BACK IN BLACK- ACDC
UNDER THE BRIDGE – RED HOT CHILLI PEPPERS
LIVE AND LET DIE – WINGS
MONEY FOR NOTHING – DIRE STRATS
YOU OUGHTA KNOW – ALANIS MORISSETTE
ALL MY LIFE – FOO FIGHTERS
SWEET HOME ALABAMA – LYNRYD SKYNYRD
TEENAGE KICKS - THE UNDERTONES
SWEET CHILD OF MINE – GUNS N ROSES
PAINT IT BLACK – ROLLING STONES
I PREDICT A RIOT – KAISER CHIEFS
MR BRIGHTSIDE – THE KILLERS
PLACE YOUR HANDS ON – REEF
CHELSEA DAGGER – FRATELLIS
ROCKING ALL OVER THE WORLD – STATUS QUO
ALRIGHT NOW –FREE
ZOMBIE – THE CRANBERRIES
SWEET DREAMS – EURYTHMICS
EVERYBODY HURTS- REM
NOTHING ELSE MATTERS – METALLICA
CREEP- RADIOHEAD
ENTER SANDMAN – METALLICA
DON'T LOOK BACK IN ANGER – OASIS
SEX ON FIRE - KINGS OF LEON
FREE BIRD – LYNRYD SKYNYRD
HOTEL CALIFORNIA- THE EAGLES
FOXY LADY- JIMI HENDRIX
THE CHAIN – FLEETWOOD MAC
WALK THIS WAY – AEROSMITH
EYE OF THE TIGER- SURVIVOR
STAIRWAY TO HEAVEN – LED ZEPPELIN
ROCK N ROLL – LED ZEPPELIN
FIGHT FOR YOUR RIGHT – BEASTIE BOYS
WE ARE THE CHAMPIONS - QUEEN
PURPLE HAZE- JIMI HENDRIX
WILD THING – TROGGS
CHASING CARS – SNOW PATROL
SONG 2- BLUR
PARKLIFE – BLUR
TEENAGE DIRTBAG- WHEATUS
HEY JOE – JIMI HENDRIX
BASKETCASE- GREEN DAY
RUN – SNOW PATROL
OU ARE- NIRVANA
BILLIE JEAN – MICHAEL JACKSON
LIVE FOREVER – OASIS
WONDERWALL - OASIS
CAN'T STOP – RED HOT CHILLIS
NAÏVE- KOOKS
COMFORTABLY NUMB- PINK FLOYD
A THING CALLED LOVE – THE DARKNESS
SMELLS LIKE TEEN SPIRIT – NIRVANA
PINBALL WIZARD - THE WHO
MANY OF HORROR – BIFFY CLYRO
ARE YOU GONNA BE MY GIRL - JET
7 NATION ARMY – WHITE STRIPES
FLY AWAY – LENNY KRAVITZ
STREET SPIRIT - RADIO HEAD
DANCE FLOOR- ARTIC MONKEYS
ROCK/ INDIE
Cafe de Paris
Florida Music Festival Rhythms of the World
Fordham Festival
Pride
Go Go Festival
Cambridge Rock Fest
Chicago Rock Cafe
Holiday Resort
Royston Club
Center Parcs
Clients Events and Venues
2
Namfest
Brighton
L Fest
Cock Rock Fest
BMF Biker Festival
Harley Davidson
Scawthorpe Club
Fanny and Bacardi
London Astoria;