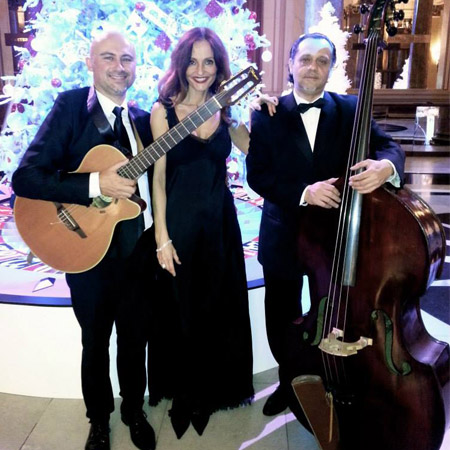 Female Vocalist France
Sensational female singer will amaze audiences with her soulful voice and passionate performances
Unique and captivating gypsy singer performs a mix of popular music and traditional gypsy tunes from Hungary, Spain, Greece and more
Solo singer also available with talented backing band for swinging performances and shows
Acclaimed jazz singer has performed across Europe in events, bars and clubs including Hotel de Paris Monte Carlo and Salle Empire
Brilliant cover singer available for performances across Europe
Female Vocalist France VIDEOS
Book this stunning and talented female singer for an incredible performance at your event. Our fantastic solo singer brings her unique charm and passionate vocal performances to events, clubs, restaurants and parties throughout France and Europe and is renowned for her expressive and soulful singing style. This jazz singer is the perfect choice of musical entertainment for a whole range of events and for creating a vibrant and easygoing party atmosphere.
Guests will be drawn to the raw, intimate vocal style offered by our cover singer and will love the huge range of covers and styles she draws from in her performances including jazz, pop, Latin, rock and European gypsy music sung in both English, French and local Roma languages. For a unique and authentic gypsy singer with a stunning voice and heaps of charismatic stage presence our female singer is the top choice.
This gypsy singer has been around music all her life and comes from a lauded family of musicians and performers. Her unique and compelling sets feature a range of music from Spain, Hungary, Romania, Greece and Turkey sung in local dialects for a truly original and captivating performance to suit any audience. Our jazz singer also offers a wide range of pop and rock standards re-worked into her signature scintillating jazz style. 
Our glamorous female singer is available as a solo singer or with the backing of a supremely talented band of musicians who will dazzle audiences with their incredible dexterity and range of playing styles that covers everything from acoustic ballads to Greek and flamenco dances. This covers singer has enjoyed a varied and acclaimed career performing at venues around Europe including Hotel de Paris Monte Carlo and Salle Empire.
Scarlett entertainment is the only place you need to look for authentic jazz music and traditional music from around the world.
Contact our team to arrange booking one of our amazing acts.