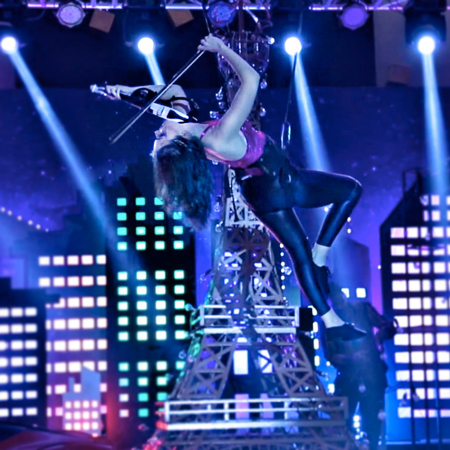 Flying Violin Player India
Amazing flying violinist will take your event entertainment to new dazzling heights
One of a kind act not seen before in India will bring the wow factor to your event
Aerial violinist flips, spins, summersaults high up above the stage all whilst playing live
Clients include Maserati, BMW, Porsche, Hyundai, Swarovski and Forever Mark
Based in Mumbai and available throughout India
Take your event entertainment to new dazzling heights with our fabulous Flying Violin Player India. Guaranteed to bring that much needed wow factor, this exceptional female violin player is a virtuoso musician and extremely talented performer that makes a real spectacle out of her performances. She has surpassed all her talents and skills with her brilliant aerial violinist shows that leave audiences completely breathless. 
Unlike anything your guests will have seen in India before, the aerial violinist offers a unique music entertainment experience. Her delightful performance will have audiences gasping in sheer delight as she eloquently flies through the air playing like a pro. Our Flying Violin Player India is launched into the air via the aid of a winch. Once in the air, the flying violinist flips, spins, summersaults high up above the stage all whilst playing impeccably. 
Originally from Russia, the talented aerial violinist has a lot of experience performing at a wide range of events. She created this new and unique music entertainment option especially to bring wow factor to events in and around India as well as amazing audiences with something they have never experienced. 
The vivacious flying violinist has played with some top musicians of the country like Louis Banks, Shaan and Abhijeet Sawant as well as bringing her unique music entertainment for clients such as Maserati, BMW, Porsche, Hyundai, Swarovski and Forever Mark.
Top Tip:
You can also book this violinist for a laser violin show or as a standard musician playing a range of jazz, pop and Bollywood. 
Contact us at Scarlett Entertainment to book the Flying Violin Player India and add some inspirational wow factor to your event.