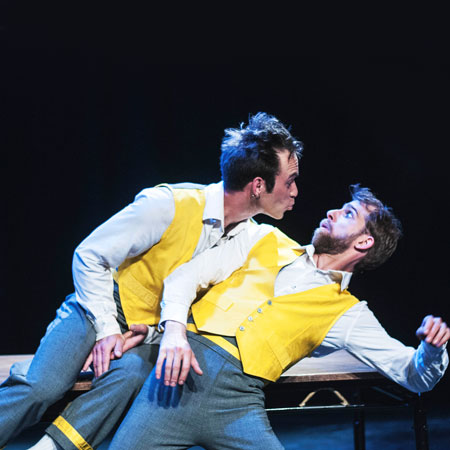 French Acrobat Duo
Outstanding acrobat duo performing circus tricks infused with slapstick comedy
Family friendly entertainment guaranteed to have everyone amazed and amused
Wow the audience with acrobalance skills and a bit of tomfoolery
Fantastic act for corporate events, family shows, gala diners, parties and celebrations
Based in France and available internationally
French Acrobat Duo PHOTOS
If you are looking for the kind of family friendly entertainment that will put your guests at ease by making them laugh whilst simultaneously blowing them away with a set of highly impressive circus skills, we have exactly what you need. Scarlett Entertainment knows the importance of making an impact with your guests and making them comfortable with the performance.
Our French acrobat duo have a marvellous and lively show bursting with energy and fun. Having been performing the act for over two years they have effortlessly captured the essence of amusing the crowd and bewildering them with their talent.
Primarily an acrobalance table act, the French acrobat duo use each other's bodies to achieve some frankly awesome lifts and balances. They leap and bounce around the stage with endless energy and charisma delivering a well choreographed routine of circus tricks wrapped in slapstick comedy. The crowd pleasing tomfoolery really adds to the charm of this acrobat duo and thats one of the reasons it is fantastic family friendly entertainment. The duo are willing to, at the clients' request, add in extra circus tricks like juggling and hand stands.
As you can see from the video, the French acrobat duo come dressed in very presentable outfits. Smart suits trousers, white shirts and stand out yellow waist coats. They are willing to customise their costumes or colour schemes to suit themes or colours of your event.
The pair met at the Circus School in Amiens. Coming from a variety acrobatic, juggling and dancing backgrounds with a multitude of experience behind them the two performers soon found themselves with a combine love of acrobalance and slapstick comedy. The outcome was this excellent show they have on offer for you now.
Offering lively shows and family friendly entertainment that appeals to old and young audiences alike, the talented acrobats are always a hit with the crowd.
Speak to our team today and book these guys to add a bit of fun and charm to your event.
Carré Amelot de La Rochelle
8ème congrès commun SFMES-SFTS à Orléans
Gala de Noël au Palais des Congrès de Dunkerque
Blotzheim Casino