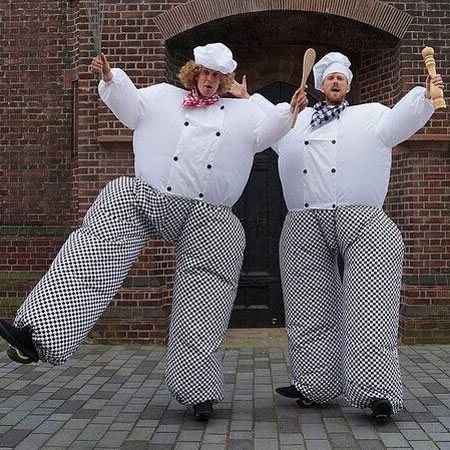 Giant Hungry Chefs
Giant inflatable Michelin star chefs on bouncy stilts are phenomenal bouncing characters that add a new dynamic to any event
Our roaming stilt characters wonder round events on the look out for new delicacies for their extravagant menus
Highly interactive bouncing characters are hilarious to witness
Giant stilt walkers in inflatable suits are huge but loveable characters
Based in Bristol and available for worldwide bookings
Giant Hungry Chefs PHOTOS
Our cheery chubby chaps are loveable bouncing characters with a strong sense of smell to sniff out any new delicacy to include in their extravagant menus. Our giant stilt walkers bound around events creating a hilarious improvised comedy act that is a hit with all guests and audiences. Our stilt characters are hard to miss and easy to love.
A highly interactive comedy act who's appetite is never fulfilled will even try and season guests to put in their extravagant menus! If our giant stilt walkers like the look of a guest they will start tenderising your shoulders with a nice massage followed by adding season with their giant black pepper grinder and finally our stilt characters garnish the guest with a little twig of parsley from their mobile herb selection.
Our highly interactive bouncing characters are a dynamic act, guaranteed to entertain your guests and leave everyone in high spirits. Our stilt characters boasts their big personalities and fast witted comedy with their big bouncing costumes that roam around your event interacting with everyone. 
A brilliant addition to have at a dinner, food festival, county fate or any occasion that has a lot of food for our hungry chefs to chase after. Our roaming bouncing characters are a great ice breaker as they bound around venues interacting with everyone and trying to find food to put into their giant menus.
These comedy act chefs are a must have for all occasions that want to stimulate a buzz amongst their guests whether it be through a mutual love of good food or appreciation of hilarious giant stilt walkers. 
To book our hilarious bouncing chefs or for more information, contact our Entertainment Specialists today.